Alfie Wylie and Northern Ireland welcome Stanislav Krejčík and the Czech Republic to Mourneview Park on Friday evening.
Despite a heavy defeat to Switzerland last time out, the hosts fared well at the Istria Cup and will be confident of upsetting their Czech opponents.
However, the majority of the visitors' squad are part of the Slavia Praha team; they are fresh from a 0-0 draw with Olympique Lyon and can take great pride in that.
With plenty riding on the game and the two countries still battling to make next year's finals, this should be an interesting clash from start to finish.
Hosts hopeful of grabbing another three points
Northern Ireland are looking to bounce back from an 8-1 defeat, the last time they were in competitive action, against Switzerland.
They managed to put in a good showing at the Istria Cup, which began with a heart-breaking last-minute loss to Slovakia.
That would be avenged in the latter stages of their game against the hosts, Croatia, as Kirsty McGuinness struck an 86th minute winner.
The women in Green and White were then beaten 2-0 by Hungary B, but it was an overall positive experience to build upon.
After an opening win over Georgia, they sit dead level with the Czechs and a win would be a huge boost before the huge trip to Italy on Tuesday.
Wylie has plenty of options
Due to the lack of team-news surrounding the Northern Ireland side in the lead up to the game, it is hard to say how they will line up.
Wylie could opt for a slightly more attacking 4-4-1-1 formation, in comparison to the very deep 4-1-4-1 deployed against Switzerland.
Simone Magill could start up front and Ciara Sherwood may come into the midfield, while McGuinness and Aimee Mackin should continue on the wings.
The defence is one area that is likely to remain the same as before, however.
With the likes of Laura Rafferty, Avilla Bergin, Clare Timoney and Jade Lindsay possibly not getting into the team from the start, Wylie can change the game from the bench.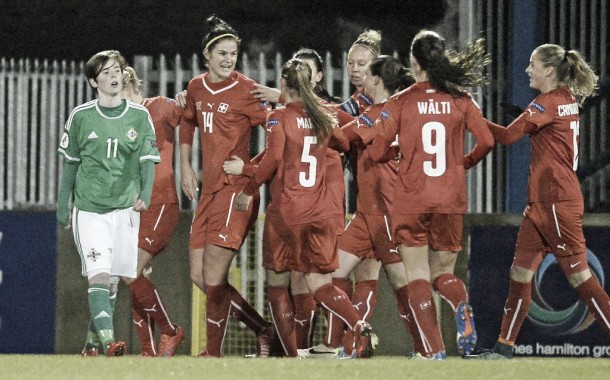 Experienced heads absent for Krejčík
The Czechs had an even better time during the spring tournaments, finishing fourth at the Cyprus Cup.
Lucie Voňková's goals helped them to finish second behind Poland in the group stages, and her strike had them on course to beat Italy in the third-place match.
However, Italy equalised in the second half before two goals in the dying minutes meant they were forced to settle for fourth.
There are some major misses in the Czech side for this trip, as Veronika Pincová and Irena Martínková are not in the squad.
Despite that, coach Krejčík remains positive and bullish ahead of the game.
"I saw their game and I expect a similar game like we played in Cyprus with Wales," he said.
The manager explained that "patience and secure defence" could be key in the game, but believes his side are "tactically well prepared".
Head-to-head
It is eight years since these two teams last met, and it was one that the Czechs will look favourable upon.
It was in the qualifying stages for the 2009 tournament, as both Martínkovás scored in a 4-1 win.
Northern Ireland lost the game at home, in Coleraine, 3-0 and will be desperate to set the record straight this time around.
Referee
Vesna Budimir from Croatia will be in the middle on Friday evening. She has been an international referee since 2009, making her their most experienced women's referee.
Budimir has refereed one game in this year's UEFA Women's Champions League. The 33-year-old took charge of 1. FFC Frankfurt's 2-0 win over Standard Liege.
Predicted line-ups
Northern Ireland XI: (4-4-1-1) Higgins; McRoberts, Nelson, Simpson, Hyndman; McGuinness, Callaghan, Sherwood, Mackin; Furness; Magill.
Czech Republic XI: (4-4-2) Vršatová; Bartoňová, Bertholdová, Sedláčková, Vyštejnová; Chlastáková, Cahynová, Ringelová, Svitková; Martínková, Voňková.
The game kicks off on Friday at 19:30 BST at Mourneview Park in Lurgan, entry into the ground is free and should see a strong crowd gather on the night.