It's make or break for the neighbours as the UEFA Women's Euro 2017 Qualifications are approaching the middle of their campaigns.
While Switzerland are leading Group 6 with 12 points following their four wins from four outings, Italy are six points behind but with a game in hand, which could lead to a nerve-wrecking ending of this qualifications, if Italy would see out Switzerland this evening.
Extending their lead is a must
Aware of the possibility that Italy could join them at 12 points by winning this evening and obtaining the three points in their game in hand, Switzerland have been preparing for this encounter thoroughly to emulate their 0-3 victory back in October at Cesena. Switzerland's main protagonists till now in these qualifications where undoubtedly Ana-Maria Crnogorčević, Ramona Bachmann, Lara Dickenmann and Fabienne Humm who all played an important role in Switzerland's four wins in this campaign. Their investments in women's football have been fruitful as they produced lot of talents who are also finding regular playing time in Europe's best leagues.
For pride and status
With Switzerland's growth in recent years, Italy are now facing a tougher challenge against their neighbours and with the grief still fresh from October's loss, Antonio Cabrini's side are targeting this match as the golden opportunity for a turnaround in their qualifying campaign. Italy will be without goalkeeper Laura Giuliani due to an injury suffered with her German club. Meanwhile, they will be also without their talisman Melania Gabbiadini who has returned to action few days ago following a long injury. Two absentees which could make life more difficult for Italy, but with the development of some youth players the possess and also following ACF Brescia's impressive run in the UEFA Women's Champions League, Italy have what it takes to acquire a positive result this evening.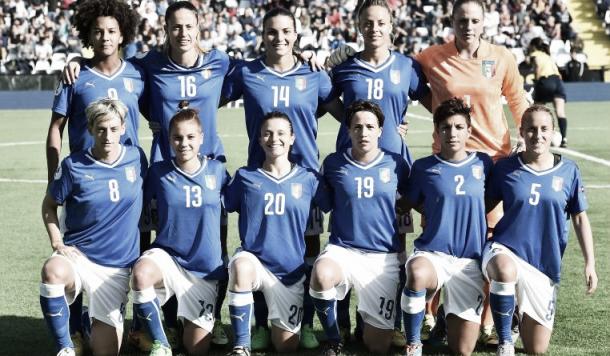 Head-to-head
This will be the 22nd encounter between the two neighbours, with Switzerland winning only twice, including the first round encounter back in October in Cesena, while the Italians won on 17 occasions. The largest victories were always registered by the Azzurrine, with the 5-1, 6-0, 4-1 and 4-0 victories registered in the late 80's and early 90's. However, in recent years, Switzerland have made a leap of quality in women's football and they started to handle better their encounters against Italy, where they started to acquire more respectable results including a couple of 0-0 draws, topped of with the impressive 0-3 victory back in October.
Morag Pirie to officiate the encounter
Morag Pirie from the Scottish association was appointed to officiate this encounter by UEFA. She is considered to be one of the best referees across the old continent. Among her achievements, she was Scotland's first ever female FIFA referee and she has already been involved in some crunch matches valid from the men's leagues.
The match will be played at Tissot Arena, in Bienne, with the kick-off scheduled at 17:30 and it will be transmitted live on SFV Play.