For a team with Vittsjös ambition and squad, last year's 9th place was a disappointment. Finishing with 24 points from 22 games. A negative goal difference of 12 goals is far below what was expected of them prior to the season and if you looked at the squad they had, they were last year's disappointment.
Team for 2016
Vittsjös squad is an interesting one. Plenty of profiles and there's a lot of excitement around the squad Thomas Mårtensson has assembled. However, they have also had to recover from the loss of big profiles such as Jane Ross, Antonia Göransson and Danish goalkeeper Cecilie Breil Kramer, who all had bright moments last season.
The additions of Nigerian players Nkem Ezurike, Josephine Chukwunonye and Ngozi Okobi (all from NWSL clubs) have created a buzz around the club. Together with the likes of Scottish defender Ifeoma Dieke, Finnish forward Linda Sällström and newly arrived goalkeeper Katie Fraine they will be key if VIttsjö wanna achieve a better standing in the table this season.
Goalkeepers: Katlynn Fraine (new), Shannon Lynn
Defenders: Alexandra Benediktsson, Lisa Klinga, Ifeoma Dieke, Josephine Chukwunonye (new), Johanna Andersson
Midfielders: Linnea Jonasson, Anna Hjälmkvist, Rachel Mercik (new), Therese Björck, Ngozi Okobi (new), Ebba Hed (new), Emmi Alanen (new), Sandra Adolfsson
Forwards: Linda Sällström, Nkem Ezurike (new), Clara Markstedt (new)
Player lost from last season: Jane Ross (Manchester City), Johanna Ejdelind (LB07), Emma Andersson(Växjö DFF), Antonia Göransson (Seattle Reign, but released again), Kirsty Yallop (Brisbane Roar/Mallbacken), Cecilie Breil Kramer (Fortuna Hjørring), Shelina Zadorsky (Washington Spirit), Michelle Pao (?)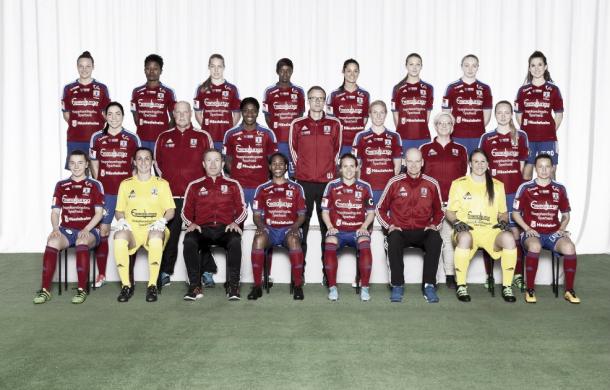 Pre Season
Vittsjö GIK – Brøndby IF 2-2
Brøndby IF - Vittsjö GIK 2-3
Vittsjö GIK - LB07 1-2
Laholms FK P-16 - Vittsjö GIK 2-0
Vittsjö GIK – Halmstads BK P16 0 – 3
Vittsjö GIK – IFK Kalmar
Profiles
It is hard to look pass Okobi. Many from Sweden will probably remember Okobi's game against them in the World Cup where she scored one and assisted two in the thrilling 3-3 encounter. With Okobi, Vittsjö will be getting some much needed pace up top, and someone who is good with the ball.
An added benefit is that she is versatile and can play in a number of positions. With so many new players, experienced centerback Ifeoma Dieke will be central this year. This year she gets to partner with Chukwunonye, and those two could be one of the best centerback constellations in the league this season. Dieke, who is a Scottish international, has played for Vittsjö since 2012.
Expectations for the season
With so many new departures and additions, Vittsjö is a bit of an unknown. However, with the squad that they have they should find themselves in the better half of the table this year. They might not be as good as the very best teams in the league, but they could give all of them a good game if they play to their potential.