Switzerland collected another three points against their neighbours Italy to extend their lead to nine points above the Azzurrine, although the latter are with a game in hand.
With three matches left, Switzerland look comfortable enough to book their place in another major tournament, following their participation in last summer's FIFA Women's World Cup.
Meanwhile, Italy face a tough task against Czech Republic and Northern Ireland in their own group, where they must obtain maximum points from their remaining encounters to ensure their spot in one of the best runners-up in the qualifying campaign.
Bright start from Switzerland
The Swiss enjoyed a bright start as they started to apply high pressure on Italy. After seven minutes, Ramona Bachmann netted for the home side after prevailing from an Italy error in the midfield. The Italians could have levelled matters in the 15th minute but Barbara Bonansea's effort from close range went over the bar.
The match remained fairly balanced although Switzerland were still superior in some aspects of the match. Fabienne Humm had the opportunity to double the lead but her effort went inches wide. Few minutes later, it was once again Humm with the chance but she could not direct the ball into the goal.
However, the second goal arrived on the 36th minute when 19-year-old Meriame Terchoun curled the ball into the far corner. Italy's goalkeeper couldn't reach it and that strike put the home side 2-0 up before the half-time whistle.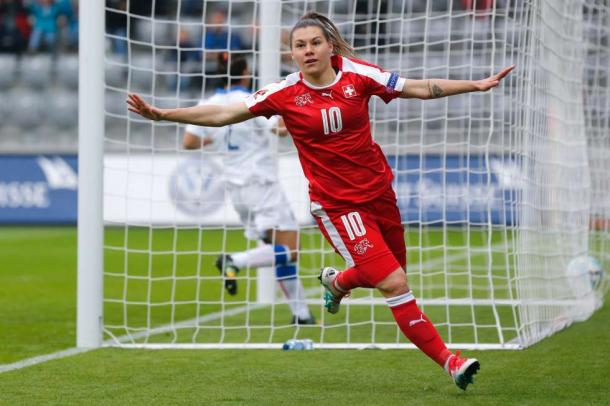 Italian pull one back but can't grab another
Antonio Cabrini's side looked more energised in the second 45, as they applied an aggressive approach from the initial minutes, allowing space for Switzerland to counter attack. However, Caroline Abbe had the chance to wrap up the match with a third goal, but her header from a Bachmann's free kick went over the bar.
Italy pulled one back on the 65th minute through substitute Alice Parisi, who netted into the far corner with a low drive to put Italy back into the contest.
In a tense final stage there were no further goals, and so the Swiss could celebrate a fifth win in five European Championship qualifiers.