Italy will host Northern Ireland at the Mapei Stadium in their fifth match of the UEFA Women's Euro 2017 qualification.
Antonio Cabrini's side will be attempting to return to winning ways following their 2-1 loss against neighbours Switzerland, as they are seeking to seal a spot as one of the best runners-up in this qualifying campaign.
On the other hand, Northern Ireland have only played a couple of matches, taking three points. Friday's encounter against Czech Republic was called off and this could be a massive advantage for them. A draw or win would put the visitors in a good position to challenge for second place.
''We want to win''
Former Juventus player and Italy's head coach Antonio Cabrini has advised his team to put up a positive display this evening and to avoid losing further ground in the battle for second; a defeat would do massive damage to their big to finish behind likely winners, Switzerland.
Their performance against the Swiss was an abstract from Dr. Jekyll and Mr. Hyde, as the Italians looked shy in the first 45 minutes but they showed their charisma and character in the second.
Cabrini's side could easily have levelled matters in the dying minutes, but their front line wasted a lot of opportunities leaving the Azzurrine nine points behind the leaders.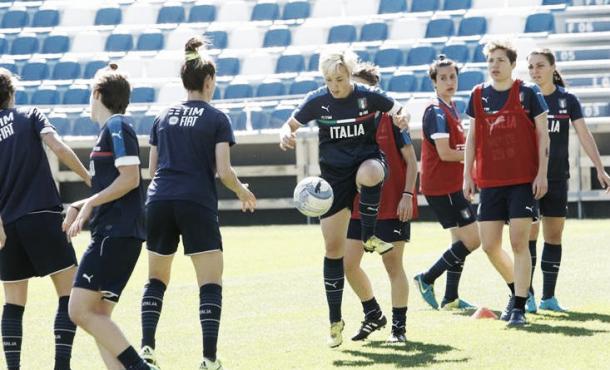 Three points would put them in an exciting position
Despite having lost 1-8 against leaders Switzerland in their second outing of this qualifying campaign, Northern Ireland will be still striving to snatch something from this encounter. They will be trying to take advantage of Italy's fatigue following their tough match in Switzerland on Saturday.
Alfie Wylie will be counting on Simone Magill, who plays for Everton, as well as Aimee Mackin and Avilla Bergin, to be the main threats for Italy's backline. The extra few days of rest and training will also do their chances no harm whatsoever.
Head-to-head
Italy and Northern Ireland have never met each other before this evening's encounter in a UEFA competition. Ttherefore, this will be recorded as their first tussle before crossing swords once again on 16th September for their second meeting.
Lina Lehtovaara - Finnish referee to officiate this encounter
Lina Lehtovaara was appointed by UEFA to officiate this encounter, assisted by her Finnish compatriots in the role of assistant referees. Lehtovaara is considered as one of the most promising female refeeres and is regarded to have a bright future ahead. Her breakthrough in international football was her appointment in the UEFA Women's Under 19's decider between Spain and Sweden, in Israel.