Italy have now tallied nine points from five matches in qualifying for Euro 2017 thanks to their 3-1 victory over Northern Ireland.
However, despite the latter being almost 50 places behind the Italians in the FIFA Women's Rankings, the hosts had to turnaround the result as, until the 70th minute, they were trailing 1-0 following a defensive mistake.
Northern Ireland frustrate Italy
As predicted, Italy were the better team on the pitch as they stretched Northern Ireland, exposing their vulnerabilities on the flanks.
However, the away side remained composed and tight at the back, giving a hard time to the Italy's front line as they tried to penetrate it. As Antonio Cabrini underlined, Italy felt the absence of creative attacker Melania Gabbiadini who, according to Cabrini himself, without her, Italy lose 30% of their strength upfront.
It was the typical match where the underdog parks the bus, and the better team tries all methods to break the deadlock. Understandably then, as time went by, Italy looked frustrated and they highlighted that with some couple of useless fouls in the final minutes of the first half.
Wasteful Italy
In the second half, Italy modified their approach a bit in order to present themselves in a more aggressive way upfront.
They would forge ahead on a couple of occasions but, surprisingly, it was Northern Ireland who broke the deadlock when Simone Magill prevailed from a short back pass and, with a stupendous lob, she put her nation in front.
Italy were shocked but they did not stay back and reacted immediately as they attempted to equalise as soon as possible. They had to wait almost 10 minutes before Daniela Sabatino equalised with a neat tap in which went past the goalkeeper.
From then on, it was all about the Azzurinne who went in front for the first time on the 86th minute when Ilaria Mauro netted after Northern Ireland's back line miskicked the ball.
Daniela Stracchi then wrapped up the victory with a delightful volley directly from a throw-in to register her first every goal in the Italian kit.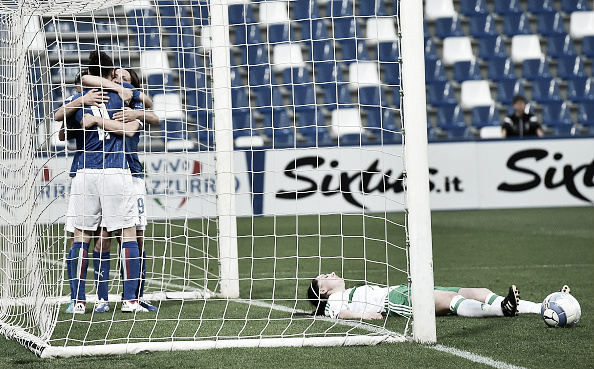 Race for second continues
Italy are now second in their qualifying group, only behind Switzerland who defeated them 2-1 at the weekend. The gap to the top is six points though, with the Swiss looking sure to make it to next year's big event while the rest scrap for that second place that could see them also go to the Netherlands.
Northern Ireland fall to fourth, meanwhile, with just three points from their three games so far. However, after their fixture with the Czech Republic was called off at the weekend, they do have two games in hand over all in the group but the Czechs.