Despite being the champions of the world, Germany do not make the short trip across the border to neighbouring France for the European Championships as favourites. Instead, talk is focused on a rotten friendly record and squad selection.
Joachim Löw's men will be hoping to put form behind them, and bank on being the tournament team that everyone knows they are. But is this the Germany squad that can flick a switch and turn into world beaters?
Less than convincing qualification, failure to deliver in friendlies
If we were to judge the Germans on their recent form alone, it would difficult to justify how they are the current World Champions. With just one win in their last six friendly matches, it's crunch time for Löw's team if they are to make an impact at the European Championships. Luckily, in true German fashion, they got the job done early as far as qualifying for the competition goes.
The first of the qualification matches came back in September, when the Germans crept past Scotland to earn three points, winning the game 2-1 thanks to a Thomas Müller brace. However, the World Cup holders didn't build on their first win, as a month later, they were beaten in Poland by two second half goals, a 2-0 loss and no points. Things did not improve once more; days later they were forced to share the points in Ireland after a Toni Kroos goal was cancelled out by a last-gasp John O'Shea equaliser.
Löw's team weren't looking like the squad that painted Brazil; black, red and yellow the year before, but they were quick to resurrect those memories with a much-needed 4-0 win over Gibraltar in November, featuring another Müller double. The Bayern Munich forward was on target again when the qualifying campaign returned in March; scoring alongside Marco Reus in Germany's 2-0 win in Georgia.
The winning run continued in June, an emphatic 7-0 victory over Gibraltar reminded the masses of the German squad that we all admired in Rio; an Andre Schürrle hat-trick added to a Max Kruse brace, and single goals from Ilkay Gündogan and Karim Bellarabi. Revenge came sweetly in the next matchup, as Die Nationalmannschaft secured a 3-1 victory over Poland in September.
Another close contest between Scotland was next, a 3-2 win and another set of two goals for Müller took Löw's team just three points from securing a place in the competition. Prior to the three points that confirmed their spot in France, a Shane Long goal ended the Germans' unbeaten streak in a 1-0 defeat. However the three points were earned a week later back in Germany; two second half goals striking down Georgia in a dominant German display.
Now that qualification was secured, Löw's team could take their foot off of the gas for a few months it seemed, however we are still waiting for them to return to the gas pedal as they have recorded just one win in six friendly matches in preparation for the competition. A lesson learned, or a lesson that has to be learned is to resist the temptation of complacency. When you're the World Cup holders it must be increasingly difficult to find motivation to achieve even more.
It is a worry for Germany, as it is difficult to brand their recent opposition as threatening; Germany are typically the 'turn up' team at major tournaments, just as they were under the sun in Rio. Can the World Champions add another European Championship trophy to their cabinet? Their last European trophy win came in 1996, a win in France would make them the highest winning country in the competition's history with four.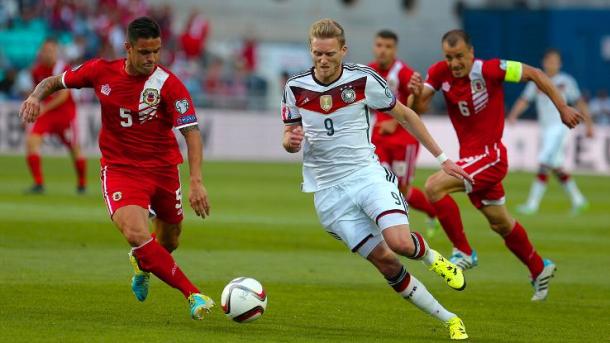 Will Löw ditch the old guard and give the youngsters a chance?
Fans and pundits have become increasingly frustrated with the selection choices made by the Germany boss over recent years, despite his success in charge. Since he took the reins in 2006, the Germans have never fell short of the semi-finals of a major tournament and that culminated in a World Cup triumph in 2014.
However, the continued picking of Lukas Podolski and Bastian Schweinsteiger - despite both being, undoubtedly, past their best - is starting to grind on fans' nerves. The inclusion of both in the Euro 2016 squad will, once again, raise eyebrows as to why two younger, more in-form players failed to get the nod.
Both did make the final squad as Julian Brandt and Karim Bellarabi both missed out. The mind boggles as to how this is seen as a good decision. Aside from experience and squad harmony, the former duo offer little that Brandt and Bellarabi do. Both have been in great form, and offer more versatility than the older pairing.
Nevertheless, Germany will stick with their tried and trusted 4-2-3-1 formation. Though who will play right-back still remains up for grabs, in what has been a position they have failed to fill since Philipp Lahm's departure. Löw may opt for Emre Can there, considering he didn't pick a natural right-back, though he loses his drive and energy in middle as a result.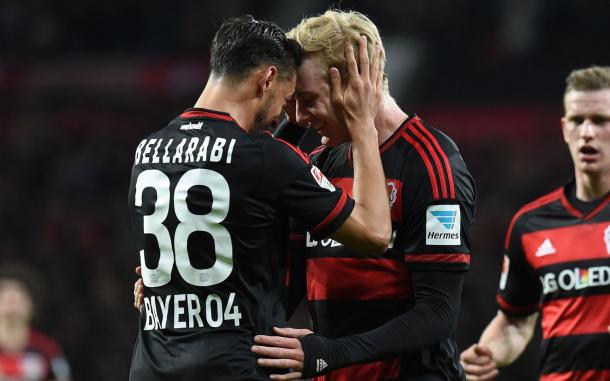 Wide areas are a concern, but the big game mentality may be key
Following Löw's squad selection on Tuesday, heaps of critical fans and pundits have taken to social media to criticise some of the more controversial areas of his selection. The inclusion of 31-year-old Schweinsteiger is by far the most talked about aspect of the squad.
The Manchester United midfielder has made just eighteen appearances for the Red Devils all season; the main reason for his exclusion at United is due to his unfortunate curse of injury, which has left him on the side-line for the majority of the closing stages of the Premier League season.
This of course leaves questions as to why he was included, his difficulty to retain fitness is a worry for Germany, but may be a blessing for the opposition. Without the pace and youthful spirit of the excluded Brandt, Germany's midfield has been stripped bare of pace. Borussia Dortmund duo, Ilkay Gündogan and Marco Reus will be missed by the Germans in midfield, both have been ruled out due to injury.
The defensive balance in midfield will be missing without the presence of Gündogan and the form and fitness of a prime Schweinsteiger. Another huge issue is the fact that there have been no selections of an out-and-out right back, leaving the lack of experience on the flanks, along with lack of pace, a key point of exploitation for the opposition.
Things aren't all bad for the Germans, of course. The world champions are world champions for a reason, their efficiency to control games as a unit is on that is admirable by many. The elite status that hangs over the heads of many key players for Germany are the type of names that leave any opponent trembling.
Firstly, their phenomenal depth in goal containing arguably three of the world's best goalkeepers this year; Manuel Neuer, Marc-André ter Stegen and Bernd Leno, a massive psychological and physical boost should Löw's team ever face a penalty shootout.
The centre-back partnership of Mats Hummels and Jerome Boateng is as good as any other defensive duo that the competition will have on offer; the two central defenders were integral to their team's run to the top of the Bundesliga last season, and will of course join forces at Bayern Munich in the summer.
Finally, the reason that is unique to the Germans, Löw has been building this German team for ten years. Since becoming coach in 2006, the manager has seen the progression of many of his players through the ranks. His dedicated preparation and knowledge of his players is a trait that many national team coaches do not have, but will it put the World Champions one step ahead of the competition?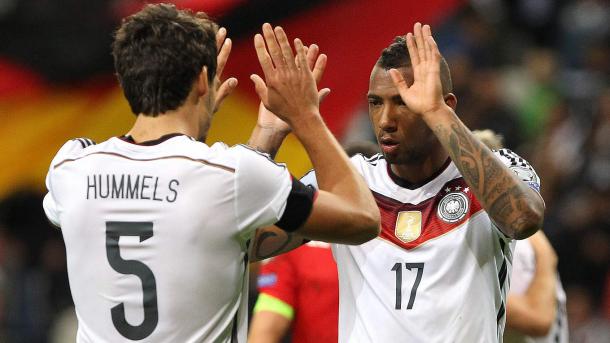 Can Özil, Müller and co guide them to victory? Or will it be one of their young guns?
Despite the news of a few surprise absentees, the talent and capability is still there for Germany in many outstanding individuals.
The creative ability of midfield maestros Mesut Özil and Toni Kroos is a blessing for Germany. The two have got a combined total of 29 assists in their leagues alone, and possess passing ability that is nothing short of an attacker's dream.
They've both developed defensive areas to their games also, Özil playing to meet the physical demands of the Premier League, and Kroos playing in a deeper midfield role for newly-crowned European Champions, Real Madrid; the duo are almost complete in their games, with traits that and status that is difficult to play against.
As always, Müller will be a key player for the Germans, concluding the qualifying stages as German top scorer, the versatile player will be available for selection in a range of attacking positions, a treat for Löw.
There are a few options for a potential wildcard player, with a fair share of youth product in the squad, many of the youngsters will be eager to follow in the footsteps of a few of their German teammates. Ottmar Hitzfeld has recently praised German youngster, Julian Weigl.
20-year-old Weigl made thirty appearances for Dortmund last season in the deep midfield role, in the absence of Gündogan and the lack of fitness surrounding Schweinsteiger, Weigl is in line to play a considerable amount of games for Germany, should the competition go in their favour.
The Borussia Dortmund man will be eager to impress like he has in the Bundesliga, with his matured footballing brain, fantastic passing range and skillful feet when in possession, it will be interesting to see how he performs on the big stage.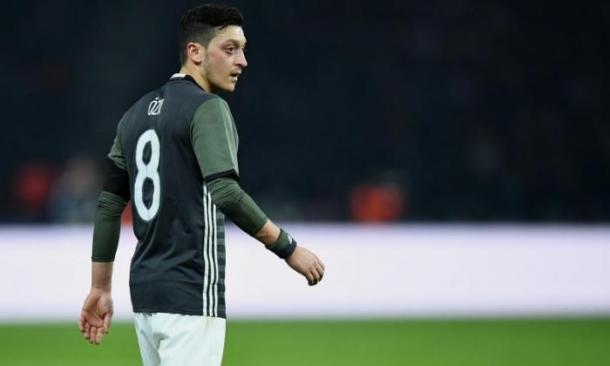 Who do Germany face in France?
Germany were placed in Group C after the late 2015 draw, which will see them take on Northern Ireland, Poland and Ukraine; a testing set of teams. Despite this, the Germans will be fully confident of toppling all three and finishing top of the pile. It won't be easy, but they are World Cup champions for a reason and it is time to show why.
Löw's side take on Ukraine first, which could prove tricky. Given Germany's wide-area woes, Yevhen Konoplyanka and Andriy Yarmelenko will be licking their lips as they take on the opposition full-backs. As for Poland, both Hummels and Boateng will be well-versed in dealing with Robert Lewandowski, though Arkadiusz Milik will be trouble.
Lastly, it's a date in Paris against Northern Ireland. Michael O'Neill's men may not have the star players like the rest, but the backing of neutrals and the mass exodus of Northern Irish people to France will make it an uncomfortable experience. However, anything but a win would be a huge upset from a German perspective.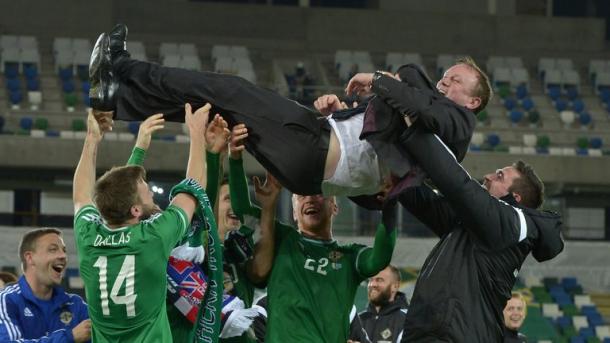 Selection dilemma - Löw questioned after selection
To say people were shocked when Löw announced his squad would be an understatement. The Germany coach cut Sebastian Rudy, a personal favourite of his, along with Marco Reus, Brandt and Bellarabi. The old guard crept in, Schweinsteiger and Podolski, but the attacking midfielders would have been relieved to hear that the trio were gone.
Reus will pass up another major tournament with injury, though many feel that there was still a place for him - should Germany make it to the latter rounds. His creativity will be sorely missed by the squad, after what was another stellar season for BVB. Would Podolski have kept his place even if Reus had been fit? Probably.
The decision to omit Brandt, arguably the Bundesliga's most in-form player of the past three months, leaves a lot to be desired. Reus had his reasons, but Brandt and Bellarabi have been the wing wizards in Leverkusen's third place finish. Bellarabi has raw pace, something that only Sané can claim with Reus' absence.
With Rudy gone as Germany's most natural right-back - an odd thing to say after over a decade of Lahm - Can and Jo Kimmich will battle it out to play there. Taking both out of their natural midfield role seems harsh, though Kimmich's conversion into a defender seems to be just a matter of time after Pep Guardiola and Löw are finished with him.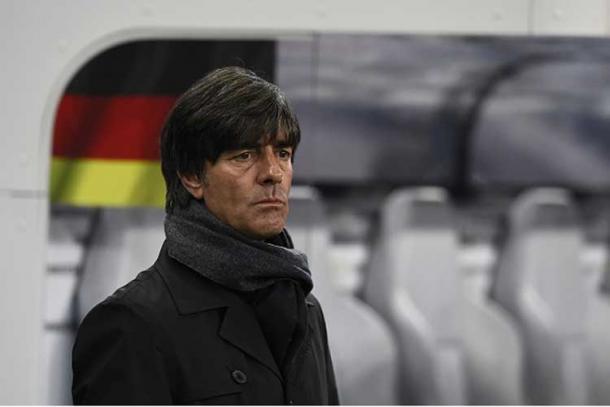 The view from inside Germany
After the fury, fracas and furor over Germany's team selection and recent run of poor form, we wanted to get the inside track from Germany. Thomus Telhabt gave us his thoughts on a range of topics, including how he feels his nation will perform this summer.
When asked whether or not he feels they have progressed, he said: "By just a little, yes. I see don't see any threatening characters in midfield along with Leroy Sané, Mesut Özil and obviously Toni Kroos. Julian Draxler hasn't played in the Bundesliga for a while and will be out of touch, the same as Schweinsteiger."
Thomus had a particular gripe about the situation regarding one of Germany's brightest central midfield talents, "Without a right back I feel for Emre Can. I think it would have made for a good pairing with Kroos or Julian Weigl, who has done a lot right for Dortmund this year and learnt a lot from Tuchel."
Thomus spoke more on the topic of absentees from the squad, particularly the missing figure of Karim Bellarabi, "As a fan of Leverkusen, I am surprised that Karim Bellarabi was not selected, he is a good player and a great leader. I think Germany will miss him, but only time will tell if it's true."
When asked about Germany's recent form with reference to the upcoming competition, Thomus said: "I am still confident because we always show up for the big tournaments. With threats from other countries, and even our own wings, we are under pressure. However, we are world champions and we will always have that pressure on us."
Finally, we asked him about what he thinks of his nation's chances at the tournament: "My friends think that we can possibly finish as winners but I feel we will end up in second or third. I personally believe that France are the favourites for the tournament because they have a strong team and world class talent in every position."
Huge confidence and trust in his country, paired with doubt and anxiety; the nervous thoughts of a football fan awaiting the arrival of a top competition.
Dates for the diary
Game One: Germany - Ukraine - June 12th - 20:00 kick-off in Lille.
Game Two: Germany - Poland - June 16th - 20:00 kick-off in Stade de France, Paris.
Game Three: Northern Ireland - Germany - June 21st - 17:00 kick-off in Parc des Princes, Paris.