Zoltan Gera has called Hungary's qualification for this summer's European Championships "a wonderful feeling" in a recent interview with FIFA's official website.
The Hungarian national team earned their place at the 15th edition of the Euros courtesy of a 3-1 aggregate victory over Norway in the play-offs, following a third place finish in their qualifying group.
Zoltan Gera, who has amassed over 85 caps since his debut in 2002, was absent for the second leg due to suspension but the midfielder is certain to represent Nemzeti Tizenegy during the country's first major international tournament in over 40 years.
"For a long time I thought I would never get to take part in a major international tournament because we weren't good enough for the last ten or 15 years," proclaimed Gera.
"In all this time that I've been playing for the national team," he continued. "I never thought that we had enough quality to qualify,"
Optimism high in Hungary
The optimism is high around Budapest ahead of the finals after an ineffable qualifying period that culminated in a first appearance in competitive competition since the 1986 World Cup.
Vice-captain Gera has seen Bernd Storck implement a meticulous approach that has brought the best out of a squad reaching the peak of their careers. Star man Balazs Dzsudzsak and youngsters such as Laszlo Kleinheisler have benefitted from his methods, methods that saw the former Kazakhstan boss cancel Nemzeti Bajnoksag I fixtures in order of a week's intensive training.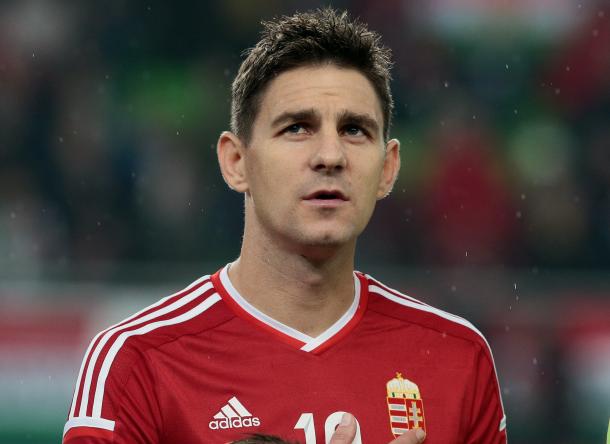 According to Gera, 37, Hungary harbour "a good crop of players, a good generation, and good coaches who know international football". That, according to the recent title winner with Ferencvaros, provided the platform for the squad to "become a settled, organised team".
"We had a difficult period, but now we're very happy to be going to France, to have qualified for a major tournament. It's a wonderful feeling." continued the ex-Fulham man.
Bernd Storck's side open their campaign in Bordeaux on 14 June 2016 when they encounter rivals Austria before facing Iceland and Portugal respectively.