Marcus Rashford's inclusion in Roy Hodgson's provisional squad for Euro 2016 has certainly raised a few eyebrows. Having only made his senior footballing debut in late February for Manchester United, the 18-year-old's involvement in England's provisional 26-man squad is some feat and shouldn't be taken lightly.
However, with the likes of Jermain Defoe and Theo Walcott having been omitted from the squad, Hodgson has divided opinion over whether the selection of the young Mancunian Rashford is a risk worth taking.
Why not?
Ryan Giggs, Manchester United's assistant manager, recently came out insinuating that Rashford should not be taken to the Euros, as he feared that his development may stall under the enormous spectator pressure imposed on the English national team. This is a genuine concern to have given the history of players being exposed to the spotlight prematurely, with Giggs himself witnessing the troubles of Adnan Januzaj following a comparably blistering start to his Old Trafford career in 2013.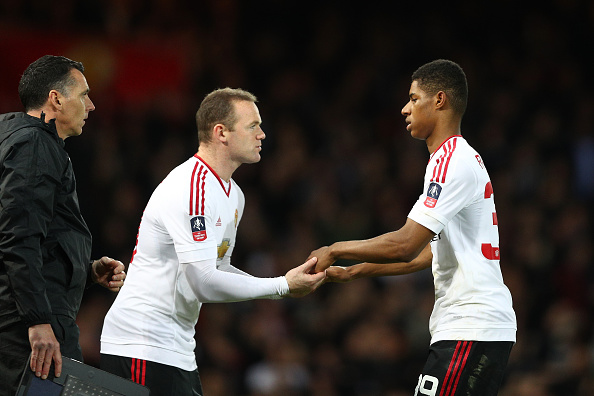 The worry for the likes of Giggs is that should England, as they have notoriously done previously, fail to get close to meeting expectations their failure will become associated with Rashford. Ultimately, this is unrealistic , given the public's low expectations of Rashford and the existence of more likely scapegoats, in the form of the ageing Wayne Rooney or James Milner for example. However, should he be called upon, it is true that the pressure of a major tournament may begin to inhibit the 18-year-old and this could provoke long-term knock-on effects, hence Giggs' concern.
Furthermore, there are many of the opinion that there are other more deserving English forwards deserving of a chance in the provisional squad. Jermain Defoe, a player with a history of narrowly missing out on a place in the squad for major tournaments, has been cited by many as a more suitable option than Rashford, particularly as Defoe has, on average, scored more goals per game this season despite playing 22 more games than the Manchester United man.
Others to miss out closely due to Rashford's inclusion may include the West Ham pair Andy Carroll and Michail Antonio, with it being widely argued that the alternative, more direct option Carroll offers is worth having on the bench, should England be pining for a goal. Furthermore, Antonio's versatility which has seen him feature at right back, on the wing and up front for West Ham, which many fervently claim would offer England the depth they desperately need.
Why it may prove a masterstroke
It may be clichéd to draw hope from Rashford's youth as in reality this may make him more naïve, less reliable and more of a liability. Yet at the same time, his youth and inexperience puts him in the squad with little baggage. Less pressure in football is almost always a good thing, and Rashford will feel free from expectation in the upcoming friendlies which may lend itself to more risk taking, more energy and less inhibition in his performances, undoubtedly benefiting the performances of both him and his England teammates.
The manner in which he burst onto the scene was reasonably spectacular and although his form has somewhat tailed off towards the end of the season, getting the call up from Roy Hodgson will no doubt boost his confidence. Couple this with him being a relatively unknown prospect for defenders and at best he may be able to come close to emulating Wayne Rooney's exploits at Euro 2004. Deem this overoptimistic, but presumably this is why Hodgson has picked him ahead of Jermain Defoe as his fifth striker.
Yes, the Sunderland man may have done more to earn a place in the squad, but is having Jermain Defoe sitting on the bench really going to benefit England when the chips are down? It would be much more beneficial, in this correspondent's eyes, to have the likes of the fresh-faced Rashford on the bench, as these are the players who will come off the bench and inject fearlessness and energy into the side.
Including Marcus Rashford in the squad is a calculated risk by Roy Hodgson. He said at his press conferences that he believes Rashford may "knock someone off their perch", and if he doesn't he can be cut from the 26 man squad when the 23 man list is announced at the end of this month. Yet if he does do enough to get included, not only will he drive on and provide more competition to an already menacing attacking unit, but he will add a further daring feather to England's blow. The risk is worth taking.