Paraguay were able to secure a convincing 3-1 victory in their Toulon Tournament debut against African outfit, Guinea.
Goals from Sergio Diaz, Omar Alderete and Richard Britez helped La Albirroja come back into the match after conceding a goal early on.
Hard start
In their first ever appearance as the prestigious Toulon Tournament, Paraguay were looking to impress in a group that featured themselves, Guinea, Japan and, European powerhouses and former champions of the tournament, England and Portugal. Still, the South Americans had a vast array of talented players such as 18-year-old Sergio Diaz of Cerro Porteño, who made his debut for the side at 16 and scored plenty of goals since then.
It started out well for the Paraguayans as they were the ones with the majority of the chances in the early stages. The first big chance came in the second minute when Gustavo Viera's shot on goal went wide of the mark. Five minutes later, General Diaz's Sergio Romero had a chance in which he skipped past the Guinean defenders, but his shot went straight into the hands of the goalkeeper, Ousmane Doukouré.
In the 12th minute, Guinea scored the opening goal through Fodé Guirassy. As Tafsir Chérif went past the Paraguayan defenders, the ball was played to Guirassy and he coolly finished past the goalkeeper, Olimpia's Alan Vento.
Paraguay continued to create various chances, such as Diaz's powerful run, but Doucouré was able to make the crucial save to deny the striker.
However, three minutes later, Diaz was able to score the equalizer for Paraguay. He controlled the ball excellently and ran past everyone, before his shot sped into the left corner and past Doucoure.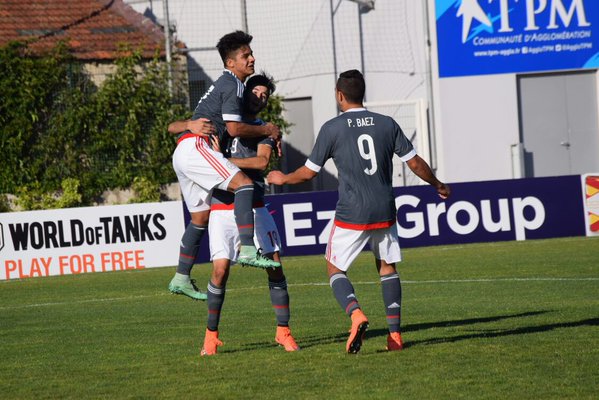 Albirroja get comfortable win
In the second half, Paraguay continued to pile on the pressure; much more than that of their Guinean counterparts. In the 66th minute, Omar Alderete would make it 2-1 to La Albirroja. Following a corner, the ball was played to the full-back and, with confidence, sent a superb shot past the Guinea goalkeeper.
Three points were secured just four minutes from full time as Richard Britez scored the final goal. The ball was played from Diaz to Joel Gimenez and his shot fell to Libertad's Richard Britez. He was able to toe poke the ball into the back of the net to give Paraguay a comfortable 3-1 win.
La Albirroja will now take on Japan on Saturday, before taking on England on May 25 and, finally, finishing off their group stage matches with Portugal on May 27.