Portugal advanced to the Toulon Tournament third place match as they defeated Paraguay 3-0. They struck twice in the opening ten minutes before adding a third soon after the break. Pedro Rodriguez completed his brace from the spot while Alexandre Silva scored in the sixth minute.
Portugal strikes twice inside the opening 10 minutes
Walter Bogado muscled Hildeberto Pereira down inside the area in the 4th minute; Bogado was also given a yellow card for his actions to boot. Pedro Rodriguez took a few small steps up to the spot before sending the Paraguayan goalkeeper the wrong way. Pereira down on the other end timed his challenge perfectly on the South American captain, Sergio Diaz, to concede only a corner.
Portugal added a second goal three minutes after. After they defended a corner, they went on the counter. João Silva threaded a great through ball to Alexandre Silva. The latter Silva had space in behind the opposition's back line and sent a sweet chip into the back of the net.
To Paraguay's credit, they kept coming forward, and in the 12th minute, they could have pulled one back. Rodi Ferreira sent a good ball towards the middle of the area towards Pedro Baez. However, Baez' volleyed effort soared over the crossbar. Baez was Paraguay's outlet in the opening 40 minutes. In the 23rd minute, he connected on another volley, this time from a ball over the top. His technique though let him down just a bit as the effort never troubled João Costa.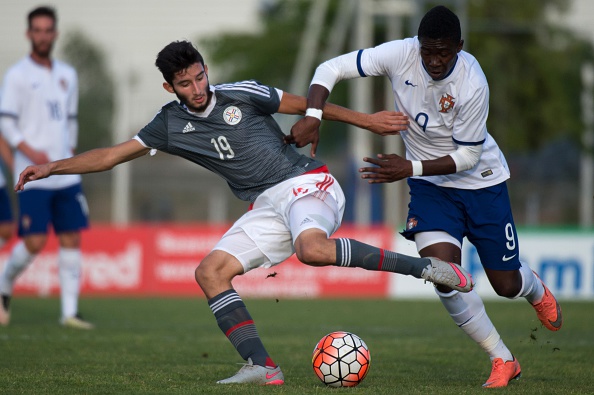 Another opportunity arose for Paraguay five minute later. Richard Prieto sent a good ball across the face of goal. Substitute Richard Britez connect on the cross but hit the side netting. Two minutes before the halftime interval, Prieto had a chance to peg one back, but hit a weak volley to Costa.
Rodriguez nets second penalty of the match, clinches three points
The second half started off poorly for Paraguay as number three gave away his side's second penalty of the night. Joao Silva was brought down in the area after he was clipped. Rodriguez stepped up to the stop once more and placed a shot into the bottom left corner in the 47th minute.
In the 63rd minute, Andre Horta worked his way down the left flank. He danced by a couple of Paraguay defenders before getting into open space. Horta was 25 yards away from goal when he fired a shot well over the frame of the goal.
Both sides were down a man in the dying moments of the match. Hildeberto Pereira pushed David Colmán in the back out of bounds. This resulted in both benches clearing which started a minor brawl. Pereira and Colmán were given marching orders as a result of their actions.
Coming up
Portugal's tournament continues as they will play in the 3rd place match versus Czech Republic. For Paraguay, however, their tournament has come to an end.