England and Manchester United's Chris Smalling has said that "nobody is surprised" by the rise of youngster Marcus Rashford.
Great first impressions
Rashford made history on Friday in England's 2-1 win over Australia, as his goal at the Stadium of Light after 138 seconds made him the youngest player to score on their England debut. Wayne Rooney added a second after the restart, with a own goal from Eric Dier rounding off the game on Wearside.
Smalling was stand-in captain for the evening until being replaced by Dier, and the defender heaped praised on his 18-year-old team-mate - at both international and domestic level - for his efforts.
Smalling told the press after the game that he was "so happy" for Rashford, and believes that "nobody is surprised at him any more" having "hit the ground running" at club and now international level.
He continued, saying that everyone has been "very impressed" with his progress with the Three Lions in training with him in training because he has been "that threat" and says that his finishing has "quality".
Smalling admitted that none of the team "were surprised" and thought that it is "great to see" Rashford "keep kicking on" from "each stage" this season.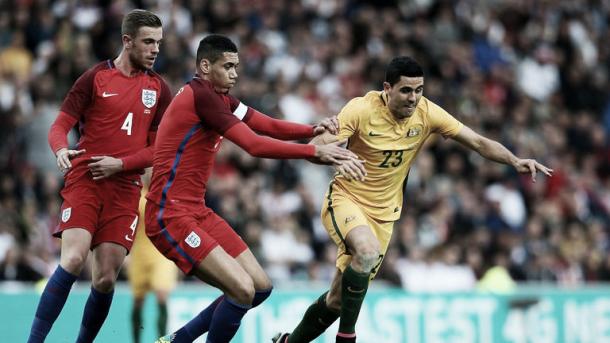 Something special
Jordan Henderson made a welcome return to the Stadium of Light, which used to be his old stomping ground, and he was also full of praise for the young striker.
He said that Rashford has been "brilliant" for United all season and had "no fear" going into the England set-up. Henderson admitted he was "over the moon" for the youngster and is hopeful that this goal will be the "start of something special" for Rashford
England will host Portugal in their final warm-up game at Wembley Stadium on Thursday, June 2 with kick-off at 7:45pm BST.