England enter the European Championships with a familiar feeling of hope. While this may be at least partially shrouded by the cynicism of seasoned supporters who refuse to accept that England will make a success of the tournament in France this summer.
Step away from the tainted perceptions of the fans scarred by past failures or naive to the pain major tournaments may inflict, and there genuinely is hope for England. Using Leicester City as an example to bolster the credibility of a potential 'underdog story' may be seen as clichéd nowadays, but it is essential that England capture the vitality and fearlessness which embodied the Leicester team which won the Premier League in 2015/16.
One of the main reasons for England to dream is the relative inexperience of the squad. The public's low expectation for such a young side, and their lack of experience of failure, should give them creative freedom on the pitch, which previously inhibited England sides may have been denied.
Given, on paper, their relatively straight forward group, England should be brimming with confidence provided they perform as they are expected to do so against Russia, Wales and Slovakia. From this point onwards, it's anyone's guess as to how well England will do.
Regardless, there is hope for England fans, despite the rhetoric of the cynical media, who will be desperate to jump on England's back and exacerbate any sentiments felt from poor showings on their part.
The past failing of English teams has seen England fans fall out of touch with their national team. In Euro 2016, England have the right to set the record straight by playing a vibrant brand of football, infusing long lost excitement in the minds of disillusioned England fans.
Since the World Cup
Superficially, England couldn't have bounced back from their disappointing World Cup campaign in 2014 with more aplomb. Ten wins from ten matches in qualifying, including impressive home and away wins against Switzerland, saw England top qualifying group E.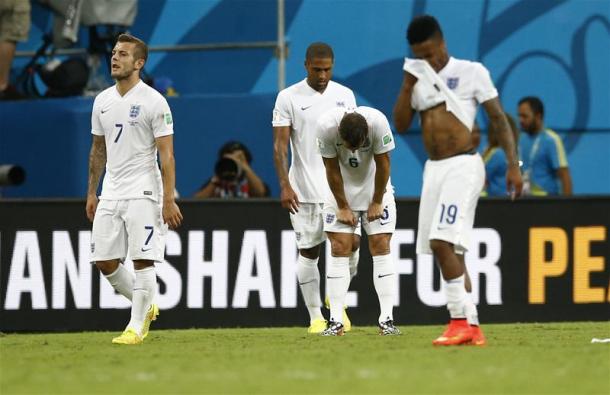 In this time debuts have been given to the likes of Harry Kane, Jamie Vardy, Danny Drinkwater, Marcus Rashford and Dele Alli. Roy Hodgson has hence prudently used the qualifying campaign not only to restore the confidence of his national side, following their deflating group stage exit from the 2014 World Cup, but also integrate a new generation of England internationals.
In the meantime impressive friendly wins against Italy, hosts France and World Cup holders Germany have been recorded, and despite losses to Spain and Netherlands, England should have confidence if put up against any of the aforementioned in the knockout stages this summer.
The victory over Germany at Berlin's Olympic Stadium was particularly enlightening. England were swiftly put 2-0 down before goals from Kane, Vardy and Eric Dier, all of whom have been given their international debuts since the World Cup in Brazil, led England to a dramatic late victory. The German side may have been a weakened one, with Emre Can and Antonia Rudiger being handed starts, yet still England displayed the resilience and self-belief which many fans now hope will embody their campaign this summer.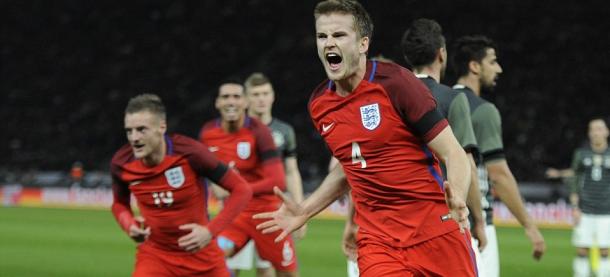 Most recently, England beat Turkey 2-1 at the Etihad Stadium, with in-form duo Kane and Vardy scoring the crucial goals, boosting their selection credentials in the process, and followed this with a win by the same scoreline over Australia at the Stadium of Light.
England's form may seem promising, but the atmosphere of an international friendly or even a qualifier is far from replicating that of a game at a major tournament. It is here where England's inexperience may hinder them.
Roy Hodgson
Battle-hardened from failure in 2014, Hodgson has been more open minded in his selection and tactical approach over the past two years. A plethora of new players have been blooded, along with a selection of new formations such as the 4-3-3 and a diamond orientation of the traditional, yet somewhat out of fashion, 4-4-2. Currently, he seems to favour a 4-2-3-1 system, fashionable since the success of the Spanish side who won the World Cup using it in 2010, which evolves into a more attacking 4-3-3 for long periods of games.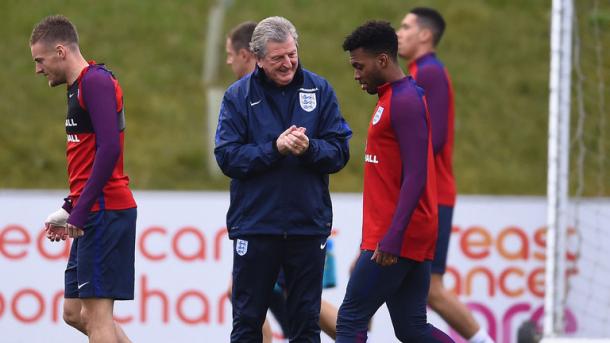 He himself has cited the inexperience of his squad, reminding many fans of the fact that only four players in the current 26 have more than 40 caps, but he remains faithful that picking a squad without "baggage" so that they are "not weighed down by the sins of their fathers" will give them a genuine chance to succeed this summer. Yet he himself has great experience of major international tournaments, having led Switzerland to the last 16 of the 1994 World Cup.
His England future, however, may depend on England's success at this tournament, as consecutive failures at major tournament is likely to depose any manager in the age where manager tumult and myopic decisionmaking with concern to management is rife.
The squad – Strengths and weaknesses
Provisional 26 man squad:
Goalkeepers:
Joe Hart, Fraser Forster, Tom Heaton
Defenders:
Nathaniel Clyne, Kyle Walker, Danny Rose, Ryan Bertrand, Chris Smalling, John Stones, Gary Cahill
Midfielders:
Dele Alli, Ross Barkley, Fabian Delph, Danny Drinkwater, Eric Dier, Jordan Henderson, James Milner, Adam Lallana, Raheem Sterling, Jack Wilshere, Andros Townsend
Forwards:
Wayne Rooney, Harry Kane, Jamie Vardy, Marcus Rashford, Daniel Sturridge
The glaring weakness for England lies in defence, most specifically in central defence. Whilst England have significant pace and attacking threat in the two full-back spots, Roy Hodgson has only picked three central defenders in the squad and this could derail their campaign.
Out of the three, Chris Smalling is, on the basis of his domestic performances this season, in the best form. He experienced a resurgence for Louis van Gaal's defensively miserly Manchester United side this year, which had the Premier League's joint best defensive record this season. He is a powerful centre-back whose athleticism has been particularly impressive of late. Lapses in concentration and clumsy touches still leave him in trouble too frequently, however, as seen in the FA Cup final, where he was sent off.
The other two central defenders, Gary Cahill and John Stones, selected by Hodgson are not in similar veins of form, however.
Having lost his starting spot at Chelsea to Frenchman Kurt Zouma, a nasty injury to the latter gave Cahill a chance to reassert himself at the London club. However, he is a shadow of the central defender which won the league title with the same club the previous season, and it would seem the club's troubles this term have rubbed off on the 30-year-old.
Furthermore, there are concerns that he will need to continue with frequent painkilling injections due to a persistent hip injury. This could leave England in a very precarious position if they have to rely on Smalling and the out-of-sorts John Stones. Having been subject to fierce transfer speculation last summer, the Everton man has really struggled. Plagued with juxtaposed bouts of lack of confidence and needless arrogance when playing the ball out of defence, which often invites unnecessary pressure on the defence, he has too often been culpable for the many goals which Everton conceded last term. He was left out frequently for the club as the club finished 11th.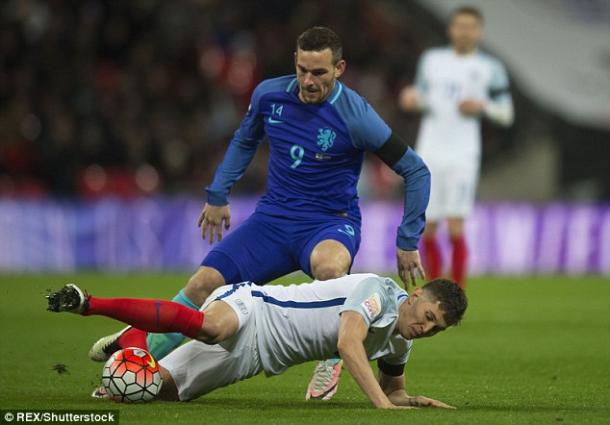 England need their central defenders to perform if they are to stand a chance this summer, yet currently with three far from convincing candidates for Hodgson to choose from, there is certainly a degree of doubt surrounding this.
In midfield, England have the reliable likes of Dier, Jack Wilshere and Jordan Henderson competing for holding roles, although the latter two are struggling to regain full match fitness. The degree to which Danny Drinkwater, after an enchanting title-winning year at Leicester, will feature will be an interesting sub-plot to develop as the tournament approaches.
Further forward, Alli, Raheem Sterling and Ross Barkley are the stand out names as England look for midfield creativity. Alli's fiery temperament, fearlessness and eye for the spectacular has almost certainly earned him a starting spot on June 11, whilst Sterling and Barkley may have to battle it out for the remaining spot after inconsistent form for club and country.
It will be interesting to see whether Hodgson selects Wayne Rooney in midfield or up front as a striker. There are certainly merits to either, yet this correspondent believes that the benefits to playing Rooney in midfield could prove instrumental to England's success.
Most likely the most prudent player on the pitch in England's squad, his experience and reliability are attributes which England's current playmakers lack, and the thought of a fluid attacking midfield three of him, Alli and Raheem Sterling is an attractive one. With England lacking a deeper lying playmaker, in the style of Toni Kroos or Marco Verratti, Rooney may need to step up and fill this mantle.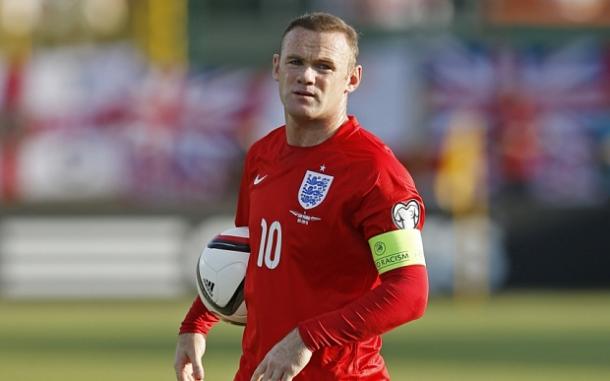 Furthermore, on the basis of form Rooney is not England's in-form striker, and it is surely in the forwards department where England are strongest. Vardy having won the Premier League, has the pace, intensity and attacking intent to put fear into the mind of any central defender, and his 24 league goals this season are testament to this. Add to this the tremendous form of Kane for club and country, who finished the season with the Premier League golden boot, and England have a potentially fantastic strike partnership.
In an ideal world, Hodgson will want to utilise this strike partnership, yet his loyalty and reliance on the experience of Rooney may result in Vardy or Kane missing out against Russia on June 11th, even if Rooney starts in midfield.
Key Player – Dele Alli
After a sensational debut season at Tottenham Hotspur, following his move from League One, Alli has developed into one of the most prominent attacking midfielders in the Premier League – scoring 10 goals in the process, assisting 9 more. His understanding with Kane has the potential to be devastating for opposition.
His attacking awareness is impressive for a player of his age, whilst his athleticism gives him the edge over many defenders despite his slight build. Furthermore, his technical abilities are sensational, as demonstrated by his stunning volley against Crystal Palace in January, and his long range effort against France on his international debut in November.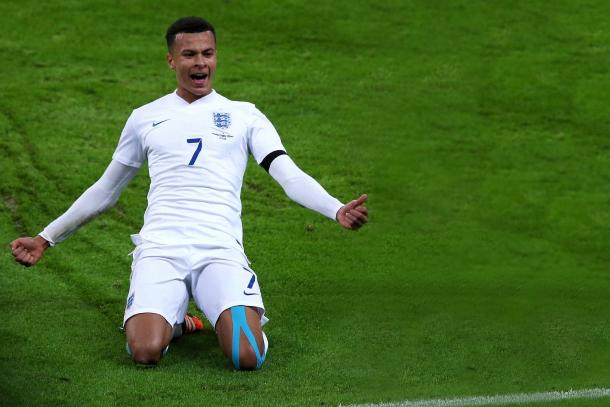 Alli looks set to be a crucial playmaker as he looks to pick the lock of opposition defences. He will not be afraid to try anything and his imagination has been on display all season, and this will give him the ingenuity to create scoring opportunities with.
Concerns may centre around his temperament after an off the ball incident earned him a three match ban at the end of last season, yet this fervour is yet another string to England's bow as it allows him to aggressively and effectively press the opposition into giving away possession.
Surprise Package – Marcus Rashford
Having only made his senior debut on the 25th of February for Manchester United, few would think that the young Mancunian Rashford would be anywhere near the squad for this tournament. Yet after scoring 5 goals in 11 Premier League appearances, he is in the squad and is widely thought to be set to be named in the final 23 man squad, ahead of Daniel Sturridge, having scored three minutes into his international debut against Australia at the Stadium of Light.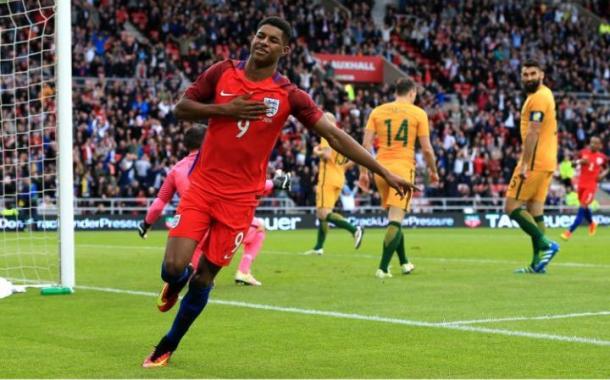 He has lightning speed and an eye for goal, and has already struck fear into many Premier League defenders. He also is a relatively unknown property which could play straight into England's hands, if he is brought on with England desperate for a goal.
Rooney's burst onto football's world scene came at Euro 2004 in Portugal, scoring four goals, while six years previously the 18-year-old Michael Owen's sensational performances at the World Cup in France left football fans gobsmacked. Is it possible that Rashford could replicate the excitement and energy that embodied Owen and Rooney at age 18, and announce himself to the world in a similar manner?
Opposition
Group B: England, Russia, Wales Slovakia
Fixtures:
Vs Russia, Saturday 11 June
An ageing side, yet one with tremendous experience, Russia finished second in their qualifying group. They won 6 out of their 10 games, losing twice to group winners Austria as they suffered from a period of transition when changing manager from former England boss Fabio Capello to Russian Leonid Slutsky. England's strength in depth should be enough to overcome them, but the Three Lions must be wary of Russia's defensive strength (they conceded only once in qualifying after Slutsky took the helm). This has the potential to be a banana skin fixture for England.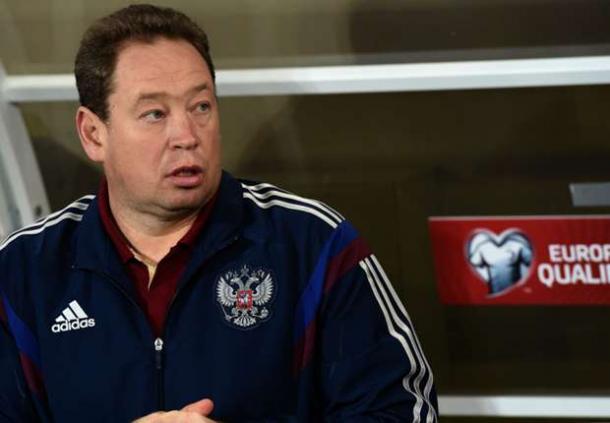 Vs Wales, Thursday 16 June
It goes without saying that England will be desperate to beat their neighbours, particularly as the public reaction if they don't will be one of outrage. Wales do have one world class player, Champions League winner Gareth Bale, which may not be said for England. Keeping him quiet will vastly boost England's chances, but this won't be easy given his pace and long range shooting capabilities. Excluding Bale, Wales shouldn't pose many problems to England, and hence it is important that England win to avoid any embarassment.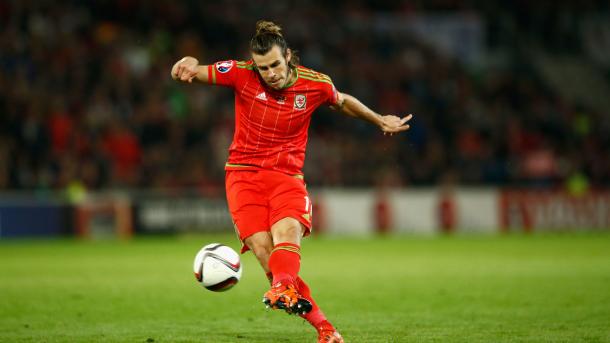 Vs Slovakia, Monday 20 June
An important game for England if they are to sustain momentum going into the knockout stage of the competition. Yet, Slovakian coach Kozak has dismissed any notion of his side being underdogs saying "we will fight. We will be very hard to beat."
Indeed it would seem this game will not be the easy fixture most England fans are anticipating, as distinguished Slovakians Marek Hamsik and Juraj Kucka look to inflict defeat on England, just as they did against Spain in qualifying. England will hope to be qualified for the next round by the time this game comes around.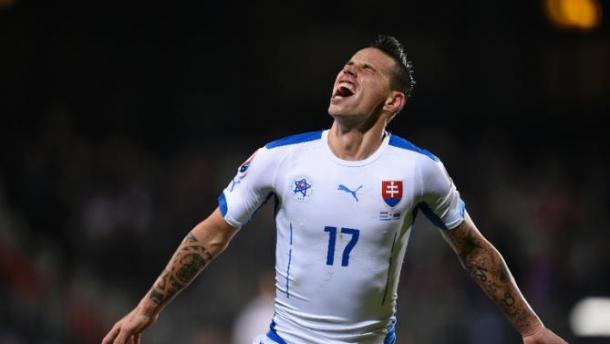 England should escape their group, despite struggling to in recent times from similarly straight forward situations. The first game against Russia will be vital in providing crucial momentum going forward in the tournament. Reaching the Quarter-Finals should not be beyond Hodgson's side either, with it looking likely that England will face one of Ukraine, Romania or Croatia.
England hope that spirit from Leicester's fairytale will rub off on their campaign
Anticipation of this summer's tournament has been somewhat blighted by the story of Leicester City. Having escaped relegation last season under Nigel Pearson, new manager Claudio Ranieri guided them to a first league title. The goals and ingenuity of talisman Vardy and mercurial Riyad Mahrez, who secured the PFA player of the season award, propelled the foxes to their first Premier League title in the club's history.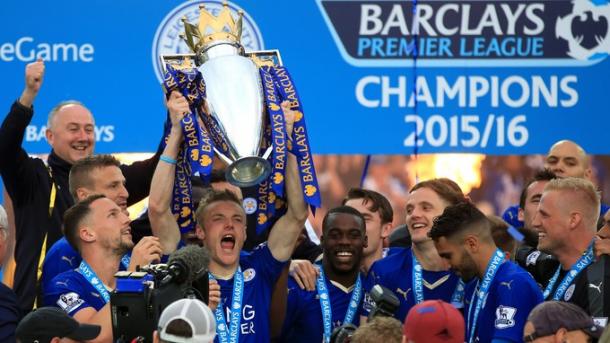 It was truly a feel-good story for not just domestic football, but sport in general and has seen a surge in positivity around the sport. The energy and exuberance of Ranieri's men overwhelmed their opposition more often than not and is widely attributed to their success.
Hodgson will be desperate for the counter-attacking zeal of the aforementioned Vardy and the grit of Drinkwater to rub off on his other players, and their confidence in their abilities will encourage the England manager.
Add this to the previous criticisms of England sides at previous tournaments of being inhibited and lacking zeal, and there may be genuine hope for England fans that the success of Leicester City will contribute to positivity surrounding England's campaign this summer. With two of Leicester's title winning squad in the team, it is their confidence that Hodgson hopes will rub off on the rest of the squad.
Other Leicester players featuring at this tournament will include N'golo Kante for France and Gokhan Inler for Switzerland.
Q&A with Simon Peach - Chief Football Writer for the Press Association
Firstly, it's been an excellent qualifying statistically for England with some positive friendlies too, particularly against Germany. Can we judge the team on qualifying, though, given it was a pretty straightforward group?
While beating the likes of San Marino and Estonia is hardly a yardstick with which to measure serious progress, going through with a 100 per cent record is no mean feat. Starting qualification by beating Switzerland in Basel set the tone and was both an impressive performance and result, while Slovenia proved in Ljubljana they were no slouches.
There's obviously been much speculation around Hodgson's striking options and it looks like he'll go with just the one striker playing in a natural role. For you, is that Vardy or Kane?
If you can second-guess how Hodgson will line-up in attack, you are a better man than me. Jamie Vardy and Harry Kane worked well together as a two-pronged attack in the 2-1 friendly win against Turkey and would be how I would want England to start against Russia on June 11. Daniel Sturridge and Marcus Rashford offer excellent options from the bench.
The captain looks like he won't be played as a striker, although scored in that role against Australia. Wayne Rooney, should he be in midfield, up front or on the bench?
Rooney himself has spoken of his desire to play the midfield role from next season onwards, suggesting he sees himself up front for England at the Euros. He certainly seems more effective in that role now, but I would play him behind a front two, if that is how Hodgson lined-up, because it is hard to see him not starting.
This tournament, for many, is seen as a building block ahead of the 2018 World Cup, so for you what would count as a successful tournament?
Anything but a run to the quarter-final would be a disappointment from my perspective as a fan. Taking a wider view, I would like England to come away with a clearly-recognised style - there is more pace and directness seen for many a year and hopefully that is utilised.
And what's different about England this time round, youth, more balance, more of a team unity rather than the Golden Generation focus?
Balance has been one of the buzzwords for Hodgson during preparation and he does seem to have struck it, albeit taking a bit of a gamble in not selecting four out-and-out centre-backs and going without a back-up to Eric Dier in the defensive midfield role. The talent and potential of this group is exciting and hopefully, given this is the first major tournament for many, they will not be inhibited.
England's training camp, where is it, and has this tournament been better planned for than previous ones?
Two years ago the squad went to Portugal for a few days, then off to Miami for some warm-up friendlies and acclimatisation. This time, England have played matches in Manchester, Sunderland and London. As someone who follows England home and away, I would understandably prefer a trip somewhere warm but can fully understand the thought process. Assistant coach Ray Lewington says they tried to turn the preparations "upside down" in an attempt to make the tournament build-up feel like an extension of the season. Having linked up three days after the end of the Premier League season, players have been going home for a couple of days, coming back to a different location and looking forward to the next match - something Gary Neville was key in implementing.
England's opponents in the group aren't huge names but certainly, particularly in the tournament atmosphere, are not comfortable victories. Will the 'derby' against Wales be the toughest test and can England top Group B?
Perhaps it is just the pessimist in me, but I do think our Group B opponents are quite dangerous. Russia have a few exciting players, a handful of newly-naturalised talents and will want to impress two years out from hosting the World Cup. Slovakia have a strong line-up, if not any particular depth, and head into their first European Championship with nothing to lose. Then there is Wales - a team with a world-class player in Gareth Bale and no little team spirit.
And finally Simon, what's your prediction for England? A quarter-final defeat on penalties? Wouldn't that be a surprise....
I want to be confident but I am pre-conditioned to expect the worst. I would like to think we can make the semi-finals, but we will have to see how the draw falls. We certainly have the talent to get there, even challenge for the trophy, I just fear our youth could make us inconsistent.
Q&A conducted by Harry Robinson, with thanks to Simon Peach.