Emotion. Passion. Tears. Triumph. Northern Ireland will be going to the 2016 European Championships in France, and they did it in style.
1958. 1982. 1986. 2016. This set of players have written themselves into footballing folklore, and they will be followed by their incredible fanbase.
Blanchflower. O'Neill. McIlroy. Davis. The former three made history, the latter captain has already done just that, but can he add to it further?
How they ended a 30-year wait for tournament football
Things began beyond Northern Irish dreams in Budapest, as they struck late - twice - through Niall McGinn and Kyle Lafferty to end several rotten runs. It was a first game in five which they had scored, a first away win in nine and all on the day David Healy scored against England on that infamous eve in September 2005; omen?
It got even better after two 2-0 wins in October's double header, as both the Faroe Islands and Greece were swept aside. The latter was another away win, simply unheard of in recent times. Not only that, the perfect record from the opening three games meant Michael O'Neill's men were the first Northern Ireland side to win their first three qualifers.
The Green and White Army trooped to Bucharest next, in what would be the first set-back of their qualifying campaign. Paul Papp struck twice in five second half minutes to dash hopes of a fourth win in a row and, suddenly, doubts were creeping back into the minds of the fans; was it too good to be true?
Finland would be the side that they tackled after the Romania defeat, with Windsor Park still taking shape as the ground underwent refursbishment. Lafferty was breathing life into it, though, as his brace meant Berat Sadik's strike was nothing more than a consolation. The fans bounced so hard they Kop fell down, or so the legend goes..
Romania were next to the cauldron of noise at Windsor, now with no Kop but a Railway End. A stale 0-0 was what followed, though the hosts knew that both Lafferty and Ollie Norwood came oh-so-close to grabbing the crucial goal in the second half. A trip to the Faroes followed, Gareth McAuley conquered. His brace secured a hard-fought 3-1 win.
All those results had led to the game versus Hungary, win and they were in France; a draw was satisfactory, a loss unthinkable. When the unflappable Michael McGovern failed to gather a free-kick and Richárd Guzmics scored with 16 minutes left, it looked bleak and Hungary were in pole position to pip the Northern Irish to a place in the top two.
Things got even worse when Chris Baird was spectacularly booked twice in five seconds, but that worked to their advantage. With Windsor roaring, a last-minute set-piece was won. The ball bobbled in the box, Kyle Lafferty took charge and sent the 9,800 fans to a noise that is seldom heard in stadiums seven or eight times the size.
The second attempt at qualifying, also at Windsor, saw them take on lowly Greece. It was a night made for something special, and a Steven Davis double did the job. A 3-1 win was secured, so was a spot in France - the fans could hardly believe it. They had done it, history was made, words were scarce - a night never to be forgotten.
With that, they headed to Finland a few days later and Craig Cathcart's header secured top spot in the group. History once more. Iceland, Wales and Albania all had their fairytale stories, but this had something more special. The stadium rose like the team, poetry in motion.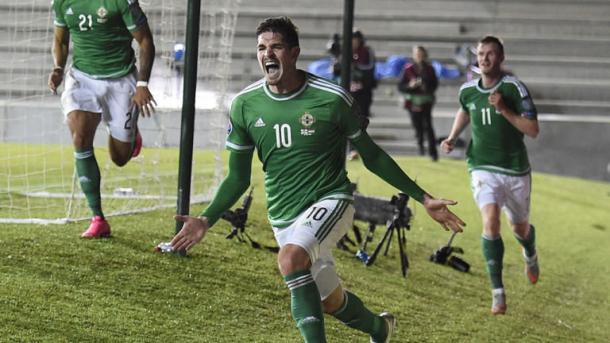 Has that form carried through into recent games?
Simply, yes. There have been four friendlies since the Finland game and three have ended in wins. Only a last-minute penalty for Wales halted the winning run, but there is no debating that Northern Ireland definitely have a momentum and run of form that few sides possess going into the tournament.
It all started against Latvia in November, in what was more the beginning of a farewell tour than anything else. More space had opened up at the ground which was welcomed massively by the home support, and Davis' delight was palpable when he netted the only goal of the game in a 1-0.
The Wales tussle followed and, after a rather lifeless first half, Cathcart struck on the hour mark to seemingly set his side on the path to victory. It wasn't to be, though. McAuley's foul at the death handed Simon Church the chance to convert from the spot, and he did just that; a fair result on the balance of play.
The second game of the March double-header saw Slovenia travel to Windsor Park. Much like a rather dull draw between the two a few years ago, this was not a game to get overly excited about. The only moment of note came when Conor Washington, in the country for the first time, rifled past Jan Oblak to give Northern Ireland a 1-0 win.
Washington carried that into the final home game before the finals, scoring the second of three goals against Belarus. Lafferty grabbed the first and a certain Will Grigg scored with two minutes remaining to give the home faithful the perfect send-off. Northern Ireland strikers in form? Unbelieveable, literally.
Michael's tactical masterclass
After one win in 18 games under O'Neill, Northern Ireland fans would have been forgiven if they had called for him to go. Northern Ireland were always in games, losing just one of those by more than two goals. However, the IFA decided to stick with him and keep the faith. They were rewarded, and then some.
The change from a conventional 4-4-2, or one which used a diamond or played with two midfielders as the six, saw a massive turn in results. In the 16 games that followed defeat to Chile in the Estadio Nacional, Northern Ireland have lost just twice. Nine wins, five draws and boast an 11-game unbeaten run, not bad whatsoever.
The 4-1-4-1 carried Northern Ireland through the qualifiers to become the first-ever fifth seeds to top their group, but an injury to usual left-back, Chris Brunt left O'Neill with a dilemma. Did he play Jonny Evans there? Was Shane Ferguson the man for the job? No, it was time to change formation again.
3-5-2 is now what looks likely to be the first-choice for France, having deployed it in each of their last four games. It offers great defensive stability, switching into a five when without the ball. But that can quickly transition into a swift attacking force on the break, or a comptent unit to keep the ball with.
Either way, O'Neill deserves heaps of praise for what he has turned Northern Ireland into and for committing to another extension.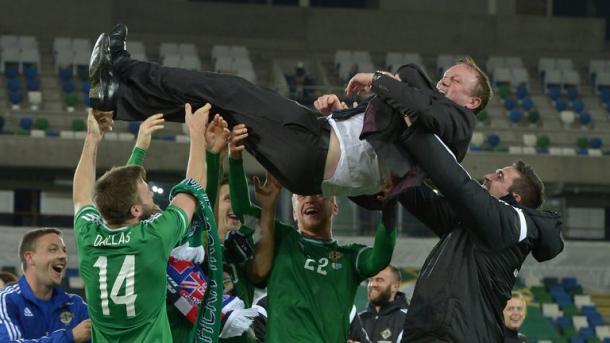 The players who need to perform in France
As far as most Northern Ireland fans are concerned; no Davis, no party. If they are to make any sort of impact in the tournament, then their captain will have to be at his very best. The Southampton star is among the most underrated players in the Premier League. He is rarely flustered, always composed and can make things happen in midfield.
Davis' ability to round men in the middle and dart into the resulting space will be priceless, as will his ability to win fouls; getting breathers for his defence could be crucial. If he falls to injury, then it could be a case that Paddy McNair is pushed into his role. The Manchester United youngster was imperious against Belarus in the recent friendly.
Yes, it may have been Belarus and not Germany, but what he showed was real drive and a willingness to move forward; quality is one thing, but desire is another. McNair will likely occupy a holding role and provide cover for Davis and Ollie Norwood, as they aim to pick the passes to take O'Neill's side forward.
As a unit, the back three, or five, are required to be at the top of their game. Gareth McAuley, everyone's favourite man from Larne, is the embodiment of the fans' spirit on the field and is only too willing to throw his head at a boot to block the ball. Craig Cathcart and Jonny Evans make up the other parts of the defence, an all Premier League affair.
Conor McLaughlin and Stuart Dallas play vital roles as wing backs, and the recent friendlies have say them make impact contributions at both ends of the pitch. They are aiming to feed what looks set to be a front two of Conor Washington and Kyle Lafferty. For once, Northern Ireland have an in-form strike force.
Lafferty netted seven times in qualifying, Washington has two in his two home games and everyone knows that Will Grigg is in the form to spark viral videos across the globe. Washington's pace and Lafferty's height made for a troublesome duo, and Grigg will offer firepower from the bench when called upon.
O'Neill has real options off the bench, with the likes of Grigg, Niall McGinn and Jamie Ward to call upon. A strong squad, determined players and manager - no-one will want to take on the Green and White Army this summer, that much is for sure.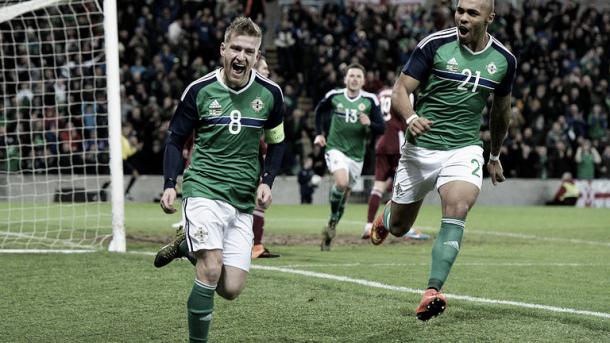 Who do they face in Group C?
The draw could have been kinder for Northern Ireland, that much is for sure. Germany, Ukraine and Poland will be the teams they have to tackle to earn a place in the last 16. Yevhen Konoplyanka, Andriy Yarmolenko and Robert Lewandowski, are the key players for the latter two, and there is little doubting the quality the World Champions have.
However, if O'Neill can man-mark Lewandowski then there is every chance he can nullify Poland's main threat. As for Ukraine's star wingers, that will also be no easy task. The discord between the Shakhtar Donetsk and Dynamo Kiev players could mean there is a chance to exploit any rifts in the squad.
As for Germany, well, what can be said that hasn't already? They are the tournament team, but if anyone can upset the odds against them, it's Northern Ireland. The two EURO 1984 qualifying victories enjoyed by Jimmy Nicholl and his fellow players will no doubt be emphasised, and the fact they could have an Ian Stewart moment, also.
Nicholl's experience of the so-called glory days could prove pivotal. An excellent motivator and capitivating story-teller, the former player will be aiming to translate his time in the team into words of wisdom and advice of the current crop; his choice as assistant was no doubt an inspired one by O'Neill.
Can Northern Ireland spring a surprise?
Over recent weeks and months fans have booked their flights and hotels for the duration of the group stages, yet some are openly preparing to let the flights home go to waste if Northern Ireland make it past the group stage. As the finals edge closer, and group opponents continue to stutter, the Green and White Army are quietly confident.
Of course, no-one is saying that they can win the tournament (yet). But the expectation is beginning to bubble into progression from the group stage, and from there - who knows? Even during the dark days of not being able to score, or the Lawrie Sanchez reign, giving big teams a real run for their money was second nature for Northern Ireland.
Whether or not they can replicate that in France is up in the air, though there is every chance that they will. O'Neill has introduced an almost unbreakable bond into the side and that will be a tough test for any side, never mind the quality that the team actually possess across the field.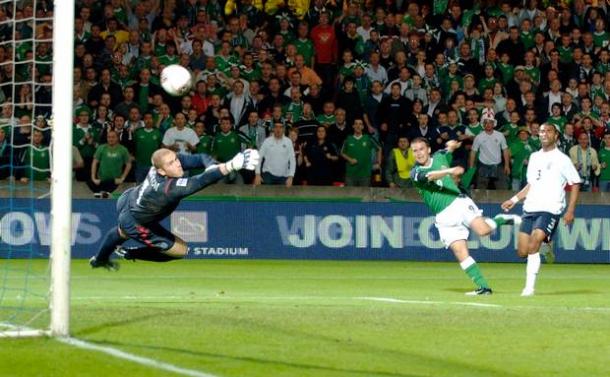 Was O'Neill right to pick Boyce?
The only real news that has fluttered around the camp in the tournament build up was the debate surrounding selection. There were two, perhaps, debatable decisions in many peoples' eyes. Liam Boyce and Michael Smith - along with Ben Reeves, Billy McKay and Daniel Lafferty - both missed out at the expense of Will Grigg and Lee Hodson.
O'Neill admitted it was his 'toughest decision' to pick between the two forwards, although Grigg's incredible scoring form made him an almost must-pick for the manager. The decision to let Smith go, especially after his superb performance against Slovenia, was deemed harsh.
Hodson has featured just once since 2014, playing 32 minutes of a friendly defeat to Scotland. Despite this, he has been a constant in the squad and O'Neill seems to have picked him on that basis. However, the pace and power of Smith on the right - if McLaughlin was to get injured - would have offered a more attractive option than Hodson.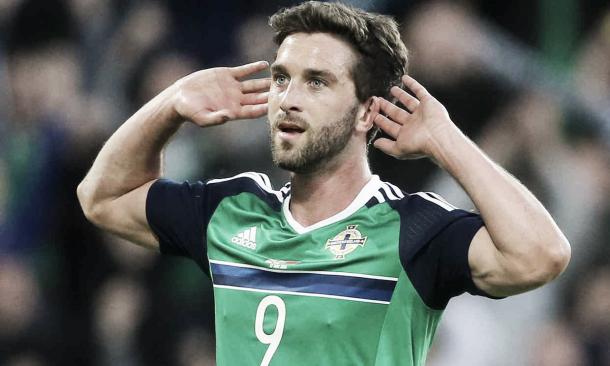 Grigg confident ahead of the tournament
Speaking to VAVEL following the win over Belarus, where he grabbed his first international goal and sent the world into a frenzy, Will Grigg is full of belief as the team head to France. Given their recent form, and the fact that they are one of the most in-form teams heading to the tournament, there are few reasons to question his enthusiasm.
Grigg said it was a "dream come true" to grab the goal and a "really pleasing night". The Wigan forward continued, saying he "probably couldn't" have scored on a better night. He admitted the goal was "something special" to him, before turning to the team: "Before the game, we said we wanted a good performance, to win the game.
"We've gone into it from the first minute with tempo, we looked right on it and to get that early goal obviously settled any early nerves. It was the perfect way to send off and hopefully we can carry that into next week," Grigg added. "We'll prepare hard for the next game," he said on the upcoming friendly against Slovakia.
Grigg was in bullish mood when it came to how he thinks perceptions will have changed, "People before might have seen us as the easy three points out in France, but not anymore." He continued, "We'll be going there, we won't be lying down and we want to pick up some points.
"Teams will be looking at us and thinking 'they're a tough side' and they'll fear us." Finally, Grigg said: "100% [on if Northern Ireland can advance past the group stage]. We have to concentrate on our group first but there's no reason why we can't get through it and we'll be doing everything for that."
Dates for the diary
Game One: Poland - Northern Ireland - June 12th - 17:00 kick-off in Nice.
Game Two: Ukraine - Northern Ireland - June 16th - 17:00 kick-off in Lyon.
Game Three: Northern Ireland - Germany - June 21st - 17:00 kick-off in Parc des Princes, Paris.