Think of Slovakia and you do not necessarily associate them as a football powerhouse, but Jan Kozak's men qualified for their first European Championships ever this summer, after flirting with success in World Cup 2010.
Starting to create a name for themselves
Yet the Eastern European country are beginning to make a name for themselves before the tournament even begins. After defeating both Spain and Ukraine in qualification and only this week seeing off World Cup winners Germany, the football world is starting to take note of a country only formed 23 years ago.
Though even when they were part of Czechoslovakia who won the European Championships in 1976, the area had a huge influence with eight of the starting eleven hailing from the Slovakian region. Since then Slovakian football has gone relatively quiet although things look set to change.
Slovakia's strengths lie in midfield where one of the world's best midfielders Marek Hamsik leads the attacking players. Despite playing over 300 games for Napoli, the playmaker is only 28 and surrounded by a wealth of young talents. Exciting wingers Vladimir Weiss, Miroslav Stoch, Robert Mak and Ondrej Duda are just 26, 26, 25 and 21, with the previous two already holding over 50 international appearances.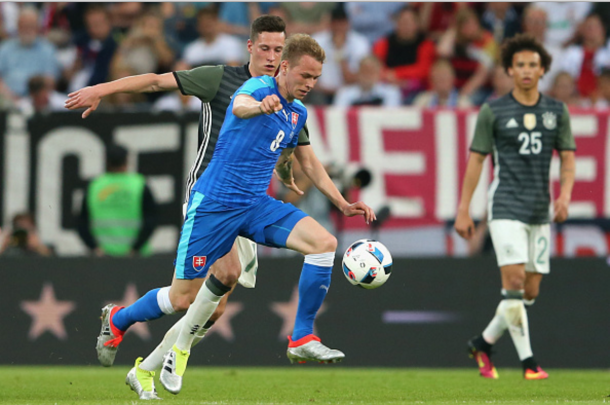 Head Coach Jan Kozak is not afraid of integrating younger players in his squad either. 21 year old Milan Skriniar of Sampdoria has earned his place in the final 23 for Euro 2016 despite only making his international debut last week against Georgia. Three more youngsters in Matus Bero, 20, Erik Sabo, 24, and Adam Zrelak, 22, would also have gained valuable experience from being part of the training camp but just missing the cut for France.
Youth teams progressing well
Further down the Slovakian football set up and the Under 21s look well on their way to qualifying for the 2017 European Championship. Four wins from five with fourteen goals, including two victories against the famous youth production line of Netherlands, is proving that the young players venturing to play their football in the likes of Italy, England, Czech Republic and various other European countries outside of Slovakia is paying dividends. The Under 17s are also pushing hard for a place at their European Championship finals, currently topping their group without a defeat.
Slovakia still have a long way to go to match the exploits of their predecessors 40 years ago, but after consistently failing to qualify for tournaments from the national squad to the youth teams, the future of Slovakian football is beginning to look a lot more rosie.