The influence of Croatia on European football is illustrated no better than in the line-ups of two of the continent's biggest clubs, with Ivan Rakitic and Luka Modric key elements of Barcelona and Real Madrid, respectively.
The nation currently sits at 23rd in FIFA's World Rankings, but with the La Liga midfield duo being joined by other big names such as Mario Mandzukic, Mateo Kovacic and Ivan Perisic, Croatia are more than capable of having a notable impact on the tournament.
How they qualified
They eventually qualified for Euro 2016 after an initial shaky start that included a goalless draw with Azerbaijan and a two-nil defeat to Norway, who they had beaten 5-1 in the reverse fixture just months earlier. This brief but indifferent form cost Niko Kovac his job as manager, as the once-captain of the Croatia was replaced by Ante Čačić, who guided them to qualification as runners' up of Group H to Italy. One of the team's two respectable draws against the Italians was marred by racist chants by Croatian fans in Split, punished by UEFA docking the country a point and forcing them to play their next two home ties behind closed doors. Despite the controversy, Croatia finished a point ahead of third-placed Norway and are yet to experience defeat under Ante Čačić's guidance.
Manager: Ante Čačić
The ex-Lokomotiva Zagreb manager was far from a popular choice to take the role, as the former TV-repairman stands as a far less established name in Croatian football compared to the likes of Kovac and Slaven Bilic who have previously managed their country. How well the side does in France will have an enormous effect on how he is perceived back home, but Čačić seems to have great confidence in this batch of players.
After securing qualification he said: "This generation has to finally do all it can to step out of the shadow of Vatreni (The 1998 team who finished 3rd in the World Cup)."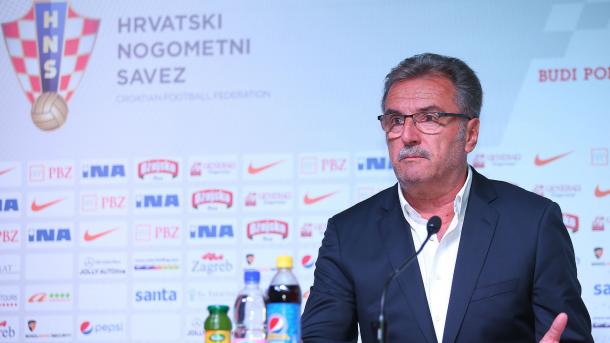 Whether or not they can do so will rely on the performances of their key players who are integral to Croatia's tactical set-up. Usually fielding a 4-2-3-1, Čačić packs his midfield with the aim of overrunning that of the opposition's, using players who when fit, make up one of the strongest midfields at Euro 2016. Modric and Rakitic serve as the obvious playmakers, whose options for targets of their talented passing ability are increased by attacking full-backs in the squad such as Sassuolo's Sime Vrsaljko and captain, Darijo Srna. The skipper and all-time most capped player for Croatia is also a threat from set-pieces, with his deliveries providing possible service for target man, Mario Mandzukic.
Strengths and Weaknesses
Further strength in midfield comes in the form of Mateo Kovacic and Marcelo Brozovic, who can further boost the attacking qualities of their side that are surely their major strength. However, it is defensively where Čačić's side appear weak. The desire to play his star players can leave his side lacking in defensive and physical strength, putting a lot of pressure on whoever he decides should anchor the midfield. Milan Badelj is the most likely candidate to fill this role in front of the back four, but his own urge to move forward with the ball could leave Croatia open should possession be lost.
The side also lacks productive wingers, with Ivan Perisic on the left usually acting as a scorer of goals rather than a provider. Similarly, Nikola Kalinic has sometimes filled in on the right-wing, but is naturally a striker. This lack of creativity out wide places further responsibility on the full backs to offer support and therefore opening up this attack-minded outfit even further.
Key players
The aforementioned pairing of Luka Modric and Ivan Rakitic are the obvious key players for Croatia, and the amount of time and space they are able to find on the pitch will be vital in Croatia's chance creation. Equally important though is the Juventus striker, Mario Mandzukic, who will be responsible for finishing those chances created. The former Atletico Madrid and Bayern Munich centre-forward has been one of Europe's most reliable goalscorers for a few seasons now and his tenacious style of play will make him a difficult opponent for even the toughest of defenders in France.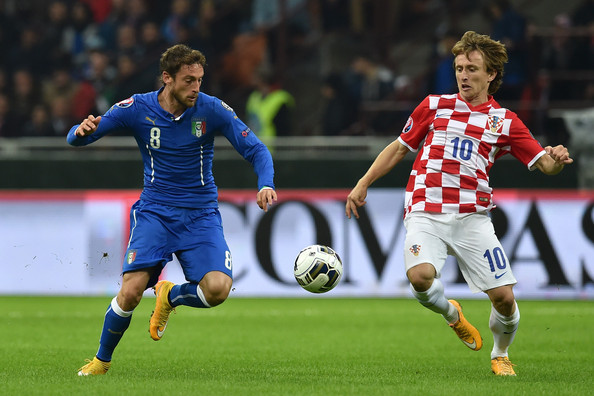 Away from the bigger names, it could be a huge tournament for the young Ante Ćorić. Only capped once before the summer, the Dinamo Zagreb midfielder has drawn interest from a host of Europe's top clubs and has the self-confidence to deal with the pressure of the attention. At only 19, he has made 67 appearances for a team who are currently dominating Croatian football domestically, scoring 20 times along the way. He won't be expected to start games with so much competition for places in Croatia's attacking midfield positions, but involving him off the subs' bench could be a worthwhile rolling of the dice from Čačić if needs be. If he does impress, some of those top clubs will likely act on their interest.
Group D opponents
Croatia have been handed a tough draw at Euro 2016, with holders Spain the outright favourite to win their group. Their lack of defensive solidity may be exposed against La Roja, making the fixtures against Czech Republic and Turkey all the more important.
Turkey are appearing in their first major tournament for eight years and actually met Croatia on that occasion. Shim Senturk's last minute equaliser eventually took the game to a penalty shootout, where Modric and Rakitic's misses saw Turkey through to the semi-final at their expense. The group D opener between the two nations will be a chance for revenge and redemption for many members of this Croatia squad.
Čačić's side will meet Czech Republic in Toulouse for their second match, the first meeting of the two nations in a competitive fixture. However, the two coaches of each side have met before, with Pavel Vrba's Viktoria Plzeň defeating Čačić's Maribor in the 2013/14 UEFA Champions League play-offs.
The results in their first two group games will be crucial as they will be underdogs when they meet Spain in the final round of games in Group D. The two nations have had a closely contested European Championship match before though, with only an 88th minute Jesus Navas strike separating the sides at Euro 2012 in Ukraine.
In the news
One of the biggest stories surrounding Croatia's Euro 2016 team involves one of the players missing from it, as a fallout between Čačić and Dejan Lovren has seen the Liverpool defender omitted from the squad. Unhappy about being benched for a friendly in Budapest against Hungary, the centre-back is believed to have argued with his manager that if he was not played in the first eleven, he would not go to the Euros. The ultimatum has somewhat backfired, with Lovren now not in the squad travelling to France.
Čačić has said on the matter that Lovren "can return one day if he realises that he has to be a team player. When it dawns on him that he can't look down on his team-mates, the staff and the coach, he will perhaps find a way to get back in."
Q&A with Aleksandar Holiga, Croatian Football Writer
How is Ante Čačić perceived in Croatia?
Čačić is massively unpopular, even ridiculed and despised by many fans and a part of the media. Others may try to justify some of his choices and decisions, but can't deny the facts that everyone are aware of. Čačić doesn't possess either the credentials or the reputation to lead this team, which also means he lacks authority and respect in the locker room. But none of that was taken into account when he was appointed – it is no secret that he was the personal choice of Zdravko Mamić, the Dinamo Zagreb boss who is also the puppet master of Croatian football.
Politics aside, how does Čačić compare to previous managers of the national team?
Čačić is a mediocre coach at best (although, personally, I'd even say he's below mediocre), with not much to show for in his career. His predecessors, Bilić, Štimac and Kovač at least had charisma as former players and on pitch leaders at the time of their appointment, while Čačić doesn't have that, either. All of the players play under better and more reputable coaches in their respective clubs, so they are aware of the difference more than anyone else could be – that, especially with all the negative stuff surrounding the team, could be a recipe for disaster.
What impact do you think the situation regarding Dejan Lovren will have on the squad?
It's just one of the clear indications that things aren't quite working between the players and the manager. There are a few theories floating around as to why exactly the fall-out happened – from those who say Lovren wanted the summer off and provoked the incident, to those linking it somehow to the fact that he testified in court against Zdravko Mamić, who is being charged with massive-scale embezzlement of Dinamo funds – but 'why' may not be that important. I think the fact that he went public with fierce criticism of Čačić and his methods speaks volumes about the atmosphere. He's certainly not the only one who thinks that way.
What are the expectations of the side for Euro 2016?
Well, those who are oblivious to everything else would say that this could be a big chance for a star-studded generation. Croatia really does have very good players and judging by individual class a realistic aim would be quarter-finals. But there is no consensus on expectations and they range from group stage exit to tournament final. Personally, I'm very pessimistic.
Fixtures
Turkey, 12th June, Paris
Czech Republic, 17th June, Saint-Ettiene
Spain, 21st June, Bordeaux