Poland will be taking part in only their third UEFA European championship in France and for the first time will be looking to make it beyond the initial group stage phase.
How they qualified
Poland were drawn in qualifying group D for the expanded Euros which are about to take place in France. Adam Nawalka's team were given a kind start in the group as they played newly found UEFA member Gibraltar, who were starting their first ever qualifying campaign. As expected Poland dealt with the newcomers easily, with a 7-0 win in the Algarve, Portugal. Captain Robert Lewandowski started his tremendous campaign with four goals.
Then came one of the greatest nights in Poland's footballing history a month later in their first home game of the group. Neighbours and recently crowned World Champions Germany were the visitors and their great record against Poland would end as they were beaten 2-0 at the National Stadium, courtesy of goals from Arkadiusz Milik and Sebastian Mila.
Things never quite reached the heights of these first two games throughout the rest of the campaign, but they would only lose one game and out of 10 by the end of the qualifying process, which came in a 3-1 defeat against Germany. Poland could have won the group had it not have been for frustrating draws home and away to Scotland, along with conceding a last minute equaliser against the Republic Of Ireland.
However the expanded format meant that being pipped to the top spot in the group by Germany was meaningless as the top two advanced automatically to the Championship. The highlight of the campaign was clearly beating their rivals Germany and also the fact that striker Lewandowski tied the record for most goals scored in a Euro qualifying campaign with 13, six of which came against Gibraltar.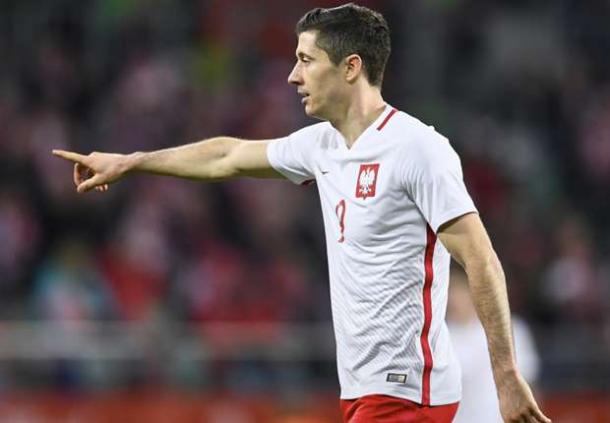 A lack of Euros history
Something that may worry Polish fans is the fact they've never really taken to this competition, unlike the World Cup where they've finished third twice. In fact, this is only their third appearence at a Euros and they've all come in the last three tournaments, however they've yet to win a game in this competition proper out of six attempts.
Nawalka has certainly kept his team focused after the euphoria of qualification, as Poland have seen off Iceland, Serbia, Czech Republic and Finland since November. He'll hope to carry this form on as they host the Netherlands and Lithuania in the first week of June before the tournamnet kicks off.
Who is Adam Nawalka?
A few of the players in Poland's squad might be considered wild cards and the same can be said for their 58-year-old manager Nawalka. The former Górnik Zabrze manager has never coached outside of Poland with his most notable job, being numerous spells with Wisla Krakow his hometown club. However it was his three years at Gornik Zabrze, which earned him the national job after guding Trójkolorowi to the summit of the Polish league.
He may have been scrutinised for his appointment, but the Pole's record has been oustanding really with just three defeats in 23 games in charge since his November 2013 arrival. Also he does have a pedigree in a major competition having been named in the best XI for the 1978 World Cup in his playing days as a midfielder.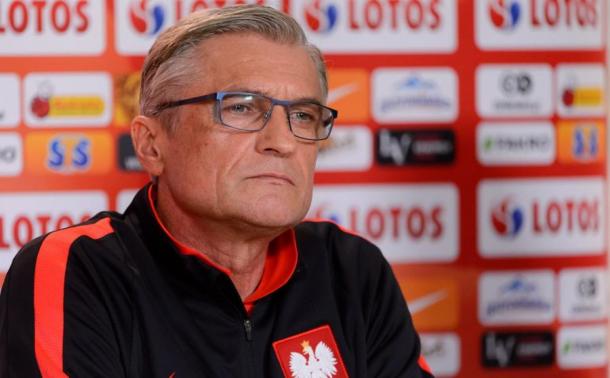 As far as Nawalka's tactics go, he has focused on making Poland a difficult team to beat and utilising the talent of captain Lewandowski, who has mainly been playing up front on his own. The favoured formation of Nawalka is a 4-2-3-1 with Grzegorz Krychowiak being a big part of the way the team play by sitting just in front of the back four.
His focus in the build-up to the tournament has been to thank the players who just missed out on the final squad by one way or another, mainly Pawel Wszolek and Maciej Rybus who were key players lost to injury at the last minute. Commenting on them, he said: "I hope they will have their fingers crossed for us."
Team strengths and weaknesses
The obvious strength of this squad is the fact they can easily score goals and although Lewandowski is a huge part of this, he is not all of it as Poland managed 20 goals as a team without his record breaking 13, and were the clear top scorers in the group, scoring nine more than Germany. Milik, the backup striker if you like in the squad also scored six times in qualifying, meaning they should cause team's problems.
The only real weaknesses you could point at for Poland under Nawalka is the fact they have conceded quite a few goals late in games and could be criticised for not concentrating for the full 90 minutes, which could well cost them in the tournament. For example, half of the 10 goals they conceded in qualifying came in the last 10 minutes of games and cost them the win against Northern Ireland, and getting a result against Germany.
Key players
He's already been mentioned countless times in this piece, but you can't ignore Lewandowski's abilities when the goal is in his sights. The Bayern Munich striker has just had the best season of his career as well by becoming the first player to score 30 goals in a Bundesliga season in nearly 30 years, as well as picking up four Guinness World Records for how quick he scored some of these goals.
Poland are by no means a one man team though and this has shown more since Nawalka got the job. The other obvious names you look for are Lewandowski's former Borussia Dortmund teamates Jakub Blaszczykowski and Lukasz Piszczek who have won German titles and played in a Champions League final.
Thinking more defensively and you can't look past the man mountain of a central defender that is Kamil Glik who plays for Torino in Serie A, there's a strong argument he is the real leader of this team despite Lewandowski being the named captain. Sevilla's Krychowiak helps him out a lot also by offering good protection in front of the defence.
Wildcard
The player who could be a real diamond at the tournamnet for Poland is 19-year-old attacking midfielder Bartosz Kapustka who plays his football for Krakow's other main team Cracovia. He is really a player Nawalka was steadily introducing into the team with the 2018 World Cup in mind, but due to injuries to key attacking players he's been thrusted into the national side and has taken to it well by scoring in his first two caps at the end of 2015.
Whether he'll start is another story, but you'd expect him to have some sort of impact in France whether in the starting XI or off the bench.
Group C opponents and how they'll fare
Poland for the second straight European championships received a perhaps favourable draw as they were matched up against Northern Ireland, Ukraine and another pairing with Germany. The obvious favourites for Group C are World Champions Germany who pipped Poland to top spot in qualifying, whilst they have been touted as favourites to win the entire competition.
Despite some scrutiny over Joachim Low's squad selection, most would still expect Germany to win this group and take maximum points in the process, although Poland and others have shown they are not invincible since that World Cup win in Brazil.
As far as opening game opponents Northern Ireland go, they could be the biggest challenge to Poland in regards for going after second place in the group. Michael O'Neil's team were one of the biggest shocks in qualifying as they won Group F after going through numerous campaigns where they didin't even get close to qualification.
However being at a tournament is a completely different challenge altogether and it's something they've not done since the 1980's. Although they still have players in their squad who have played at a high level, it would be unfair to call them the worst team in this group, but Poland should have too much for them.
Finally in group C we have the only playoff qualifier in the form of Poland's Euro 2012 co-host, Ukraine, who finished third in qualifying group C. Under the expanded format for Euro 2016 this was enough for them to make it into the playoffs where they were drawn against Slovenia, who they defeated 3-1 on aggregate over two legs.
For obvious reasons, most fans and experts fancy Ukraine for first round elimiation bearing in mind the recent pedigree of the teams their up against. Also the fact they are a much older squad and that most of their players play in Ukraine, it's hard to make a case for them in the group and I think they'll be lucky to get a point on the board.
Q&A with Polish native
Frank Janas is a 50-year-old from Krakow, who supports one of Poland's most successful clubs, Wisla Krakow.
Q: How do you think Poland will fare at Euro 2016?
A: "I believe we can make the quarter-finals of Euro 2016 as we have a good, young sqaud and some world class players. In the group we'll beat Ukraine comfortably and we should have enough to get past Northern Ireland, beating the Germans again is maybe a step too far, but the two wins should get us at least second in the group.
"Finishing second in this group means we'd avoid a group winner and most likely play someone like Romania or Switzerland in the last 16 who are the types of teams we've been able to beat and is the main reason that we qualified in the first place. Getting further than the last eight would be a bonus, but with the elite teams we should be up against, we won't be able to pull it off, but getting there would be a success."
Q: Apart from Lewandowski who is your key player?
A: "Taking our famous number nine out of the equation, I think the key player to our success is Krychowiak and the role he plays in our team, with the protection he offers to our sometimes shaky back four. He's well known now throughout Europe, as he's been a bigger reason for Sevilla's numerous Europa League triumphs recently and playing in one of the biggest leagues in the world."
"I also like the fact that Nawalka is giving our top young players a chance with the likes of Piotr Zielinski and Kapustka depsite him being a Cracovia boy set to do well for us this summer. Also our blend of youth and experince should help them out."
Q: Where do you rank the current squad out of the one's you've seen?
A: "(laughs) Well I'm not quite old enough to remember the 1974 team in Germany, but I have fond memories of 1982 and the third place finish in Spain. Zbigniew Boniek is an idol of mine for what he did in that tournamnet and I feel this competition could lead to Lewandowski doing the same thing as he is a better overall player than the great man.
"This is the most excited I think us fans have been about a Polish sqaud in a while, so I just hope the players see this as a driving force and not a burden on them as we'll be fully into this tournament."