It has been a glorious night in England history... oh wait, no it hasn't. It was dull, no matter what Hodgson says. It is quite clear to those of you who have remarkably managed to stay awake and resist the temptation to close this tab that I have, at times, been bored close to sleep. I'm sure some grandfathers out there have been. Still, England are going to win Euro 2016. Chris Smalling scored, Raheem Sterling crossed and Bruno Alves fly kicked Harry Kane in the head. A memorable evening... I jest. Goodnight everybody, I have been Harry Robinson, follow me on Twitter @HarryRobinson64, I shall be covering England throughout the Euros, and Wales too... Together for England, hazaar!
Roy Hodgson: "It would have been a better game 11 - 11. We weren't grateful for the sending off, it would have been a better challenge 11 - 11. I thought we were showed good composure in the second half."
Roy Hodgson: "I'm not prepared to stand here and criticise some players and praising some others on national television."
Roy Hodgson: "Well, I don't have to accept we didn't play well. It's never easy to play against ten men. I thought in the second half we played some good football. I think especially in the last thirty minutes when we made some changes we looked good. It was a good preparation game and I'm really pleased with the three wins in these three games."
We're about to hear from the man who will guide us to European glory, it's Roy Hodgson's quotes coming up.
Sterling, Lallana, and Sturridge or Kane, Vardy, and Rooney? Who would you start against Russia? Follow us on Twitter @VAVEL where we're running a poll on that particular subject.
Rooney continues: "I think we're ready. In these games leading up there's been a lot of changes to the team and we've won the three games but we've not been at our best."
Here is the man himself, the scapegoat, Wayne Rooney: "It's a good sign to win when you don't play so well. I don't think we had many chances, Portugal made it difficult."
The Twitterverse is blaming Wayne Rooney for tonight's drab display. Are you surprised? The captain, the all-time top goalscorer is the scapegoat once more. The tempo certainly improved when Rooney left the pitch, but that was as Jamie Vardy and Harry Kane were also subbed. The increase in tempo was down to Sturridge, Lallana and Whilshere's contribution.
FULL-TIME England did score, eventually. A 1-0 win over Portugal prevents a 5th consecutive draw between these two sides. England go into Euro 2016 with three consecutive wins, but this was dull. Chris Smalling's late header was the only goal and Bruno Alves' high boot (yes, high, at head-height) won't be forgotten.
92' A very good chance for Portugal to equalise. William Carvalho is completely open deep in the box from a corner but heads over the crossbar.
90' Three minutes added on. I can't quite believe that the scoreboard above this isn't two 0s. It was becoming part of the furniture. Anyway, just three minutes to hold on now for England for another win which would be three from three going into Euro 2016.
89' It was a very good cross from Sterling who drifted wide as soon as the free-kick didn't go to plan. Smalling headed it very well too, across the face of goal to prevent Rui Patricio from getting to it. Sturridge hs looked lively since coming on.
86' Smalling is the man to give England the lead, and likely the win because Portugal haven't threatened much. Jamie Vardy, Harry Kane, Wayne Rooney, Daniel Sturridge and it's Chris Smalling who gives England the goal. Well...
85' GOOOOALLL! It didn't come from the free-kick but followed soon after. Chris Smalling gives England a late lead, heading home right in the bottom right corner as Sterling's cross came in.
84' Antoher free-kick for England. Part of me should be optimistic but after so many before this that have been deflected wide or missed the target or wasted in anyway these players can think of, it's hard to be.
82' The national anthem rings out at Wembley. God Save the Queen if she's had to watch this for 82 minutes.
81' Sturridge has another chance, he's been lively. Lallana, the other substitute, with a good cross from the right flank and it's played within the penalty area. It comes to Sturridge, he does a nice stepover but loses it. England getting closer to that goalline, but still six-yards away and even further from the back of the net.
80' Sturridge is looking to make an impact and force Hodgson to pick him against Russia. He shoots from long range, it's wide.
77' SUBSTITUTIONS: Daniel Sturridge ON Wayne Rooney OFF Adam Lallana ON Harry Kane OFF Gary Cahill takes the armband.
75' Good work from Jack Wilshere, chasing the ball like a Duracell bunny before earning a free-kick. England take it quickly and Danilo is booked for a lunge on Rooney. Another free-kick for England, but they've all been wasted so far.
73' Renato Sanches makes an impact immediately, dribbling with strength through both Rooney and Sterling before the latter fouls him. He's just 18 Renato Sanches, but is a phenomenal player and was vital in winning Benfica the Primera Liga last season. He'll be playing for Bayern Munich next year.
72' SUBSTITUTIONS: Renato Sanches ON Adrien Silva OFF Joao Moutinho OFF William Carvalho ON Manchester United-linked Renato and Arsenal-linked Carvalho come on for Portugal. Just two of a very talented group of young Portuguese footballers.
71' "I'm England till I die," is the chant. The fans may not die tonight, but some will be falling asleep, this is dull.
67' Rooney as a striker is moving better. He's just offside, and could have held his run better, as Alli plays him through one-on-one with Patricio. Roy Hodgson is nervously moving his hands around each other.
65' SUBSTITUTIONS: Jack Wilshere ON James Milner OFF Raheem Sterling ON Jamie Vardy OFF So Sterling moves to the tip of the diamond and Rooney shifts up to join Harry Kane as Vardy leaves the pitch after 65 minutes.
64' Chance... gone. The free-kick is delivered from Kane, Cahill gets up after it bounces about but is said to have palmed Gomes in the face. The ball is in the net from long range but the whistle had already gone for a Portugal free-kick.
63' Hold the front page. England have a free-kick, does that mean a chance? We shall see. Walker is tripped on the right edge of the penalty area and Harry Kane will take.
62' Andre Gomes was bored, I'm bored, now Eric Dier is showing his boredom. He shoots from 30 yards. Not the most positive game for England to head into the Euros with so far, a distinct inability to score against a ten-man ageing Portugal.
60' SUBSTITUTION: Nani OFF Ricardo Quaresma ON The captain leaves the pitch after exactly an hour for the talented, but many would say wasted, Quaresma.
59' Gary Neville and Roy Hodgson have both come to the edge of the penalty area, it looks like Neville is asking if the manager wants a substitution. A little nod of the head is the response.
58' Not convinced by the sporadic updates, the clear boredom? The Mexican Wave has made it's way over the Atlantic to Wembley and is going round and round. Great.
56' Andre Gomes, linked with Juventus and Manchester United, makes a great run into the penalty area. Like me, he's bored, but he's good enough to do something about that. He storms into the area, uses both feet well to get past two defenders but Gary Cahill times his tackle well and clears.
55' Eric Dier looks towards his Spurs teammate Kyle Walker. The long ball is too long. This is a very English performance, but no doubt once the ball gets past Rui Patricio, Roy's Boys will be favourites to win the Euros.
52' Jamie Vardy concedes the foul as he arrives late on Danilo. No flow to this game, very few chances for England and I'm bored to the extent of thinking of puns on Bruno Alves' name and Jackie Chan. Just your standard international friendly then.
47' Portugal come out for the second half and are retaining possession. Not just retaining it, but moving forward with patience. It's a quiet Wembley after the break, expectedly but England need to get going quickly to get the atmosphere back again, especially with their opponents having just the 10 men.
KICK-OFF: We're back underway at Wembley, the sky is beginning to darken and Andre Gomes has replaced Joao Mario for Portugal, both reported targets of Manchester United this summer. New manager Jose Mourinho is in the stands.
It's almost time for the second half. What would I do if I was Roy? You may not care, but Jack Wilshere should come on to continue to improve his fitness. John Stones should be partnered with Chris Smalling in place of Gary Cahill .
Right, it's time for a cuppa. Electricity demand is increasing all across the country as the kettle's go on. Here's a picture of Jackie Chan's exploits, not triggered in my mind by anything. Promise.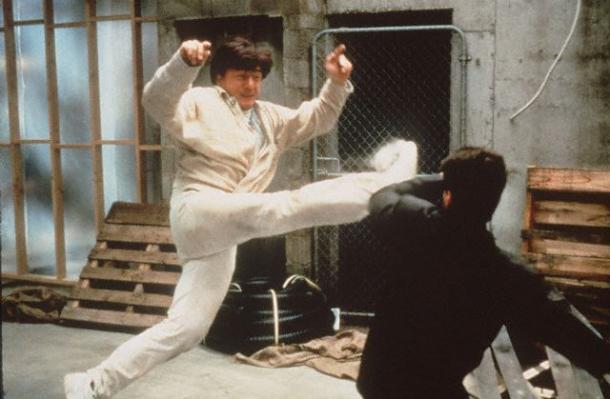 HALF-TIME England 0-0 Portugal and the main moment is Bruno Alves' horrendous challenge on Harry Kane. Here it is, it's quite unbelievable.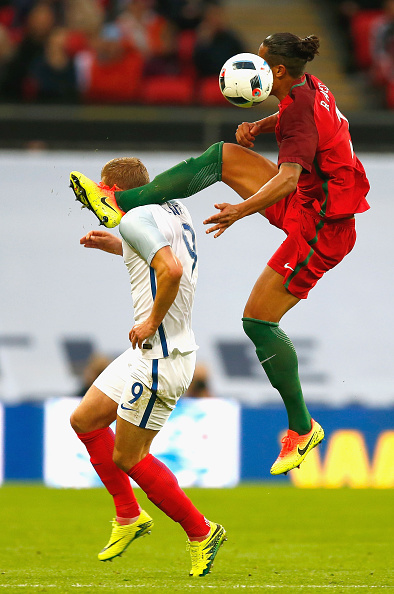 44' Rooney tries his classic long diagonal pass but it doesn't come off, going out for a throw in despite Walker stretching for it. When it does come off, it's a really excellent quick pass, but it doesn't on most occasions.
39' That counter-attack from England was a demonstration of the attacking formation with all three of Rooney, Vardy and Kane playing. The captain is playing centrally behind Vardy and Kane but when he attacks, he acts as the main striker, forcing Vardy and Kane to drift wide and almost become secondary strikers to Rooney. The latter is far less effective than his counterparts, particularly up front, so that is something Roy Hodgson should look to change in the tournament.
38' England on the break as they use their superiority in numbers. Harry Kane is found by Rooney but his shot from the right of the penalty area is too weak and Rui Patricio comfortably saves.
37' SUBSTITUTION: Rafa Silva of Braga has been replaced by Southampton's Jose Fonte for Portugal to re-group their defence.
36' So Portugal will play almost an hour with 10 men now which is good for England's chances of winning, but not so for their hopes of facing a big challenge before Euro 2016 kicks off. Harry Kane did continue running despite being kicked, Jackie Chan style, in the head by Bruno Alves, so credit to him.
35' RED CARD! Brune Alves is sent off for a very, very high challenge on Harry Kane. In fact, he's gone in at head-height let alone chest-height and Bruno Alves deservedly walks down the tunnel. That was reckless, dangerous whatever you want to call it, a horrendous challenge.
32' We've had a few technical issues and all my glorious comments from the last thirty minutes have disappeared. What ebtter way to continue on from that to say Carvalho, yes 38-year-old Carvalho, has seen a header go over, Kane has almost had an effort after a Danny Rose long shot and now Kyle Walker has sliced a shot just wide.
The teams are walking out of the tunnel with Wayne Rooney leading England out and his former-Manchester United teammate Nani leading Portugal out in front of this fan mosaic at Wembley.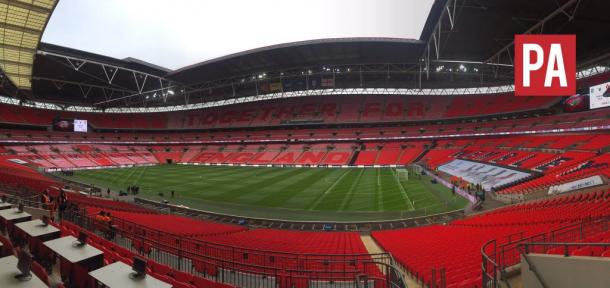 Roy Hodgson: "We've worked with the players in training and they know what we're looking for from them. All the selections have had Russia in mind, everything we've done has had Russia in mind almost since we qualified. We've got a 23-man squad and we've had players who have played in recent games who have played very, very well. I have seen players in the last two games, now its another test for us and by the end of this test I think I'll have a team to play against Russia."
Right, the scoreboard is up and running, the teams are about to make their way towards the tunnel from their dressing rooms. There's a fan mosaic at Wembley tonight reading "Together for England".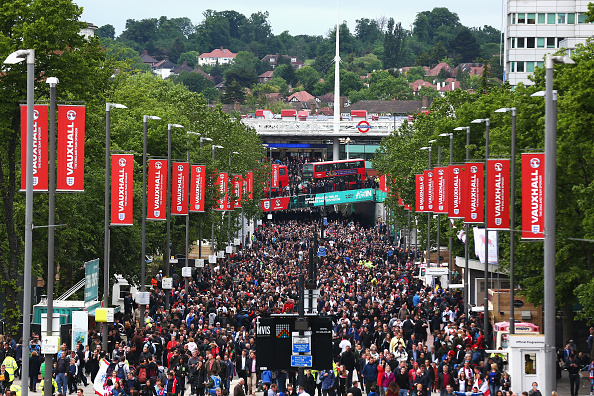 Portugal's squad is nearing the end of their spell together. There are some fantastic upcoming talents like Bayern Munich's new signing Renato Sanches, Joao Mario, and Andre Gomes but the centre-back pairing tonight have a combined age of 72.
It is two contrasting squads ahead of Euro 2016 from England and Portugal. Check out a full tournament preview on England, including a Q&A with the Press Association's Chief Football Writer Simon Peach, here. And look at our interview with founder of PortuGOAL, Tom Kundert, here.
Jack Wilshere doesn't start tonight. Here he is arriving with Eric Dier behind him, who does start in midfield alongside James Milner. It could be either a 4-3-3 formation of a 4-2-2 diamond. Wilshere has played very few games since returning from a long-term injury and Hodgson may be hoping to bring him on for the second half and allow him to be fully prepared for the opening game against Russia.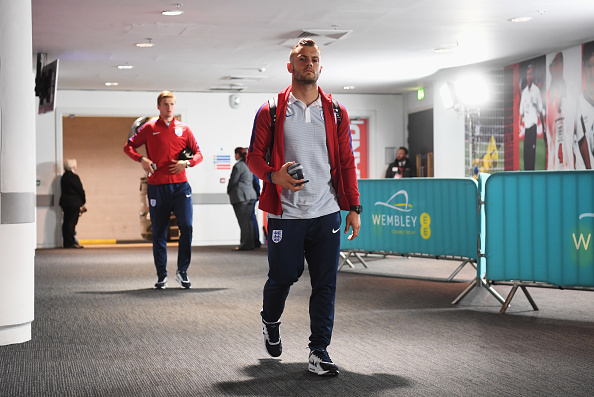 Portugal starting XI - England: Rui Particio; Vieirinha, B Alves, Carvalho, Eliseu; Adrien, Danilo, J Mario, Moutinho; Nani, Rafa
In terms of defence, Southampton full-back Ryan Bertrand is the only injury concern as previously mentioned but this could be England's defensive line-up against Russia. Chris Smalling, who captained England against Australia, starts alongside Gary Cahill while Kyle Walker and Danny Rose are the Tottenham Hotspur pairing at full-back.
So, is that Hodgson's line-up against Russia too? Many have suggested that he would pick his strongest team today in hope of gelling together ahead of the first game of Euro 2016, England - Russia on June 11th. It's a diamond formation of sorts with all three of Kane, Rooney and Vardy starting. Jack Wilshere may come in for James Milner, who partners Erc Dire in central midfield, against Russia.
England starting XI - Portugal: Hart; Walker, Smalling, Cahill, Rose; Dier, Milner; Vardy, Rooney, Alli; Kane.
Team news is out!
Confirmed team news will be out at around 18:45, an hour before kick-off. Stay with us for that before live minute-by-minute commentary in England's final warm-up game ahead of Euro 2016 with me, Harry Robinson.
Predicted Portugal XI (4-3-3): Patricio; Soares, Vieirinha, Fonte, Guerrerio; W. Carvalho, Moutinho; Gomes, Mario; Eder, Quaresma.
Andre Gomes and Joao Mario, both linked with Manchester United this summer, will start as the wide midfielders, predominantly drifting inside, similar to Jamie Vardy and Wayne Rooney when they have been deployed in wide positions for England. The full-backs, Cedric Soares and Raphael Guerrerio, are their biggest wide attacking threat.
The opposition tonight for Hodgson have traditionally preferred a 4-4-3 but that has developed into a 4-2-3-1 in recent games. Portugal are missing their star Cristiano Ronaldo as well as Pepe. They have been given a few extra days off after winning the UEFA Champions League with Real Madrid, on penalties against city rivals Atletico Madrid. Ricardo Quaresma, Nani, Eder and Rafa are the options to replace Ronaldo, although two are likely to start, one as a supporting striker.
That is seen by many as Hodgson's strongest possibility with Eric Dier as the deepest midfielder, Jack Wilshere and Dele Alli as the central midfielders and Wayne Rooney ahead of that North London pairing. Others suggest that Raheem Sterling should start ahead of Rooney or Vardy. Send your line-ups for England to @VAVELThreeLions on Twitter.
If he does go with that 4-4-2 formation, his starting XI tonight could be: Joe Hart; Nathaniel Clyne, Chris Smalling, Gary Cahill, Danny Rose; Eric Dier, Dele Alli, Jack Wilshere, Wayne Rooney; Jamie Vardy, Harry Kane.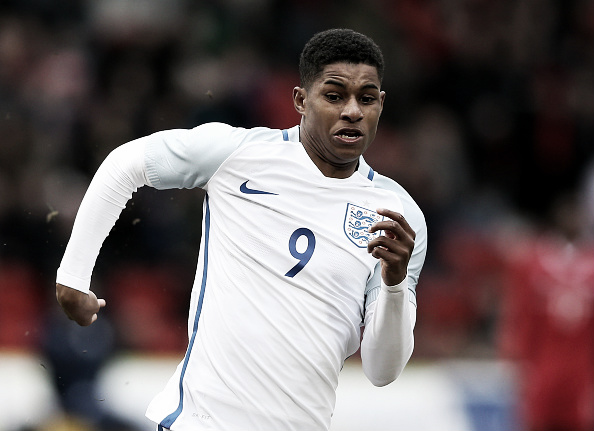 So, who's likely to make the starting line-up today? Ryan Bertrand has been ruled out by Roy Hodgson due to a knock but is likely to return for the opening game against Russia. He's the only absentee. Daniel Sturridge is available having been training since Monday, returning from a knock himself. Hodgson has a few options tactically with the 4-4-2 diamond seen as the best formation for England this summer by many.
It's a very bold squad from Hodgson who has often been criticised for being too conservative, particularly at the 2014 World Cup when England crashed out at the group stages. He's taken five strikers and just three centre-backs, although Eric Dier could slot back into the back four. It's the youngest squad England have ever taken to a European Championships with an average age of around 26. There are only four players of over 30, the captain Wayne Rooney, Tom Heaton, James Milner and Gary Cahill.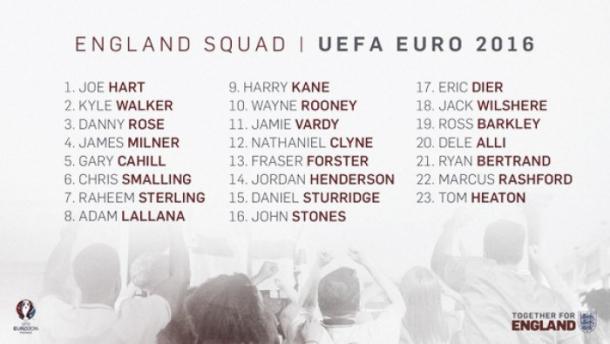 The final 23-man squad was announced on Tuesday with one big surprise as both Marcus Rashford and Daniel Sturridge were selected but Danny Drinkwater was dropped alongside Andros Townsend and the injured Fabian Delph.
England will kick-off Euro 2016 on June 11th against Leonid Slutsky's Russia in Marseille. Tonight's line-up is likely to be a massive indicator of who Hodgson will pick in that opening game at the Stade Velodrome.
We'll have all of the pre-match build-up and then minute-by-minute commentary with kick-off at Wembley at 19:45BST. Get your England flags out, your Euro '96 shirt and memories of Gazza's tears, it's almost tournament time.
Hello and welcome to VAVEL UK's live minute-by-minute coverage of England's last warm-up game ahead of Euro 2016 as Portugal come to Wembley Stadium to challenge Roy Hodgson's side.