Roy Hodgson's England side ensured that they refined their preparations for Euro 2016 with another win in their third and final warm up game, beating Portugal 1-0.
England were not at trouble when it came to the defensive side of the game, despite struggling to create clear-cut chances on the other half of the pitch. Portugal were down to ten men 35 minutes into the game as Bruno Alves was sent off for a unsafe high tackle on Harry Kane.
With just five minutes to go, Raheem Sterling's cross was met by a Chris Smalling header which gave England the win.
England's first game in their European Championship campaign will be against Russia on 11 June.
Solid shift from the back line
Joe Hart (6 out of 10) – Didn't have nothing at all to do, especially with Portugal completing zero shots on target.
Danny Rose (6 out of 10) – Put on a good shift throughout the game and it seems like he will be Roy Hodgson's first option in the left-back role.
Gary Cahill (6 out of 10) – Led the England defence well despite a silly challenge on the striker. Other than that, timed his other tackles well and made sure no errors were made at the back.
Chris Smalling (6 out of 10) – Struggled a few times during the game, but kept tight with the opponents and completed some clearances. Smalling also scored the only goal of the match.
Kyle Walker (7 out of 10) – England's best player on the night, the full-back contributed defensively and attackingly. Walker also attempted a shot from long range which went just wide off-target.
Unconvincing performance from the midfielders
Eric Dier (6 out of 10) – Done the main job as a defensive midfielder to protect the defence. Dier faced a few nervous through the game but he handled it well.
Dele Alli (6 out of 10) – Had a few tricks up his sleeve but found it hard to break down Portugal's defence. Tried to create chances through the middle of the pitch but it just didn't end well for the side.
James Milner (5 out of 10) – Couldn't get into the game for quite some time and made a few silly mistakes whilst having control of the ball. It was a night to forget for the Liverpool midfielder.
Wayne Rooney (5 out of 10) – Captain played out of position which forced Kane and Vardy to move out on the wings, caused a general problem to England's attack.
Attacking duos forced out wide
Harry Kane (6 out of 10) – Was close to having his head taken off by a high tackle from Bruno Alves, but had a few attempts on goal. Kane was forced a bit wide from his usual position.
Jamie Vardy (5 out of 10) – Found it difficult to play as a wide player, ended up doing more working stopping the full-back than causing the defenders a problem.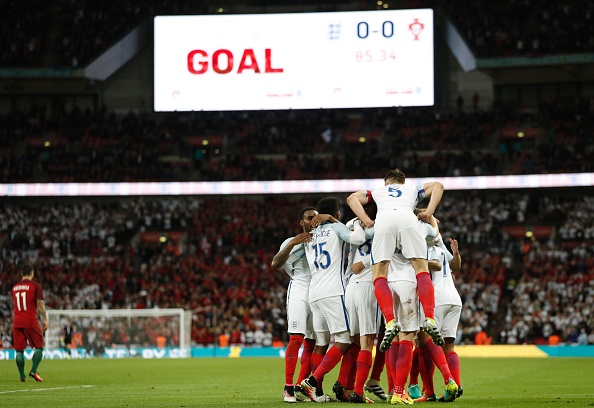 Substitutes
Jack Wilshere (5 out of 10) – Build up the pace of the game, produce a few chances but it didn't lead to any goal scoring opportunities.
Raheem Sterling (6 out of 10) – Created a few chances when coming on a substitute and it was his cross which led to England's winner.
Daniel Sturridge (N/A) – Came on for Kane in the 78th minute, didn't make a serious impact on the game.
Adam Lallana (N/A) – Came on for Rooney in the 78th minute, didn't make a serious impact on the game.
Jordan Henderson (N/A) - – Came on for Alli in the 90th minute, didn't make a serious impact on the game.