Wales will be fully focused on Euro 2016 as a tournament rather than looking ahead with nerves and excitement to a local derby as they meet England, says Chris Gunter.
The two Home Nations sides meet in Lens on June 16th in the second matchday of Group B in UEFA Euro 2016, but Gunter is adamant that Wales are hardly thinking about England.
Chris Coleman's side face Slovakia in their first major tournament game for 21,178 days after being knocked out of the 1958 World Cup by a certain Pele, aged just 17.
Wales back in the big time, not focused on England
Gunter suggested that "the England game seems so far away" because they've "worked too hard as a squad and as a nation to get to a major tournament to focus on one 90 minutes."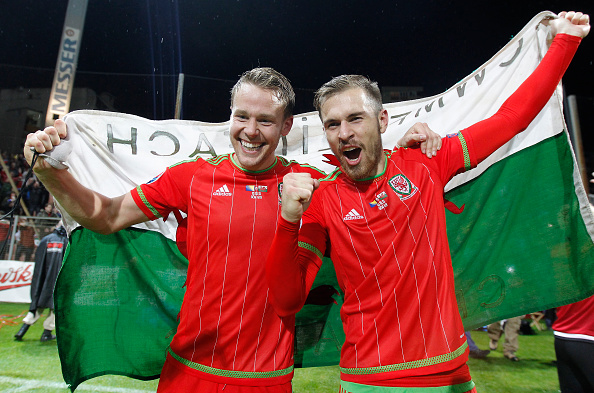 The Reading defence was in fighting talk-mode; "the tournament for Wales as a nation is far bigger than England, certainly for myself."
Although there has been much excitement over Wales meeting England, with it set to be one of the most eagerly-anticipated group games in France this summer, Gunter is playing it down. Tens of thousands of fans from the two countries will make their way over despite a distinct lack of tickets, much to UEFA's frustrations.
Gunter knows fans will be excited, but is focused on Slovakia
Gunter said that Euro 2016 isn't "made any better or worse" by the two sides "being drawn in the same group."
"We're not daft, we know for our fans it's a huge rivalry, but for us it's a game where there are points at stake," and that is it, not something more, in simple terms, than the opening game against Slovakia or the final game of the group stages against Russia.
Gunter did admit that he was "sure the excitement for fans in the build-up too, that game will be huge."
"Until that final whistle goes against Slovakia, we won't mention England," said Gunter, speaking to the South Wales Evening Post. He also suggested that "it will be the same story when it comes to Russia," because Wales will follow the cliche, "one game at a time."
Wales play Sweden in Euro 2016 warm-up
Gunter is likely to start against Slovakia, although it is unclear whether Coleman will use the back five as he did in qualifying or a back four as he has tried more recently.
Wales face Sweden this Sunday in their final, and only, warm-up game before Euro 2016, where Coleman's intentions will become clearer.