With just one friendly game remaining until Milli Takımlar head to France for the start of the European Championships, questions will be asked as to what is Turkey's best eleven should they want to compete with the 'bigger' national teams at the competition.
Talent in and out of the spotlight
Fatih Terim has included some surprise names in his squad, including Gökhan Töre who will be suspended for the opening two fixtures for Turkey having been sent off in their final qualification match. Also included was the youthful talent of Emre Mor, the 18-year-old has made one appearance for the Turkish U-21's, but is backed by his national coach after his phenomenal season with Nordsjælland.
The Turkish coach has, of course, named some less surprising names including the notorious talents of Hakan Çalhanoğu, Arda Turan and Oğuzhan Özyakup.
Midfield stability
Terim has chosen to line his team up in a 4-2-3-1 formation in recent times, providing area for defensive stability from midfield, and allowing the four attack minded players to bring their flair to a game with less worry of defensive duties.
Playing two out-and-out defensive midfielders in the form of Ozan Tufan and Selçuk İnan, adds the needed stability in midfield with the entirely attack minded midfielders ahead of them, young Tufan's ability to unlock play with a pass is a trait that will no doubt come to use when facing the quicker midfields in the competition.
His passing ability provides Terim with an efficient pivot to be formed between defence and attack in the instance of a fast turnover in play, making the transition tidy and a slimmer chance of dispossession in the crucial midfield area.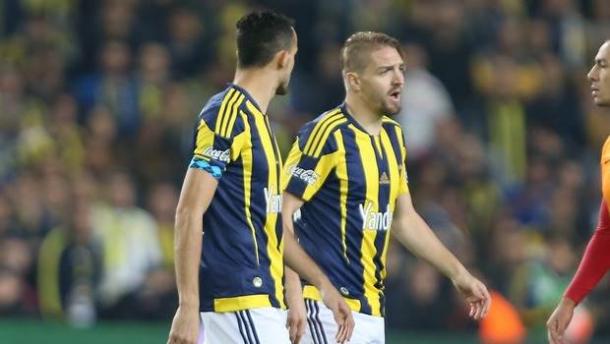 An experienced defence
The four at the base of the squad provide experience and the stability required in an international competition of the highest level. Serdar Aziz is expected to be paired with the experienced presence of 33-year-old Hakan Balta, the combination of Aziz's agility along with the composure and experience of Balta will present Turkey with a variation in central defence; where games are won and lost.
31-year-old Gökhan Gönül and recently transferred, Caner Erkin are most likely to be the starting full-backs in Turkey's Euro campaign. The pair have joined forces at Fenerbache, playing at the highest level of Turkish football and dealing with the budding youthful wide men in the Süper Lig in recent years.
An attack to be envied
Turkey are blessed to have the talent of Çalhanoğlu and Turan in their ranks. The form of the duo will sure be critical for Turkey's hopes at the Euros.
The Bayer Leverkusen midfielder and set piece specialist, Hakan Çalhanoğlu, will gift his opposition a threat on goal with virtually any form of set piece, whether it be from a corner, a free-kick or a penalty, Çalhanoğlu has been dubbed one of the world's best from a dead ball. His silky playing style will also come of use, especially to those alongside him.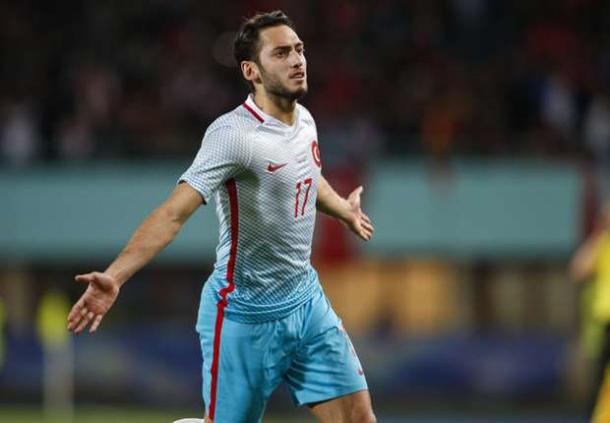 Arda Turan has faced a difficult season following his late transfer to Barcelona, the supremacy of Barcelona's attack has left Turan with a low number of minutes under his belt. The Euros has come just at the right time for the Turkish wide man, with a point to prove to his club prior to next season.
He provides pace, skill, defence splitting vision and an eye for goal with his deadly finishing ability, he finished as Turkey's second highest goal scorer at Euro 2008, and with more experience he will be aiming to achieve even more this year.
While the brilliance of Çalhanoğlu and Turan will dominate the majority of talk surrounding Turkey, the importance of central attacking midfielder Oğuzhan Özyakup must not be underestimated, the former Arsenal player has lit up the Süper Lig this season, becoming a crucial starting player for Beşiktaş. The distribution and vision of the Turk will be highly monitored by his opposition, as he will be the integral distributor of play to the wide men.
Finally, at the peak of attack stands Burak Yılmaz, the striker contributed to ten of Galatasaray's goals last season in just fifteen appearances (nine goals, one assist). While the 30-year-old doesn't perhaps possess the flair of some of the other strikers on show at the competition, there are no doubts that he is a goal scorer, with the technical ability of the three behind him, the chances will come for Yılmaz.
Room for a Plan B
An alternative option for Turkey, with reference to the possible introduction of Töre and Mor, Yılmaz could take to the bench to provide squad depth while Mor plays wide and the versatile Turan leads the line.
Another option could be to play 4-1-4-1 to allow another midfielder; playing one holding and introducing Tore to the midfield as Calhanoglu joins Özyakup in central midfield, his more favoured position.
What is for sure is that Turkey have an encouraging depth in attack for their squad, giving Terim the chance to chop and change his team with the assurance that quality is always available to be introduced. With one of their best squads in a while, Turkey will be eager to start strongly in France and make a statement to all possible opposition.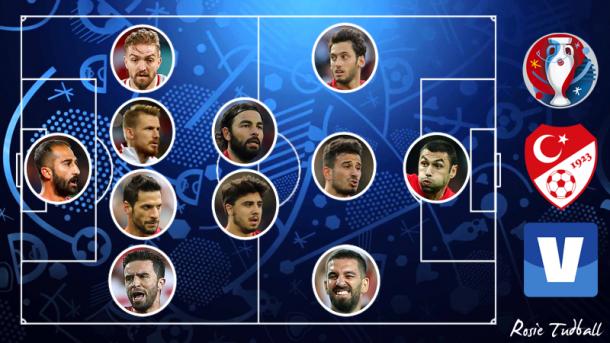 Predicted 11: Babacan; Gonul, Balta, Aziz, Erkin; Inan, Tufan; Turan, Ozyakup, Calhanoglu; Yilmaz
First game: 12/6/16 Turkey v Croatia