Following England's dour 1-0 win over Portugal, manager Roy Hodgson remained defiant in the face of widespread criticism for his role in the display.
He was widely berated for seeming to employ Harry Kane and Jamie Vardy in unfamiliar roles as wingers in order to accommodate for England's ageing talisman Wayne Rooney.
Strikers not an issue for Hodgson
Former England centre forwards Alan Shearer and Gary Lineker were particularly condemning of England's tactical layout, yet Hodgson was keen to argue that he was right to employ them as "split strikers".
He continued to say "If you play with them both through the middle with Rooney central as well, you can't defend the wide areas" and while this is true, the positioning of man of the match Kyle Walker and Danny Rose high up the pitch certainly gave England protection in wide areas against a Portuguese side which threatened very rarely.
Despite this, Hodgson acknowledged that Tottenham's Kane and Leicester's Vardy "were a little too wide". However, Hodgson largely kept his cards largely close to his chest when discussing his starting line up to play England's first match of the tournament against Russia on June 11th. When asked about which forwards, in particular, would start the game Hodgson maintained that he was "not prepared to add my voice to the debate".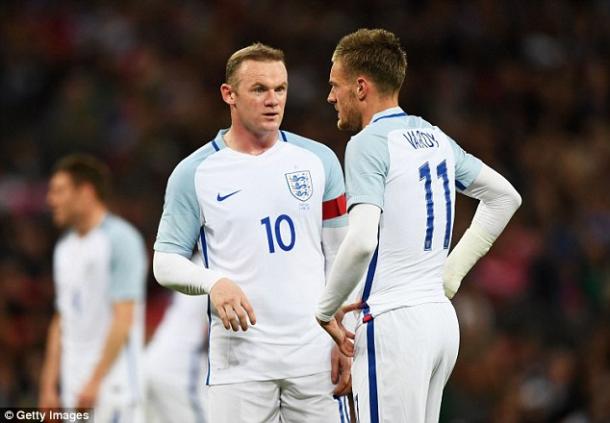 Cards close to his chest
The aforementioned Kyle Walker bolstered his challenge for a starting spot against Russia, and the injection of energy of Jack Wilshere and Raheem Sterling, who provided the cross for Chris Smalling's winning header, will have done no harm to their selection credentials. Predictable Hodgson refused to stoke the fire saying only that "I am happy I have got 16/17 good players and happy with the options available to us."
Despite Hodgson's cagey interaction with the media, he was adamant that his England side had performed well and are well prepared for the European Championships starting in a week's time. "If I start being dissatisfied with three wins against Australia, Turkey and Portugal I'm going to be a hard coach to satisfy" Hodgson stated in a more buoyant mood, reminding journalists that his side had just beaten a side with a higher FIFA ranking than his.
England start their campaign next weekend against Russia in Marseille on Saturday 11th June.