Belgium boss Marc Wilmots has confirmed Thomas Vermaelen and Yannick Ferreira Carrasco will not feature in their final friendly ahead of Euro 2016.
The Red Devils face Norway on Sunday, having already beaten Switzerland and drawn with Finland, in Brussels' King Baudouin Stadium in their final warm-up match.
13,000 Belgians turned out to watch their team train as they continue their training camp in Genk but neither Marouane Fellaini or Carrasco were in attendance because of minor calf and groin problems.
Meanwhile centre-back Vermaelen's session ended after just 35 minutes due to a problem with his calf, something Wilmots explained was initially sustained in Wednesday's second-half against Finland.
Fellaini is expected to return to training on Saturday, but Carrasco and Vermaelen will both sit out to be spared for their opening Group E game against Italy eight days later.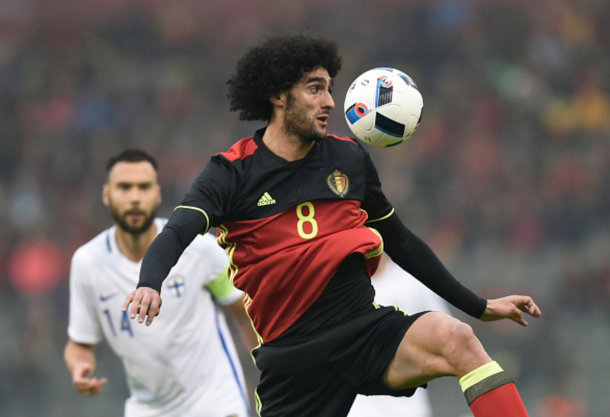 Wilmots, speaking to the press, explained that Vermaelen left the pitch early with "calf pain" but dismissed it as "contracture" and "not a tear." He admitted that the problem "was expected" because "he has not played much in recent months" and added: "I will not take any risks. He will not play on Sunday."
The Belgium boss added that Atletico Madrid winger Carrasco, who missed out of the draw in midweek after returning to the squad late having played in the Champions League, received "good news" after a "scan of his calf."
He explained that there was "no tear" but that the 22-year-old would "remain at rest for a few days" and then return to "training next week."
On Fellaini, Wilmots explained that he "gave a lot" in recent training sessions and friendly matches, and was suffering from "groin pain." The midfielder was left at the hotel, but according to the manager "will resume training" the next day.
Red Devils trying out new defensive systems ahead of the Euros
Although officially declared out of the Euros, cut from the provisional 24-man selection after Wilmots trimmed his squad down to 23 earlier this week, Nicolas Lombaerts trained alone with a physio.
The 47-year-old, who has led his country to their first Euros in 16 years, explained that the Zenit St Petersburg defender's recovery "is going well" although he acknowledged the "difference between running and individual exercises." He continued: "Is it still possible that he could play in the Euros? We'll see in the coming days."
The boss also issued an update on right-back Thomas Meunier, who has yet to feature in any of their warm-ups friendlies with a thigh issue. He said that his injury rehabilitation is coming along well and insisted that it's "not appropriate" to force the defender back into action too quickly.
Meunier instead ran alone, like Lombaerts, with the latter likely to travel to France with the squad as a first reserve in case a defender is forced to withdraw from the squad before their opening match of the tournament.
Wilmots further admitted that he has been trying yet more defensive systems - having unsuccessfully trialled with Tottenham Hotspur duo Toby Alderweireld and Jan Vertonghen in the full-back positions.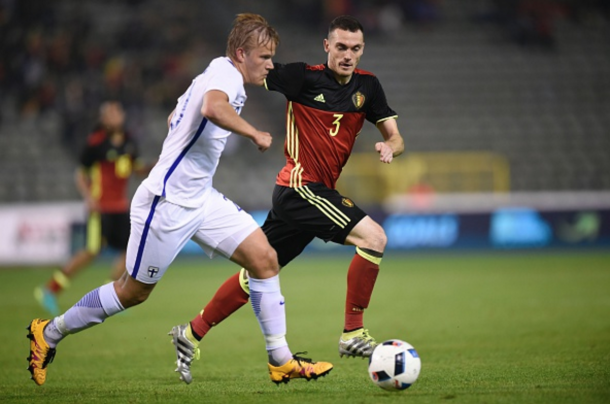 In his latest set-up, Alderweireld has instead joined Jason Denayer - whom Wilmots has regularly hailed as the natural successor to injured captain Vincent Kompany - in the heart of defence with Lauren Ciman at right-back and Vertonghen on the left.
The manager told journalists that Alderweireld would play in a natural centre-back role against Norway as he explained that swapping the Spurs defender with Vermaelen took pressure off of Denayer, replacing him as the leader of the back-line.
Wilmots continued that he admitted Vermaelen would be too focused on having to deal with his injury recovery to deal with offering his voice and guidance to the lesser-experienced Denayer.
At the Euros, Alderweireld could indeed partner Vermaelen in the middle, which would force Denayer out wide to the right - although the clash with Norway will see him remain at centre-back.
Another possibility is that Alderweireld could partner Spurs teammate Vertonghen, while Jordan Lukaku, brother of striker Romelu, could play at left-back with Denayer on the right.