Born in Ukraine to a Kazakh father but with German origins. No, it's not the plot of a blockbuster movie but the story of Roman Neustädter, who plies his trade in Germany with Schalke 04 and who is set to feature for Russia during this month's European Championships, after being allowed to do so by Russia's most powerful person, Vladimir Putin.
Neustädter was born in Dnipropetrovsk, in Ukraine while it was still forming part of the USSR, with his father pursuing his football career at the most notable Dnipro Dnipropetrovsk. Since, his family had to move to Central Asia, in Kazakhstan, due to the fact that ethnic Germans had to be moved from Germany following World War II. Neustädter was also eligible to feature for European minnows Kazakhstan, since his father was born there. Having done that, he would have emulated his father, as Peter Neustädter had appeared twice in a Kazakh shirt back in the late 90s.
Having been playing on German soil for a long time, Germany's Head Coach Joachim Löw gave Neustädter the opportunity of wearing the World Champions' kit in a double-header against Ecuador and the Netherlands, without ever making his debut in an official fixture though, making it possible for Neustädter to represent another country.
The Russian Football Association was aware of this situation and knew, since he was born in the Soviet Union, he was legally eligible to feature for Russia. The negotiations between both parties had an easy going development and on 30th May, Neustädter had all his documents in order, making him eligible for Leonid Slutsky's selection.
Accepted to play for Russia
"I am proud to accept Roman Neustädter's request to become a Russian citizen, hence I am announcing him as a new Russian citizen and also as part of Russia's squad for UEFA Euro 2016. "
Well, it sounds strange listening to a country's Prime Minister announcing a player for a football tournament, but Putin did that, with the collaboration of head coach Slutsky who has been tracking the former German U21 player in recent months.
Schalke 04's man has been utilised by Slutsky in their international friendly match against Czech Republic, where, despite him ending on the losing side, Slutsky expressed his satisfaction towards Neustädter's performance.
Most probably, he will be in the starting XI in their opening match against England, a tough task for the Russians which will test their progress and capability of challenging the best teams ahead of the 2018 FIFA World Cup, which they will host.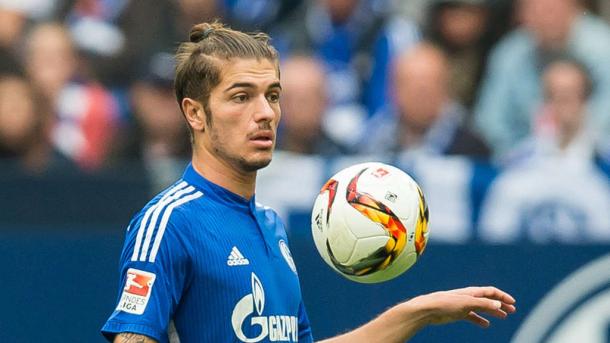 But he is not the only one
Yet, Neustädter is not the only player who will be wearing Russia's kit despite not being born in the country. Goalkeeper Guilherme Marinato, who safeguards Lokomotiv Moscow's posts, also has dual citizenship as he was born in Brazil but never featured for the Selecao at any level.
Marinato has already played twice for Russia in international friendlies, with his debut arriving on March 26 when he replaced Stanislav Kristyuk in the 3-0 victory over Lithuania.
Like Neustädter, Marinato will be flying to France with the Russian contingent, with the former being the first ever player to represent the country having been born outside of the Soviet Union.
Criticism
Nonetheless, it was not a plain sailing situation for the association, who faced lot of criticism by the Russian public, mainly journalists, for abandoning the Russian players and seeking players with dual citizenship, showing lack of belief in the so-called 'national product'.
It is a situation which concerns the Russian pride and nationalism, however a positive result in France could reshuffle their thoughts, and if even Putin contributed to this, then there are lot of gains from this situation.
Until then, Добро пожаловать, Роман!