Michael O'Neill has been quick to label Kyle Lafferty's withdrawal from training as 'precautionary', just five days before their opening game against Poland.
The news will be of great concern to the fans, who are pinning their hopes on Lafferty turning in performances similar to those in the qualifying campaign.
O'Neill reassures everyone of Lafferty's fitness
"He's fine. It was precautionary," O'Neill told the gathered media. "We have no major concerns there."
The Northern Ireland boss went into further detail, confirming it was just "a little twist [of the groin]" and that they "don't expect any issues at all" after a quick check.
Lafferty, who climbed into an ice bath immediately afterwards, was his side's top scorer in qualifying with an impressive seven goals in nine games.
His goals earned Northern Ireland six points through the qualification campaign, which would have been the difference between first and a play-off berth.
O'Neill concluded, "We're being careful. I'm more concerned about the thunder and lightning to be honest. He just twisted it a little bit as he slid in."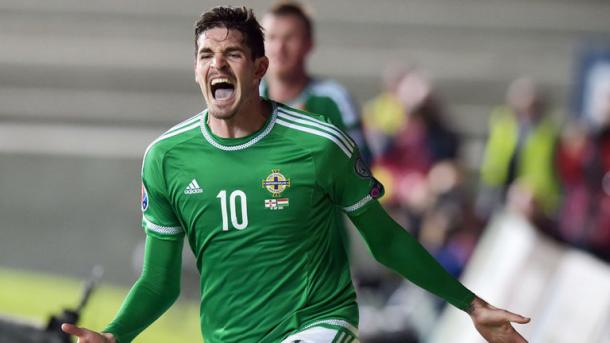 Could Northern Ireland cope without him?
For years, or as long as anyone can feasibly remember, goalscoring has always hampered any potential success Northern Ireland could have enjoyed.
David Healy's goals never got the nation to the finals they perhaps deserved, with no other Northern Irishman getting out of the teens.
Lafferty seems set to buck the trend but, for once, there are options for the Green and White Army.
Will Grigg is in great goalscoring form, having netted 28 times for Wigan this season, and Conor Washington has already proven his worth to his adopted homeland.
On the other hand, Josh Magennis offer a similar physical presence to Lafferty and Jamie Ward is a more than able forward; plenty of options, and headaches, for O'Neill.