That's pretty much all there is from us tonight. I've been Oliver Emmerson, taking you through France's 2-1 win over Romania. Please do join us again for all three games tomorrow, as we don't miss a second of Euro 2016 on VAVEL.
Heartbreak for Romania, but if they play like that in their remaining two group games, they've certainly got a chance of progressing through the Group Stage at least.
A huge win for France, who needed to start the tournament well to get the nation behind them, and they'll be hoping to take this momentum into the rest of the tournament.
Man of the Match? You'd have to say Payet. I'd have gone for Pogba, with Payet in second, at half-time, but an assist and matchwinning goal from the Hammer in the second half makes him the clear winner.
It did look for a while like the spoils were going to be shared, Olivier Giroud's opener cancelled out by a Bogdan Stancu penalty after Patrice Evra fouled the same man, but Payet's late goal split the teams.
That's it, it's all over Dimitri Payet's late goal wins it for France, and what a goal it was. They take the first three points of Euro 2016, topping Group A in the process, until tomorrow at least. Relief for Deschamps, and the nation, jubilation for Payet.
Full-time: France 2-1 Romania
90+3: Last chance for Romania from a deep free-kick, but France deal with it and counter, Sissoko firing wide at the end of the move.
90+1: The Stade de France rises to applaud Payet as he goes off for Moussa Sissoko, Deschamps running down the clock.
90: Three minutes of stoppage time.
89: It takes special things to win international tournaments, and that's a special goal from Payet! Taking the ball on the edge of the area, crowded by defenders, Payet unleashes a venemous left-foot strike into the top left hand corner, unstoppable!
THEY CAN FIND A WINNER, WHAT A GOAL FROM PAYET!
87: Into the final few minutes, can France find a winner, or will they remain frustrated?
82: Last Romania change tonight, Popa off for Gabriel Torge, who has 12 goals to his name for his country.
81: Martial uses his pace to accelarate down the left wing, playing a one-two with Giroud before a fairly soft shot goes into the goalkeeper's hands.
80: Hoban has a dig from range, the ball flying over the bar. Still, worth a pop, and it ran down the clock a little as his team edge closer to a priceless draw.
78: Popa 'takes one for the team', hauling down Payet as he emerged into the Romania half. He gets a yellow card for his troubles.
77: Here comes Anthony Martial, replacing Paul Pogba? That is a strange one indeed. Payet takes up the central position behind Giroud, with Martial drifting out to the left.
75: Romania are now really digging their heels in and going for the point, dropping into a bank of four defender's and five midfielder's respectively whenever France are in possession, leaving one man up for the counter-attack.
72: Second change for Romania, Stanciu (not Stancu, the goalscorer) who comes off for Alexandru Chipciu.
69: Les Blues est tres frustre (frustrated), as Giroud picks up a sloppy yellow card.
68: And now it's France who are appealing for a penalty after Giroud takes Pogba's ball down in the box and spins, appealing that Chiriches has pulled him down. Nothing doing.
66: Deschamps making his first change, Kingsley Coman on for Griezmann.
65: Romania are level! Stancu keeps his cool with a short run up, sending Lloris the wrong way with a low penalty. Perfect for him, and Romania. France 1-1 Romania! The hosts in trouble.
HE SCORES! 1-1!
64: Romania can level up almost instantly as Stancu is tripped by Evra in the box as the attacker chases the ball. The referee hesitated at first, perhaps getting a word in his ear, before giving it. Stancu to take...
PENALTY TO ROMANIA!
61: And that's Andone's last contribution of the night, Denis Alibec coming on up front for just his sixth international cap.
60: Andone is first to the ball from a Romania corner, but he heads over the bar.
58: It's his 18th for France and he might not have scored a more important one from that. Romania fail to clear a corner, Payet gets it and whips in a left-footed cross, Giroud getting to the ball ahead of Tatarusanu to head into an empty net. 1-0 France!
GOAL!!! France have lift-off, and it's Giroud!!!
57: France are getting closer! Payet with some majestic skill inside the box before clipping it back to Pogba, his connection with a volley perfect, but it's straight at the 'keeper.
53: Chiriches very lucky to still be on the pitch as he lunges in late on Matuidi, a challenge that is surely worthy of a second yellow card. Fortunately for him, he seems to have got away with it, as the referee didn't even give a free-kick. Unsighted, perhaps?
52: Another huge chance for Olivier Giroud! Payet wanders into the box, shaping to shoot before setting up the frontman, who takes a touch before burying a shot into the arms of Tatarusanu.
48: Oooh that's a good Romania chance, Stancu missing another big chance, set up by Stanciu! He dinks a lovely ball over the top, Stancu chesting the ball down before volleying wide of Lloris' goal.
45: Kick-off in the second half
What changes should be Deschamps be looking to make ahead of the second half? Giroud's struggled, and a quicker option from the bench might help France get in-behind the defence, meaning Anthony Martial may be a good option.
France the better team in the latter, more controlled, stages of the first half of Euro 2016. Still, that came after a hectic start, Romania nearly opening the scoring after just four minutes. Giroud and Griezmann have both come close for France, with Paul Pogba the best player on the pitch. Still, the half got a little more underwhelming as it went on. This game needs a goal!
Half-time: France 0-0 Romania
45+2: It's been a frustrating half for Giroud, never more so than just then. Wriggling free from Chiriches to win a free header from a corner, the striker heads just over from the penalty spot.
45: Two minutes of added time at the end of this first half.
44: Payet brought down on the left hand side, and it's a good position for him to send an inviting ball in, but he doesn't. It's flat, and headed away by the first man.
36: Close again for the hosts, Griezmann connecting first time to a quick Payet cross, only for the ball to take a slight deflection and fall a whisker wide of the post.
35: After a bright start, the Romania management might just be fearing that they're letting France have a little too much their way. Whenever they do get the ball back, they've not got enough men up the pitch to keep it, and the pressure builds again by France.
32: Vlad Chiriches picks up a yellow card, a late challenge on former Arsenal rival Giroud.
28: You wouldn't bet against Pogba scoring a memorable goal this summer, and he's just had his first attempt, striking over from around 30 yards out.
25: Almost a chance for France, Rami using his ball-playing skills to thread a lovely through ball for Giroud. The striker readied himself to take it round the 'keeper and score, only for a perfectly timed tackle from Grigore to take the ball from his toes at the last second.
20: Slight lull in the pace of the game, both teams settling down after a whirlwind start. Who thought it was going to be boring? Hands up, please. Entertaining start to the competition.
14: OFF THE POST! Beautiful ball into the area by Sagna, missed by Griezmann and it hits Chiriches, the ball rising into the air where Griezmann does get to it, heading against the post. We've now had a narrow escape for each side, is the first goal not far away?
13: Paul Pogba showing just why he's better than everyone else with a superb piece of quality, rolling his right-foot over the ball before instantly seind a pass over the top to Payet with his 'weaker' foot. Unfortunately, the West Ham man's touch is poor, the ball rolling out for a goal kick.
10: Working the ball forward nicely, Pogba picks out Payet on the left wing. A little ball inside finds the feet of Griezmann, who cuts onto his favoured left-foot before seeing a deflected shot fly out for a corner. Taken by Payet, it's played back out to him before Giroud nods just wide from the follow up cross.
8: France have settled down after that early scare, but there is a worry for them as this relatively untested Rami-Koscielny partnership looks shaky at the back everytime that Romania get it in behind. They'll need to tighten things up as the tournament goes on.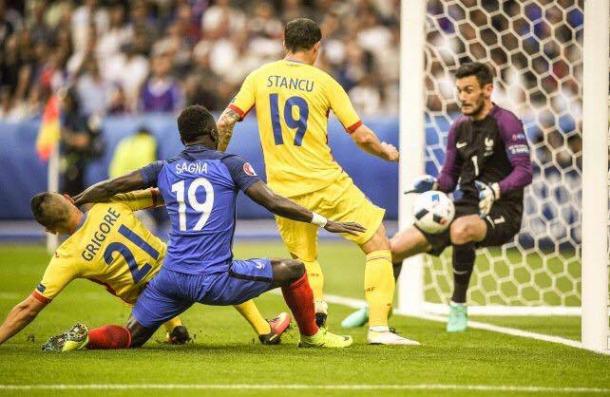 4: WHAT A SAVE! Romania with a flick towards the back post from a corner, Stancu there with the goal gaping, but Hugo Lloris produces a brilliant instinctive save to keep the score at 0-0. Wow, what a shock that would have been. A sigh of relief goes around the stadium. The Romania fans don't know how they aren't ahead, as another header loops just over the bar from the resulting corner.
3: A few minutes in and as you can guess, it's nervy. Each side has managed one attempt on goal so far, neither threatening at all. An early goal would certainly do France the world of good, you'd imagine that the longer it stays 0-0, the quieter the crowd will become.
0: KICK-OFF IN EURO 2016!
And now the French national anthem, which is by up there with the best in the tournament. La Marseillaise rings out around the stadium, and now we're ready to get the football underway!
Romania's national anthem up first. I haven't heard this one before, and I have to say it's not the worst, but neither the best. It's got enough drive to it for it not to be considered dull, but the tune isn't all that favourable. The players seem to like it though, belting it out with passion.
The air force are flying over with some spectacular colours, and the teams emerge onto the pitch!
The Black Eyed Peas now, with French DJ David Guetta playing 'I Gotta Feeling'. Not sure a crowd of football fans on Friday afternoon's are his scene, but we'll go with it. 10 minutes until-kick off!
Now the music's a little more hip, from what I'm told is done by a French Cabaret singer from the late 40's, a song talking about seeing life through rose tinted glasses. This is better, but still, the countdown to the football is very much on everyone's minds.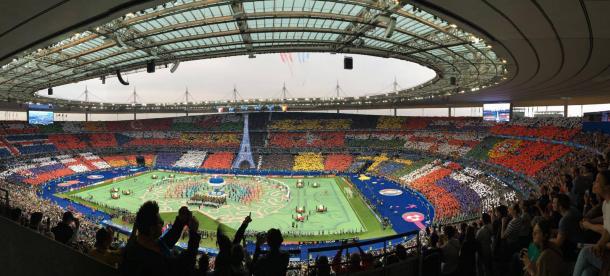 Music, as you might expect, and lots of dancing. It doesn't sound French to be honest, but I'm no expert on culture. Dancing girls in colourful outfits, leg kicking, how long of there is this left?
Here we go! It's what we've all been waiting for! It's the... opening ceremony. Describing this could be slightly tricky. To start, it's a montage. Think French locations, then you're with us. The pitch is laid out in some sort of garden, I think? There's mazes in it, is it meant to show the ball? The trophy? Eh, let's say a football.
Just 30 minutes until kick-off! Who do you fancy to take the three points? Tweet your predictions into @VAVEL! Personally, I don't think you can look away from the French. Still, Romania's defensive record in qualifying must be taken into account, meaning I think they'll only edge a cheeky 1-0 victory. Scorer? Koscielny.
And for Romania: Moti, Silviu, Gaman, Chipciu, Torje, Sanmartean, Prepelita, Pantilimon, Filip, Alibec, Keseru, Matel.
And here are your France substitutes, basically the rest of the squad: Mandanda, Umtiti, Jallet, Digne, Cabaye, Costil, Mangala, Sissoko, Schneiderlin, Martial, Coman, Gignac.
France went with the expected team, and it'll be interesting to see how Payet, Griezmann and Giroud tackle scoring against the impressive Romanian defence.
No real surprises from either team, the most notable player to Premier League fans for Romania will be Vlad Chiriches, who was at Tottenham Hotspur until last year. Ravzan Rat, the left-back, used to play his trade in England.
Romania XI: Tatarusanu, Sapunaru, Grigore, Chiriches, Rat, Hoban, Pintilii, Stanciu, Popa, Stancu, Andone.
France XI: Lloris, Sagna, Koscielny, Rami, Evra, Kante, Matuidi, Pogba, Payet, Griezmann, Giroud.
We're just minutes away from the confirmed lineup's, time to find out who the coaches have picked for the first team!
Despite a few injury scares, Romania will have a fully fit squad to select from tonight. Dan Pinder's got the latest on that situation, here.
Ahead of the game, France inspected the stadium, with Didier Deschamps holding a press-conference after, speaking about the attacking talent he has in his squad. You can find details of that, here.
One man that'll be tasked with breaking down that sturdy Romania defence is Antoine Griezmann. He's extremely likely to start, and will be looking to add to his record of seven goals in 27 international appearances, having made his debut in 2014.
Romania don't have a huge amount of attacking talent in their ranks, with three player's sharing the status as their top scorer from qualifying, all on two a-piece. However, they are strong in defence, and will look to steal a result by being tight at the back and then breaking forward at pace when they're able to.
Just like France, Romania have only lost one of their last 10 matches, but have only won three of those, drawing six. After beating Lithuania in their first game of the year, they managed to pull off a 0-0 draw against Spain, before quickly being brought back down to earth as the Congo held them to a 1-1 draw. Next up was a thrilling 4-3 loss against Ukraine at the end of May, before beating Georgia 5-1 last week in a nice confidence booster.
So, back to the two teams, how about their recent form? France are in sparkling form, having won nine of their last 10 friendlies, the only loss being a 2-0 defeat to England in November. They've played two recent friendlies in the build up to this competition, starting with a 3-2 win over Cameroon thanks to Dimitri Payet's last minute free-kick. The game against Scotland last Saturday was much more straightforward, Olivier Giroud bagging a brace in a 3-0 win.
A quick plug for some light reading before the game. Here, is our France preview for the Euros, and here, is our Romania one. And if you want more, plus all the other previews, you can find them here, in our complete guide.
Romania went unbeaten in their qualifying group, and impressive feat indeed, but only managed to finish runners up in Group F. This didn't matter though, as runners up qualified for this year's competition due to it being expanded to 24 teams. They won five and drew five of their 10 games, but finished a point behind the continent's statistically most in-form team, Northern Ireland.
So, with introductions out of the way, we should probably start taking a more detailed look at the two teams on show tonight. Starting with qualification and recent form perhaps? Well, that's a shame, as France didn't have to qualify. Hosts for the Euros are automatically granted a place in Group A, leaving them to play a tedious amount of friendlies in the two years beforehand. Anyway, we'll get back to their recent form and those friendlies later.
Indeed, we're about to play witness to a month's worth of European football, a festival of quality, talent and skill. The hosts, France, are one of the favourites, so will be hoping to get off to a good start tonight against underdogs Romania. The other two teams in Group A are Albania and Switzerland, but they play tomorrow alongside Wales vs Slovakia and England vs Russia, both Group B affairs.
I haven't even mentioned where this game is going to be played, apologies! Well, much like with most major international tournaments, the opening game is set in the same stadium as the final. In this case, the Stade de France. The marvellous arena boasts a capacity of 81,338 and is stunning aesthetically, leaving it as the perfect place for the spectacle to kick-off.
Good evening to one and all, and welcome to VAVEL UK's live minute-by-minute commentary of tonight's European Championship opener between France and Romania. That's it, the Euros are finally here! Tonight's game gets underway at 8PM UK time, but before then we'll have the confirmed team news as well as what's surely going to be an enthralling opening ceremony. Excited? I know I am!