The talking is almost done, the preparations are all but complete. England kick-off their opening game of Euro 2016 against Russia on Saturday night, hoping to get off to the dream start.
Roy Hodgson, in his third major tournament as national boss, has a huge selection headache on his hands, with no clear starting line-up having been established in recent friendlies.
With this in mind, we took to the @VAVEL Twitter account, and asked you, our readers and followers, to pick the team for Roy. In a step-by-step guide, we used Twitter polls to establish your chosen XI.
Whether Roy agrees with it or not will be revealed in the not too distant future, but here it is for him anyway...
*Just for the perfectionists out there, one vote did take place before everything began, selecting the formation. Given three options, you chose a 4-3-3/4-2-3-1 system, triumphing ahead of the 4-1-2-1-2 diamond and 4-4-2 with 48% of the vote.
Goalkeeper - Joe Hart (79% of vote)
Winning by the biggest voting margin of any player, it was no surprise that England's first choice goalkeeper Joe Hart fought off competition from Fraser Forster (14%) and Tom Heaton (7%) to earn the spot as your number one.
It's his second European Championship's, and he'll be hoping to do better than last time if he faces a penalty, as Andrea Pirlo infamously dinked him in Italy's shoot-out triumph win over the Three Lions.
Right back - Kyle Walker (61% of vote)
A position which isn't yet decided by Hodgson, right-back saw Kyle Walker come out with 61% of the vote, beating Nathaniel Clyne, who finished up with the remaining 39%.
Although Clyne seems to have been slightly more favoured by Hodgson throughout the international season, Walker has impressed in the warmup friendlies, and will be hoping to grasp his chance in his first international tournament.
Centre back pairing - Gary Cahill and Chris Smalling (64% of vote)
With three recognised centre-back's in the squad, you had three combinations to choose from, with Gary Cahill, Chris Smalling and John Stones all in the running.
It was a Cahill-Smalling partnership that was chosen on 64%, Smalling clearly very popular as he and Stones recieved 27% of the vote, leaving Cahill-Stones with a measly 9%.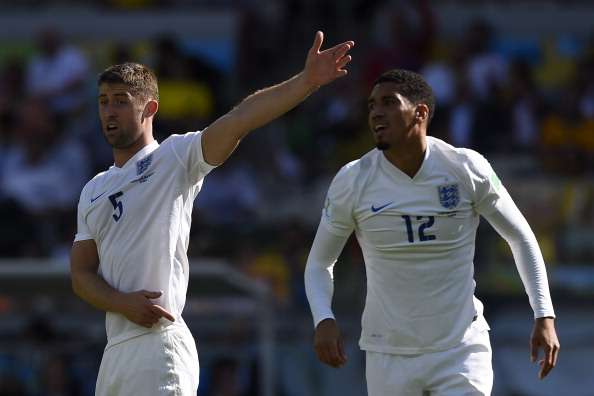 Left back - Danny Rose (75% of vote)
Completing the Tottenham Hotspur full-back duo is Danny Rose, who picked up three quarter's of the left-back vote, Ryan Bertrand taking the other quarter.
Although the Southampton defender has been impressive this season, Rose has risen to prominence in a Tottenham team challenging for the title, and is likely to get the nod in France after Luke Shaw failed to recover from injury in time.
Holding central midfielder - Eric Dier (75% of vote)
Our third Spurs player in the team already, there was little surprise when Eric Dier picked up 75% of the vote to play as the more holding midfielder of the pivot.
With the likes of Michael Carrick and Gareth Barry not in the squad, it was up to the likes of Jordan Henderson (13%) and Jack Wilshere (12%), both more naturally attacking midfielder's than Dier, to rival him for a place as the deeper midfielder, but neither came close.
Ball-playing central midfielder - Dele Alli (39% of vote)
Two Tottenham full-backs and a central midfield pairing crafted in North London, as you chose to play Dele Alli in a deeper role alongside Dier, leaving space open in the number 10 slot.
He picked up 38% of the vote, with Henderson (19%) and Wilshere (24%) again rivalling him, whilst James Milner was also in contention, but only managed 18%.
Right midfielder - Adam Lallana (35% of vote)
This one was the closest of them all. England's options are limited outwide, and you might have expected Raheem Sterling to clean up in the first vote for a wide player, with the right winger being decided before the left.
However, Adam Lallana won 35% of the vote compared to Sterling's 34%, therefore narrowly stealing the spot. Other candidates, given there wasn't much to pick from, were Jamie Vardy (18%) and the aforementioned Milner (13%).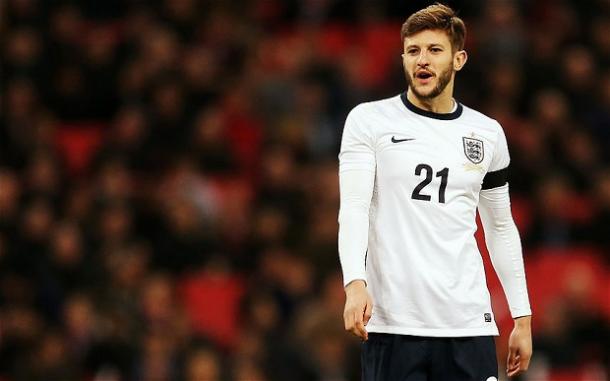 Attacking midfield - Wayne Rooney (54% of vote)
It appears that you've still got faith in your captain, with 54% of people picking Wayne Rooney to play in the number 10 role, despite some sceptics out there suggesting that the England skipper shouldn't actually be in the team.
Although Dele Alli, a natural candidate for the position, had been selected already, Rooney did well to fight off competition from Sterling (18%) and Lallana (22%), whilst Ross Barkley's poor form was represented with a glum 6%.
Left midfield - Raheem Sterling (49% of vote)
With Lallana now out of the running, it was no surprise so see Sterling cruise to victory on the opposite flank, seeing off limited competition.
The lack of winger's Roy Hodgson picked could really come back to bite him later in the summer, and it was evident here, with James Milner coming closest to rivalling him, on 26%. Vardy could potentially play on the left, but you gave him just 16% of the vote, whilst rookie Marcus Rashford got 10%.
Striker - Harry Kane (52% of vote)
With Rooney picked already, it left us with four potential striker's. Vardy (13%) and Rashford (6%) never looked in the running, leaving it between Danial Sturridge and Harry Kane.
Although Sturridge is undeniably a star player, his injury record has prevented him from establishing himself in the England team, and that showed, Kane beating him 52% to 29%.
So, what do we finish up with?
At the end of it all, around 1000 votes were cast, and we were left with the following team...
(4-2-3-1): Hart, Walker, Cahill, Smalling, Rose, Dier, Alli, Lallana, Rooney, Sterling, Kane.
Can they win it? I don't think anyone fancies predicting that...