Since the turn of the century Turkey have surprised punters in every European Championship they have been involved in. Whether this is knocking out the host or reaching the semi-finals, Turkey have caught the world's eye.
Having qualified for four of the last six European Championships, Turkey only failed to leave the group stages of one tournament whilst the furthest they've ever gone in the tournament was the last four in 2008.
However Turkey have been relatively inconsistent in qualifying for major tournaments. A prime example of this is the team that came third in the 2002 World Cup, but failed to qualify for the Euros two years later.
Failing to qualify
Turkey failed to qualify most recently in 2012 after they reached finished third in their group. This saw them face Croatia who beat them 3-0, eliminating them from the qualification stages.
The Cresent-Stars also failed to qualify in 2004 after they lost to Latvia in the play-offs. This tournament still bore importance to the Turkish national team as it acted as a turning point for the team. The failure of the team saw a new generation of Turkish players being brought into the team for the following games.
Causing a stir
Before this year Turkey qualified for the European Championship in 1996, 2000 and 2008. 1996 was Turkey's first major tournament since the 1954 World Cup. Turkey beat both Sweden and Switzerland in order to qualify in 1996, but they suffered in the tournament failing to score a single goal.
In 2000, Turkey made it to the last eight of the competition before losing to Portugal 2-0. However Turkey knocked out the host nation Belgium in the group stages, causing a stir, as this was the first time a host nation had failed to move out of the group stages.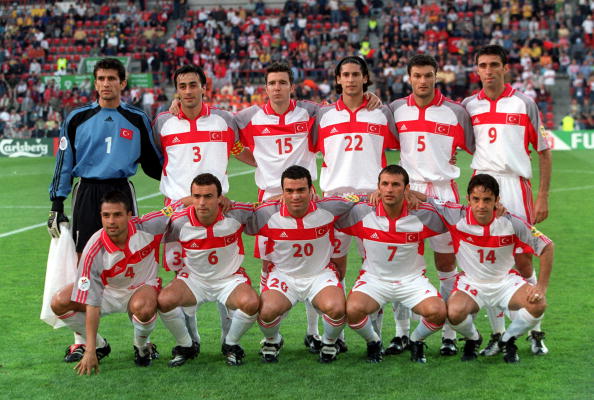 2008 saw Turkey's best run in the tournament, under Fatih Terim. They finished second to Greece in qualifying before being drawn against Portugal, the Czech Republic and Switzerland in Group A.
After losing their opening game to Portugal, two late goals against Switzerland and the Czech Republic secured their place in the knockout stages. Turkey again caused controversy by knocking out hosts Switzerland. The Cresent-Stars then faced Croatia and an equaliser deep into extra time for Terim's men saw the game go to penalties.
The goal angered the Croatian camp as many believed that the goal was after the added time and so shouldn't have counted, this claim was dismissed. Turkey won the penalties 3-1.
Injuries and suspensions plagued the Turkish team at this point in the tournament as they had only 14 outfield players available for selection as they faced Germany. A late goal in the last seconds of the game for the Germans knocked out Turkey.