Ahead of their opening Group C clash with Poland on Sunday, Michael O'Neill addressed the media following Northern Ireland's training session in Nice.
Despite the main questions during the week focusing on Kyle Lafferty's fitness, today's grilling was in relation to the opposition's front-man.
How the Northern Irish defence deal with Robert Lewandowski has been a major talking point, but O'Neill isn't too worried.
Poland's Ibrahimovic - O'Neill
After 42 goals in 51 appearances for Bayern Munich this season, it is no wonder that the Polish forward has dominated the build-up of the game.
O'Neill rates him "among the top two strikers in the world", and his exploits for Poland - 13 qualifying goals to level David Healy's record - only back that up.
"I think Lewandowski is the talisman, similar to Ibrahimovic in the Swedish team," the Green and White Army boss added.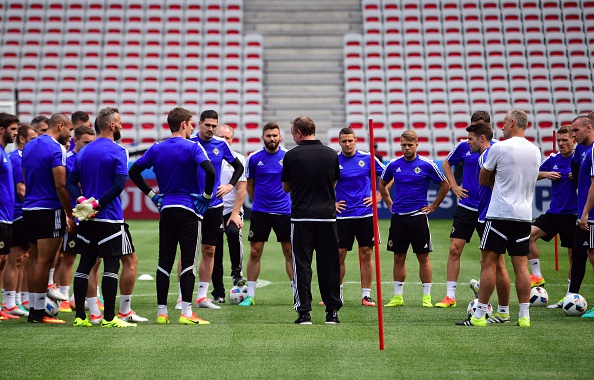 Despite the praise, O'Neill was quick to point out that Northern Ireland have the ability to deal with the hot-shot striker.
He said that the team have "done a lot of work on the Poland team as a whole", and feels he "know[s] their strengths" but, crucially, "their weaknesses" as well.
O'Neill added, "Hopefully the work we've done in training will come to fruition tomorrow night."
Praise for his own players
With all the hype around the opposition, O'Neill stated: "You have to remember that we have three centre-backs that play in the Premier League."
Gareth McAuley, Jonny Evans and Craig Cathcart are all Premier League regulars that "play against world-class centre forwards every week".
O'Neill explained: "They play against Giroud, Costa, players at the highest level of the game, and I think that's in our favour."
The boss believes that his players won't be "over-awed" when coming up against the Polish forward, and it won't be a case of them "having to 'get up to that level'".
He concluded, "It's just about us having to be aware of where the threat comes from."
Quotes via UEFA.com