Germany manager, Joachim Löw addressed the media ahead of his side's opening game of Euro 2016 against Ukraine.
Löw has had to deal with plenty of injury problems in the build-up to the tournament, but took time to focus on the tactical aspects of both teams.
Physically strong opponents
Löw began with his thoughts on the opposition, who he feels will be a tough test for his side.
He said, "Ukraine are very physical and have quick players on the wings, who are very dangerous when it comes to counterattacks."
Löw added, "They can go full speed for 90 minutes." He continued, "But if we do what we are capable of and are careful in possession, then we are capable of beating Ukraine."
For most sides, Ukraine's wing wizard duo of Andriy Yarmolenko and Yevhen Konoplyanka will be of premium concern; stopping the pair is key to winning.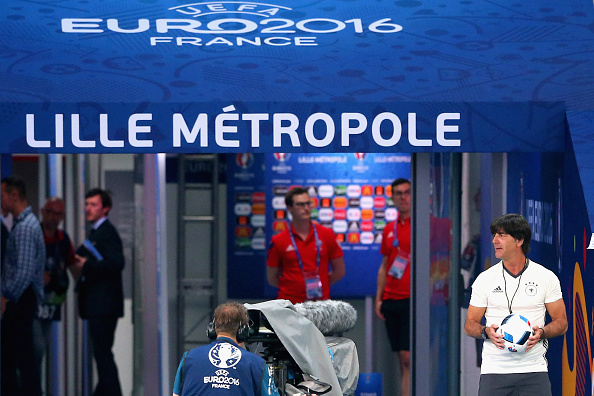 Löw impressed by tactical change
The manager then changed his tune to focus on his own side, and how pleased he was to have seen them move on from the usual 4-2-3-1 they deploy.
Löw explained, "Until 2014, we basically always played in the same formation and with the same system. But in the past two years we have developed further."
He concluded, "It's no problem any more for the team to start with a back three or with just two central defenders, and then to switch during a game. That's very important."
Mats Hummels will be the only absentee for Löw, who also lost Antonio Rüdiger during the week to knee ligament damage; Jonathan Tah was his replacement.
As a result, Shkordan Mustafi is likely to be Jerome Boateng's partner at centre-back for the game in Lille.
He joins Marco Reus as the other high-profile absentee to miss out on the finals in France. Will Germany cope without them? Only time will tell.