France manager Didier Deschamps was the most relieved man in the Stade de France on Friday, as Dimitri Payet's late winner saw his side clinch a 2-1 win against Romania, as Euro 2016 got underway after months of anticipation.
With Payet having not even been a part of his plans until recent months, Deschamps was grateful for the West Ham man's form, with his sweet strike in the 89th minute sealing all three points for France.
That came after Olivier Giroud's opening goal had been cancelled out quickly by a composed penalty from Bogdan Stancu, leaving Deschamps, and the French public, nervous that their team would have to settle for a draw.
Deschamps reserves special praise for Payet
Referring to Payet after the game, Deschamps explained that "he [Payet] can make the difference", joking that "it's quite easy when you can bang it in the top corner, it solves a lot of problems".
Calling the winning goal "wonderful", the manager hailed Payet's ability to "influence the game", after he'd previously showed his faith in the midfielder by keeping him on after substituting both Paul Pogba and Antoine Griezmann.
France did start nervously, almost conceding just minutes in, leaving Deschamps to describe his side as "abit timid" in the early stages, but "it's the result that matters above all".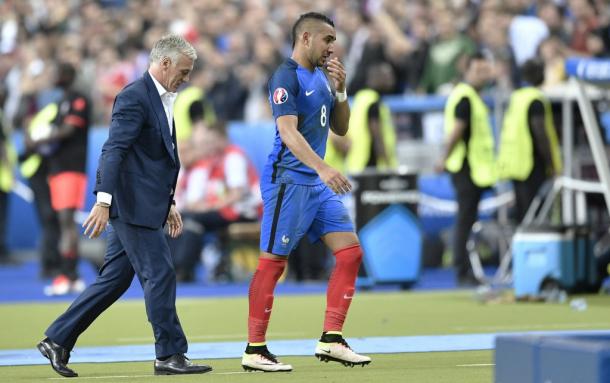 Important to win the first game, says France boss
There was praise by Deschamps for Romania, who put up a good fight and were unlucky not to come away from the game with a point. Considering four of the best six third placed teams will progress, they'll feel confident of making the last 16 if they can repeat Friday's performance twice more
"Romania aren't easy to play against", admitted Deschamps, who said that they "defended well" and were "very organised". Still, France got the win, their manager stating - "it's very important to start with a win".