That's all we have time for, thank you very much for tuning in, I have been Ayden Hussain, signing off for now but i'll be back soon with more coverage of the 2016 European Championships! See you soon!
So, Croatia take all three points in the first Group D game and will be confident they can beat the Czech Republic, but it's back to the drawing board for Turkey and they will have to play a lot better against Spain to take anything from that match.
Later on today Northern Ireland face Poland and Germany will take on Ukraine. Brandon Sayer is providing live commentary for the Northern Ireland game here and Amee Ruszkai is providing live commentary for the Germany game here.
Fatih Terim knows he will have to give his team a kick if they want to stand any chance of getting a win against Spain on Friday. Next up for Croatia is the Czech Republic.
Credit where it's due for Croatia, they defended strongly and created more chances than their opponents, so they deserved to win today.
Croatia defended well but most of the time Turkey didn't create many chances, which is a shame for them considering how many creative players they have.
Turkey have suffered their first defeat in competetive matches since October 2014 and have now lost their fourth successive opening match at the Euro's.
FULL TIME: A wonder goal from Luka Modric was enough for Croatia.
90+4': Vedran Corluka has gone down once again, the clock keeps ticking and time is running out for Turkey.
90+3': The final sub for Croatia sees Mario Mandzukic go off for Pjaca.
90+1': Volkan Sen has been booked for a foul on Srna.
90': Four minutes will be added on.
89': Second sub for Croatia, Rakitic is brought off for Gordon Schildenfeld.
86': Substitution for Croatia as Ivan Perisic makes way for Andrej Kramaric.
83': Great save by Babacan! Rakitic put Perisic through one-on-one but the Turkey goalkeeper stays big to smother the shot.
81': He goes for goal but it's stopped well by Subasic.
81': The free-kick is going to be taken by Caner Erkin.
80': Strinic recieves a yellow for a foul on the edge of the box.
79': The resulting corner is headed over the bar.
79': A long throw in is met by Brozovic and he has forced a save out of Babacan.
76': Corluka has had his head bandaged for a third time and he returns to the field.
73': Corluka has gone down again holding his head, surely Ante Cacic has to take him off.
72': ALMOST! A cross from Mandzukic is headed onto the bar by Perisic!
71': Calhanoglu tried to score from well outside the box but the ball has gone wide, he had options but decided to go for glory.
Mor only made his debut last November and has now signed for Borussia Dortmund.
69': Cenk Tosun makes way for 18 year-old Emre Mor.
67': Another wonderful cross from Perisic is just missed by Brozovic at the far post.
65': Arda Turan has been subbed off and replaced by striker Burak Yilmaz.
61': A long throw in by Srna is headed down by Mandzukic and Marcelo Brozovic has tried his luck with a volley, but the ball just goes over. What a goal that would have been!
59': The corner is taken by Hakan Calhanoglu but it's gathered by Danijel Subasic.
58': Corner for Turkey, they are looking very positive.
55': A cross from Perisic is palmed away by Babacan and Srna hits the rebound wide! The captain could have taken a touch and scored. Still 1-0.
52': The answer is No! But what a hit from Darijo Srna, it rattles off the bar and Babacan was left rooted to the spot.
51': Ozan Tufan has fouled Ivan Rakitic on the edge of the Turkey box. Could Croatia go 2-0 up?
50': Rakitic provided a brilliant cross into the box but Mandzukic can only head at Babacan.
49': Foul by Hakan Balta and he recieves a yellow card for his troubles.
48': Turkey have started really well, with Volkan Sen volleying the ball towards goal but it's blocked.
The second period is under way!
The second half is about to start and Fatih Terim has taken off Oguzhan Ozyakup and has replaced him with electric winger Volkan Sen.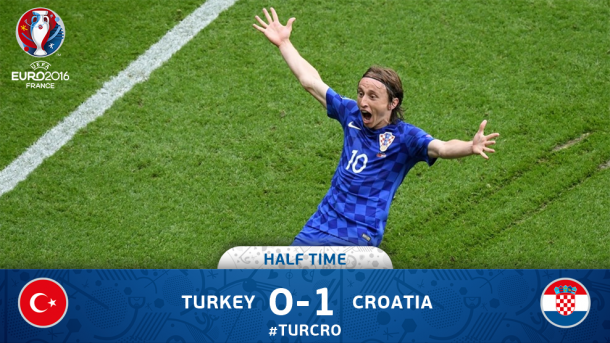 It was relatively drab half, full of fouls and misplaced headers until a moment of magic from Modric put his team up by a goal. Fairly undeserved, but when a goal is scored like that, it does not matter.
Ozan Tufan will be kicking himself, the Turkey man should have scored a free header, but he and the rest of his team-mates know they will have to take their chances in the second half.
Half-time at the Parc des Princes! A wonder strike from Luka Modric gives Croatia a 1-0 lead.
45+1': Corner on the stroke of half-time for Turkey and it's headed onto the side netting.
Babacan could have done better, but take nothing away from the strike, exceptional technique from Modric.
41': Incredible from Luka Modric! The corner came to nothing but the ball ended up floating on the edge of the box and Modric has volleyed it first time into the bottom corner. Magnificent.
41': GOAL!!!
41': Another corner for Croatia.
38': Corner for Croatia, captain Srna takes it short, it's crossed in the box but Mandzukic's shot is hit straight at Babacan.
36': Calhanoglu has tried his luck with a free kick from over 30 yards out, the ball went up, but it didn't come down.
34': Corluka is now back on the field, but Mandzukic is down and holding his face.
31': The first yellow card of the game has been given to Cenk Tosun for an elbow on Vedran Corluka and the blood is gushing from the Croatian defender's head.
30': Brozovic tries his luck from distance and ball has hit row z.
29': A tremendous cross from Gonul is met by Tufan, he heads straight at Subasic, it was a free header, it should be 1-0!
29': CHANCE!
28': A good cross from Srna is punched away by Babacan, but the ball is volleyed back toward goal and the Turkey keeper gathers the ball gratefully.
25': Turkey are very comfortable on the ball and are slowly breaking the Croat's down, but they can't muster a shooting opportunity.
23': Brozovic has another chance to score, but he just can't connect with the ball and the chance is wasted.
22': A good run and cross from Ivan Perisic gives his Inter team-mate Brozovic a chance at goal but he heads it well over.
21': Very impressive hold up play by Cenk Tosun and he draws the foul.
19': Whipped in by Erkin but it's headed away by the first man.
19': It's dealt with by Badelj and Turkey have a corner.
18': Foul by Strinic on Arda and Calhanoglu will have another chance at testing the Croatia defence.
17': Another corner for Croatia. Taken by Srna and once again it's dealt with by the Turks.
16': Boos are ringing around the ground, it's easy to see the majority of fans are Turkey supporters.
13': Tufan tries his luck from distance but the ball goes well wide.
13': Turkey are beginning to settle now, playing short and keeping the ball.
11': A lot of fouls early on for both sides, constantly killing any tempo their opposition start to build.
9': Very poor delivery considering how good Hakan is with a deadball.
8': Foul by Milan Badelj. Hakan Calhanoglu has a chance to put a ball in the box.
8': Croatia on top early on, Turkey are trying to play a possession game but Ante Cacic has set his side up well.
5': Early corner for Croatia, but it's dealt with by Turkey.
The referee will have to be on top of things as the match could turn fiery.
4': Heavy foul on Luka Modric by Ozan Tufan and the Croatia players are calling for a card early on here!
2': Croatia have got off to a bright start with Ivan Rakitic putting the ball wide of the far post.
1': Here we go! The match and Group D are under way!
Sweden's Jonas Eriksson will referee today's game in Paris.
The players are out and kick off is moments away!
Croatia have lost just one of their last six group games at the European Championships finals (W4, D1, L1) and Turkey have lost all 3 of their opening games at the European Championship finals.
Croatia subs; L. Kalinic, Vargic, Coric, Jedvaj, N. Kalinic, Kovacic, Kramaric, Pjaca, Rog, Schildenfeld and Vrsaljko.
Turkey subs; Kivrak, Tekin, Kaya, Calik, Sahin, Sahan, Koybasi, Yilmaz, Malli, Sen, Mor and Ozbayrakli.
And here is the confirmed Croatia XI; Subasic, Srna, Corluka, Vida, Strinic; Badelj, Modric; Perisic, Rakitic, Brozovic; Mandzukic.
Fatih Terim has named his starting 11 early! Here is the confirmed XI for Turkey; Babacan, Gonul, Topal, Balta, Erkin; Inan, Tufan; Ozyakup, Turan, Calhanoglu; Tosun
At around 1PM BST we'll have the confirmed team news, but until then their is plenty of content to keep your appetite in check on the VAVEL UK website. If you're looking for something more specific about the two teams that will be on show, check out the previews for Turkey and Croatia.
Some fun facts now. Turkey's Arda Turan will play against his FC Barcelona team-mate Ivan Rakitic and Croatia's Tin Jedvaj will play against his Bayer 04 Leverkusen team-mate Hakan Calhanoglu. Each player should know their team-mates weaknesses and it should make for some interesting match-ups.
Regarding previous meetings, Turkey have yet to beat Croatia within 120 minutes, drawing four and losing two. Turkey's failed Euro 2012 qualification campaign included a 3-0 loss to Croatia, so Terim's men will be hoping to exact revenge.
For Turkey, Hakan Calhanoglu will be just as important as Turan, the 22-year-old attacking midfielder will provide that killer pass - tie that up with his deadball ability - and he could chip in with a couple of goals in the next month.
Modric has been one of Madrid's star players in recent times, his ability to control the tempo of any match is what makes him stand out, so if Turkey want to win, they'll know he will need to be kept under wraps. Another key player for Croatia is Juventus striker Mario Mandzukic, as he is the main striker for his side, he will have to be at the top of his game to make a difference.
FC Barcelona man Arda Turan will lead his nation out and prove to be vital for any success that may come their way. His incredible footwork and work ethic will cause Croatia problems for the full 90 mintues, but to win they will have to silence Real Madrid star Luka Modric.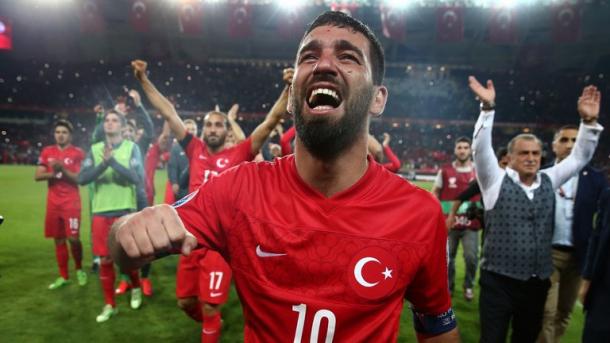 Regarding recent friendlies, both sides are in similar form, both have won four of their last five friendlies and if they continue their rich vein of form this summer, they could prove to be dark horses. But their campaigns kick-off against each other, so it's difficult to call who will win.
In the qualification process, both sides had similar fortunes, Croatia finished second in their group, behind Italy, and automatically gained a place at this summer's tournament. As did Fatih Terim's men, but his side had to settle for third place in the group, behind the Czech Republic and Iceland. The Crescent Stars won the prize of being the best third-placed team.
As for Croatia, their best performance at the European championships was also in 2008 when they reached the quarter-finals, where funnily enough, they lost 3-1 on penalties against today's opponent, Turkey. Ante Cacic will be hoping to exact revenge and help his side get off to the best possible start.
With more teams contesting this summer than ever before and, more knock-out places up for grabs, both sides know they have the best possible chance at progressing from their group. Turkey's best performance in the Euros came in 2008, when they reached the semi-finals, only to lose to eventual runners-up Germany.
The tie will be contested at the home of Paris Saint-Germain, the Parc des Princes. With a capacity of 48,712, the metaphorical roof will be blown off when the teams collide.
Not only do Turkey and Croatia play in Group D, both sides will be pitted against the Czech Republic and current European champions Spain later on in the tournament. Keep following VAVEL UK for coverage of those games as well. Both Turkey and Croatia will want to get off to the best possible start this summer, so the stage is set, for what could turn out to be an instant classic.
Hello everyone and welcome to VAVEL UK's LIVE minute-by-minute commentary of Turkey vs Croatia. This match will kick proceedings off for Group D at this summer's European Championships and kick-off is scheduled for 2PM BST. I, Ayden Hussain, will be guiding you through the match, one which I hope will be enjoyable for us all. Until the tie kicks-off, their is plenty of pre-match build-up; so make sure you keep following!