If there was an angry and disappointed man as the referee whistled three times to end the contest between Albania and Switzerland, undeniably that was Gianni De Biasi.
His side ended on the losing side as Basel's Fabian Schar's header on the fifth minute, separated the two sides, after prevailing from Valmir Berishia's howler which allowed the Swiss defender to head home and break the deadlock in this fixture.
Albania had to play also with 10 men after captain Lorik Cana was sent off halfway in the first 45 minutes after deliberately deflected the ball with his hands, denying an obvious goal-scoring opportunity for Haris Seferovic.
Nonetheless, the Rossoneri still had their chances, with the big-time chance dropping on Shkelzen Gashi, but failed to hit the target, triggering Di Biasi's anger on the touchline.
Early pressure cost us the game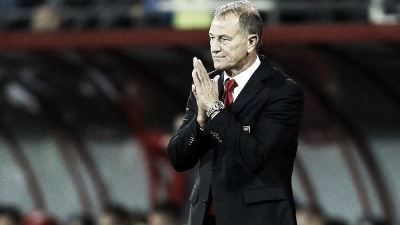 De Biasi immeditiately pointed out the early pressure and strong start from the Swiss side as the key factor which decided this encounter, as his players failed to cope with Switzerland's high pressure which allowed them to exploit the Albanian's weakest points earlier in the match.
Also, he added the sent-off was a drawback for them as they had to amend their plans in order to keep the match wide open until the final minutes, as they eventually managed to do, despite falling short at the end.
''We came to do our best in this European championship. We have plenty to improve and we could have done a better match," said the Italian.
Nonetheless, he still praised his players for fighting till the end, while also creating goal-scoring opportunities despite being a man down.
Up next, Albania face a must-win clash against France, who celebrated a 2-1 victory over Romania in the opening game of Euro 2016.