Arkadiusz Milik has played down talk of Poland being favourites in tomorrow's game with Northern Ireland, saying that the Poles will not underestimate their opponents.
Michael O'Neill's side are certainly not the biggest name they will face in Group C, with Poland's other opposition to be Germany and Ukraine.
However, Milik believes that Poland are not in a position to write off anyone they come up against, as they themselves have yet to prove their worth on the big stage.
No right to underestimate
Speaking to UEFA ahead of the game, the Ajax forward dismissed talk of the pressure being on his side tomorrow by stating simple fact.
"First of all, Poland have never won a single game at a Euro final tournament," Milik explained. "We did not win the World Cup two years ago, or the Euros four years ago," he added.
"We have won nothing yet, nothing at all," and this is why the team can not "disrespect" or "underestimate" Northern Ireland.
However, there are plenty of people who expect a lot from Poland this summer - particularly back home, and Milik is well aware of that.
"There is definitely a lot of hype," which has brought with it "big demands, big pressure, big expectations," he understands.
Nonetheless, the players are just "trying to enjoy" the experience and are looking "to focus on 'A' rather than thinking about 'Z'."
Milik continued: "We've not set ourselves a particular goal," adding that "the most important goal" is "simply to qualify for the next round."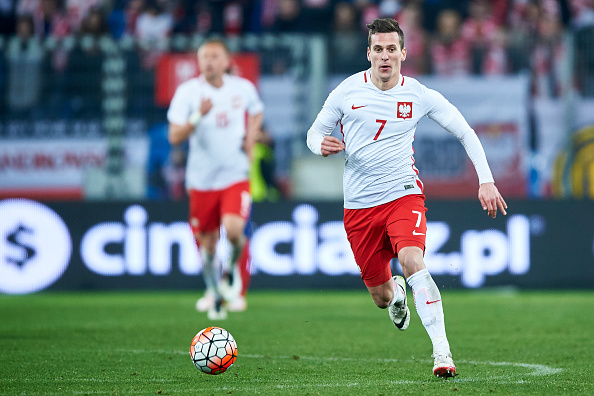 Expectations on the attack
With Robert Lewandowski on the front line, a man who top-scored with 13 goals in qualifying as Poland top-scored with 33, it's going forward where the team are really expected to perform.
However, Biało-czerwoni will be raring to go and raring to show the continent just what they are capable of.
"We played attacking football in qualifying and we will try to keep playing like that in the finals," Milik said, stressing the importance of "a good start" to the tournament too.
As an attacker himself, the Ajax man wants to play this way even more to get amongst the goals. He states that "the team's success is what's most important," but, if he can "help," then "why not?"
The focus is solely on the team at this moment in time, and tomorrow's game, which Milik says it would be "great" to win.
"It would make it easier for us to play the next games – it would set us up nicely. It would take a lot of pressure off."