Speaking to the press yesterday, Hakan Calhanoglu believes that he and his Turkey teammates are "well prepared" for their opening European Championship match against Croatia.
The midfielder also added that he "hopes" that Turkey will be able to "[show their] talent" and hence "have a good shot" at the tournament.
The two teams will open the Group D fixtures at 14.00 at the Parc des Princes.
Turkey feel ready to go
Speaking to UEFA before Turkey's clash against Croatia, Calhanoglu has said that the team "are ready for the match" they have "been waiting impatiently for".
He added that it is a "big day" for the whole country, but the manager and his staff have "prepared us well" and as a team they have "done what was necessary". Looking forward to the game itself, the midfielder said that all they can do now is "hope" for a "good result".
Calhanoglu also added that while no groups were easy, "anything can happen in this group," even though "Spain might look like the favourites" - with the Czech Republic the other remaining side in Group D.
He also commented on the "good atmosphere" throughout the squad and said that there is a good balance in "young players and experienced ones" who all "take great pleasure in playing for Turkey".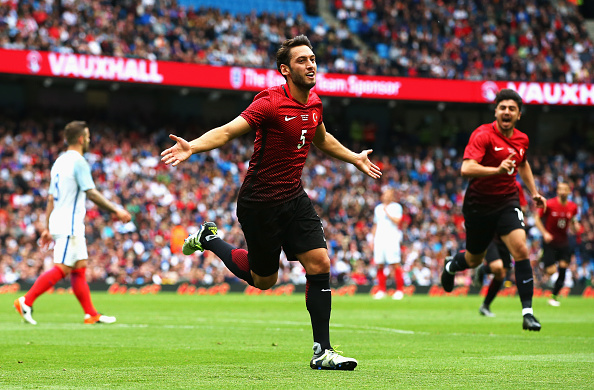 Praise for teammates
Calhanoglu continued to talk about the squad, and said that he believes his team have many "[capable] players" that can "do anything on the pitch".
When asked about his own free-kick technique, he commented that he obviously had players he "looked up to in the past," before admitting he "loved David Beckham and Juninho Pernambucano" - but since, the midfielder has "found [his] own style".
The Bayer Leverkusen star also commented on Turkey's record before the tournament, picking up on the fact they had gone "14 or 15 matches with only one defeat" and so as a team they have "developed very well".
He added that he hopes the team can "maintain the same team spirit," which will be needed as they "shouldn't forget that Croatia are tough opponents".
Calhanoglu still remained optimistic as he commented that the team "have a good shot" if they "play in [their] own style" and "show [their] talent".