It was a historic occasion for the Welsh national team yesterday as they won their first game at a major international tournament in 58 years as goals from Gareth Bale and Hal Robson-Kanu mean Wales now top Group B.
Liverpool midfielder Joe Allen was central to Wales' win as he and Aaron Ramsey worked well in the middle of the park for Chris Coleman.
With England drawing with Russia in Marseille later in the evening, Wales now top the group and it puts them in a great position to reach the last 16.
But they face England on Thursday; and after the disappointing way England threw their lead away against Russia, Roy Hodgson's men will be no easy game for the buoyant Welsh. But it is a game which has the potential to be one of the games of the tournament.
Wales didn't start so well in Bordeaux; maybe the nerves got the better of some, and it was Marek Hamsik who nearly capitalised. He danced through the Welsh rearguard, and his low shot looked to nestle in the bottom corner, but Ben Davies cleared the shot off the line, to save Wales' skin.
And then 15 minutes after that Bale's free-kick broke the deadlock, although Slovakia's keeper Matus Kozacik should have done a lot better with the effort.
Wales looked comfortable in the second-half, up until substitute Ondrej Duda equalised with his first touch. But Wales rallied and Robson-Kanu fortuitously scored the winner, after good work from Ramsey.
Allen says the team were 'brilliant' as they beat Slovakia
Allen was a constant, assured presence in the middle of the park for Coleman yesterday, and it was his composure on the ball which helped the likes of Ramsey, Bale, and the ever marauding Chris Gunter get into the game.
And with the likes of Hamsik and Jan Kucka who were in the heart of the Slovakian midfield, he did he fair share of defending; in particularly in the second period, when the Slovaks were building up ahead of steam.
But speaking after the game, Allen praised his teammates, saying: "Never mind my performance, the team was brilliant."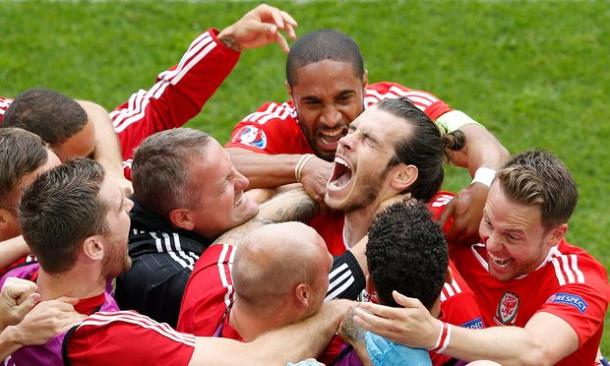 Wales' team spirit is evident, after Bale's opener the celebration showed that; and after Duda equalised it looked like Wales might crumble, but they didn't.
"To go one up and get back into it was brilliant. That's what this team is all about, digging in and hanging on to it," was pleasing for the 26-year-old.
The Welsh supporters haven't seen their national side in a big tournament for 58 years; but in France they are present in their thousands, and at Bordeaux there was a sea of red, and for Allen he felt that they helped push the team over the line.
"From start to finish, the fans were immense. They stayed loud and that helps you get an extra 5-10% which makes all the difference," said Allen.