On their major tournament debut, Iceland will be relatively pleased with the group that the draw has given them.
Austria have a handful of recognisable names but are generally unproven, while Hungary are a huge unknown quantity on the European stage.
Portugal complete Group F's line-up; a team that head to France two years after failing miserably in Brazil - bowing out at the group stages in the 2014 FIFA World Cup as the United States instead progressed to the last 16.
However, they have one big trick up their sleeves - a certain Cristiano Ronaldo, who will be Iceland's biggest concern when these two square up on Tuesday evening.
Nonetheless, his presence in A Selecção's side does not concern Iceland boss Lars Lagerbäck.
Ronaldo is good, but he won't be against us
Speaking to the press ahead of his side's opening fixture, Lagerbäck appeared far from phased by the prospect of having to keep Ronaldo quiet.
He was full of praise for the Real Madrid man, saying that, when he "saw him play for 45 minutes against Estonia," the forward certainly looked like he had "recharged his batteries" since the end of the domestic season.
Lagerbäck continued, saying that Ronaldo looked fresh and sharp "both physically and mentally" in the pre-tournament friendly.
"You can expect the best from him" at Euro 2016, the manager believes, "but not against us," he added.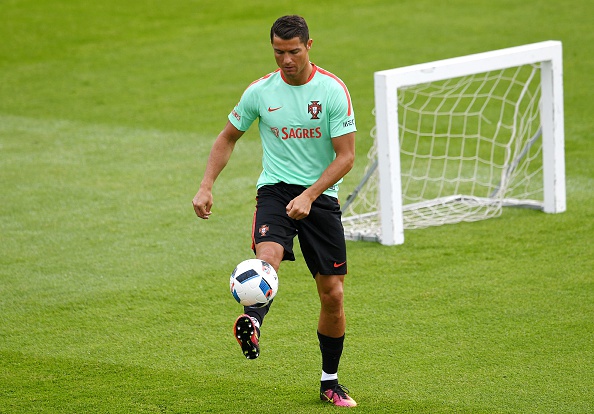 Lagerbäck saw Iceland's potential
Before taking the Iceland job in 2011, Lagerbäck spent nine years in charge of his home country of Sweden - a country who had stars in their ranks such as Henrik Larsson, Olof Mellberg, Anders Svensson and a man who remains a star for them, Zlatan Ibrahimović.
So, what made him switch from an established nation like Blågult to the unknown quantity that are Strákarnir okkar?
"When I looked a bit into the players, I knew there were some really good ones," he explained, despite the nation never having reached a major tournament in their history.
"I thought [the job] looked really interesting from a football point of view," Lagerbäck continued, adding that he always thought qualifying for a major tournament was "a real possibility" for Iceland - "otherwise," he said, "[he] would not have taken the job.
"I always think you have a realistic chance in football."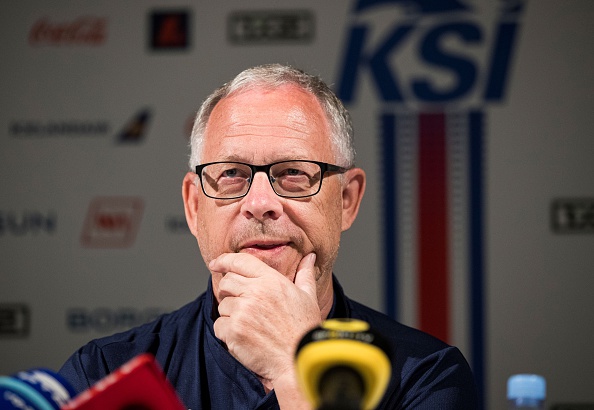 Bjarnason and Finnbogason also have their say
The manager was accompanied at his pre-match presser by two of his players; Birkir Bjarnason and Alfred Finnbogason, who were also quizzed ahead of Tuesday's game.
Bjarnason picked up where Lagerbäck left off talking about qualification, saying that the "key" for his side on the road to France for the team was their "mentality."
"We are hard working, we don't give up," he said. "We have good players that can play football."
He also believes that the chemistry of the team will prove important this summer, saying: "Many of us have been together for 10 years, having started together in the under-17s."
Bjarnason says that this means "the relationship between the players is great" and this helps them "play good football."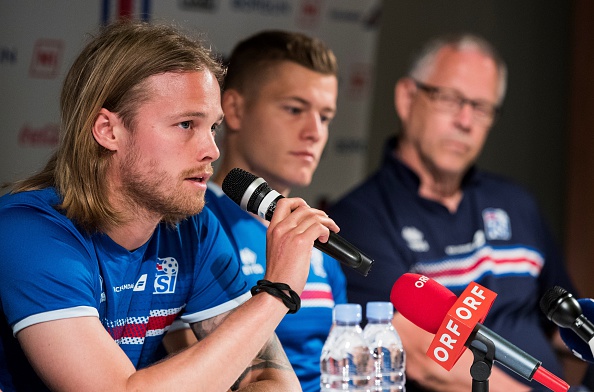 Meanwhile, Finnbogason was asked about his personal form, with him coming into Euro 2016 off the back of seven league goals in 13 starts for FC Augsburg following a January loan move from Real Sociedad.
The striker says that heading to France after "a good season" gives him "a lot of confidence" - a big turnaround for him after struggling in Spain, where he has scored just the two league goals for Sociedad since joining them in 2014.
"I'm feeling really good, fit and in good shape for this tournament," Finnbogason added, and he will hope to continue his goal-scoring form this summer - starting on Tuesday against Portugal.