The morning after the night before. And so the post mortem begins. Not in Chantilly, where Roy Hodgson and his team will be tasked with finding the answers as to why England were unable to put more than a solitary goal past their Oligarch opponents, before suffering the indignity of a stoppage time equaliser. No, for the general feeling there should be of encouragement, this inexperienced side of young Lions performed admirably for long periods. Yet questions may, and should, be asked of the substitutions. Taking captain Wazza off, with more tournament experience that the rest of the team combined, will certainly raise eyebrows. Whilst the performance of Raheem Sterling quickly rock bottomed after an impressive opening.
Though these questions will certainly need addressing, there are, unfortunately and disgracefully, more pressing issues to be dealt with in the aftermath of England's opening game of the 2016 European Championships. But those questions cannot be answered by Hodgson, Rooney, et al. For it is not a question of the football on display, but more of the miserable hooliganism that has so often tarnished the reputation of the beautiful game.
In the day or so before England kicked off their campaign in Marseille, the city was besieged by fans, the majority there to enjoy themselves. But as so often can happen, a fine minority were able to royally spoil it for their counterparts. Clashes between rival fans in the city's port did not go unnoticed. In an age of citizen journalism, the internet – Twitter especially – is the go to place when it comes to breaking stories. If ITV in their shoddy match coverage failed so miserably to address the shocking events that tore through Marseille, Twitter provided a welcome platform for a storyboard to be curated.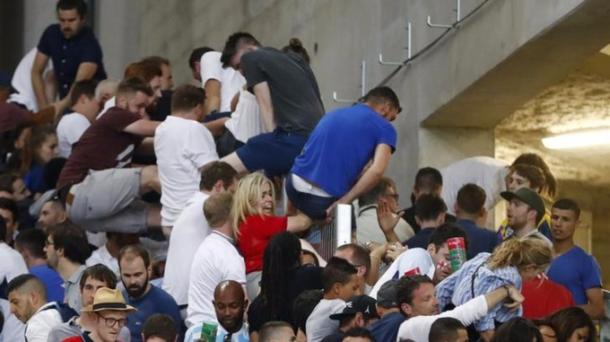 So many fans and journalists inside Stade Velodrome shared images of Russian Ultras bombarding English supporters on the full time whistle. Little, or no segregation inside the impressive venue. With the earlier issues from within the city, why did UEFA allow for mixed fanzones? And when there was segregation, did UEFA honestly feel that plastic tarpaulin more fitting of a festival gazeebo would be adequate enough? And if so, surely there still should have been more stewards on show?
UEFA must act now before situation worsens
The French authorities are under immense pressure this summer. Ever since the November bombings, the security at EURO2016 has been a major talking point. Understandably so. But in a state of heightened security, just how on Earth did a portion of Russian fans manage to get flares, fireworks and even knifes into the ground? Resources, it seems, may have been stretched. Rather than focusing on keeping the venue a safe amphitheatre for a sporting spectacle, police were instead tasked with having to break up the clashes amongst fans.
But why then were Russian ultras allowed into France at all? These people are professional hooligans. They attend football games with their brains in their knuckles. Across Europe, the Eastern states in particular, there is a widespread problem that has not been eradicated. The English may have a reputation for football hooliganism, but this is in fact an unfair stigma that we've been unable to rid ourselves of. Look at the Europa League over the past two seasons. Several incidents in Eastern Europe, no particular problems in the UK. Seeking an opportunity to strike the English lager louts, the Russians struck in what were premeditated attacks. UEFA should have been more aware.
Later on in the tournament, Russia will play in the South again. The next day, so do Ukraine, against neighbours Poland. Can we realistically expect a peaceful couple of evenings? Add vodka to the mind-sets of the already politically charged tearaways, of course there are going to be clashes when the two nations have so recently been embroiled in a Crimea crossfire. So just who at UEFA decided it would be a sensible fixture fit?
And there is to the next set of fixtures in Group B. Russia play Slovakia just after Wednesday lunchtime in Lens. 24 hours later, England play Wales in Lille. Why, why, why are the two games not kicking off at the same time? Though a drinking ban in Lille is aimed at preventing crowd trouble amongst rival fans, the Russian scum motivated by violence will surely make the short trip across Northern France to agitate what will be an already on edge England contingent.
The shocking hooliganism is not exclusive to Marseille. Just last night, one Northern Ireland fan was arrested in Nice whilst several others were taken to hospital after being set upon by a French gang, a similar gang that was so easily able to unsettle England fans. More positively however, the trouble in Nice was quickly halted by French authorities and the Northern Irish and Polish fans were able to carry on enjoying their evening together, ahead of their Group C opener later today.
With the continent supposedly sending a message of solidarity to the perpetrators of the Paris attacks, the scenes of the last 48 hours demonstrate there is a long way to go before Europe can act together. Whilst English football fans championed the Brexit through embarrassing chants after drinking European lager paid for with European money, there is hardly a feeling of solidarity in France right now.
While the French nation stands strong with their message of 'liberte, egalite, fraternite', their respective security authorities should be allowed to do a job they have so strenuously prepared for. Though a little help from the decision makers at UEFA would not go a miss.