That's all we have time for today, make sure you stay up to date with this summer's tournament on VAVEL UK. I've been Ayden Hussain, I hope you enjoyed this match as much as I did, see you soon!
Next up for the Czech Republic is a tough task against Croatia on Friday, the same day Spain play Turkey.
Spain know a similar performance will give them victory over Turkey and Croatia, all they have to do is finish their chances and they'll win comfortably.
Current Group D standings;
1st - Croatia - 3 points - with +1 GD
2nd - Spain - 3 points - with +1 GD
3rd - Czech Republic - 0 points - with -1 GD
4th - Turkey - 0 points - with -1 GD
If the Czech's defend as well as they did today against Croatia and Turkey, they could see themselves progressing out of Group D.
Andres Iniesta is today's man of the match, the FC Barcelona man ran the show and provided the crucial assist.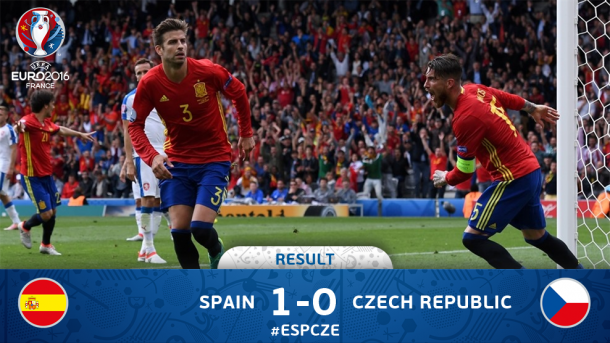 A thoroughly deserved win, 1-0 to Spain after Gerard Pique broke the deadlock in the 87th minute, it should have been more but the Czech defence stood strong and frsutrated the holders.
FULL TIME!
92': The Czech's managed to pass their way through Spain and the chance fell to Darida, but his shot went straight at David de Gea.
92': ALMOST AN EQUALISER!
90': Three added minutes have been signalled. Time is running out for the Czech Republic.
88': Pavelka has replaced Tomas Rosicky.
87': Thoroughly deserved, Andres Iniesta lofted the ball brilliantly into the box and Gerard Pique has nodded it beyond Pter Cech to give Spain the lead!
87': GOAL!!!
86': And their 14th, but before they can take it, Sural is coming on for Theodor Gebre Selassie.
84': Spain have their 13th corner and it's collected easily by Petr Cech.
82': Spain make their final change, Pedro will replace Nolito who has had a very good game.
80': WHAT A TACKLE! Thiago was one-on-one with Cech and Krejci came to the rescue with an outstanding tackle.
78': Another corner for Spain and nothing comes of it once more.
76': Aduriz tried the spectacular but the shot went wide.
75': First change for the Czech Republic, Tomas Necid is replaced by David Lafata.
73': So close again! David Silva checks onto his left foot and just bends the ball the wrong side of the post.
70': Jordi Alba got behind the Czech defence but it was put out by Hubnik. So close!
70': Cesc Fabregas off and Thiago is his replacement.
69': Aritz Aduriz just couldn't quite meet the cross from Jordi Alba. What an introduction that would've been.
65': It was almost 1-0! a brilliant header from Gebre Selassie is brilliantly cleared off the line by Cesc Fabregas.
65': Corner for the Czech Republic.
62': The first sub of the game sees Alvaro Morata taken off for Aritz Aduriz.
61': The first card of the day is a yellow one of Limbersky after he fouled David Silva.
60': Iniesta tries to beat Cech on the edge of the box but the shot is straight at him.
60': An hour gone and it's still 0-0.
57': Krejci sends in a free-kick which is met by Hubnik, de Gea makes an easy save, but what a cross from Krejci.
54': The corner is sent for a throw-in, with a little help from the gust.
53': The Czech's have another corner to defend.
50': That spell was short lived, Spain have the ball again.
49': The Czech's are starting to have the ball a little now.
47': Resilient defending by the Czech's! Another corner.
46': Almost an own goal! Iniesta played through Morata, he tried to square the ball and it's turned onto the post by Sivok! Corner for Spain.
The second half has begun!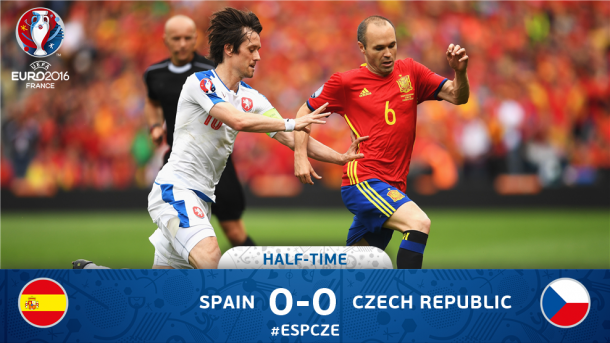 Attempts: 5-2
Possession: 68%-32%
Passes: 284-116
All in favour of Spain.
Spain have done everything right so far, they just can't beat Petr Cech. surely it's only a matter of time until they break the deadlock.
Stand-out players so far, David Silva has been dictating play, either picking the ball up deep and running with it, or collecting the ball on the edge of the box. For the Czech's their best player has been Petr Cech, he's made a couple of key saves to keep his team level.
Total domination by Spain, they've controlled the game from start to finish as you would expect. The only real chance the Czech Republic had was the one right at the end of the first half.
HALF-TIME
45': Brilliant Czech break and Tomas Necid forces David de Gea into his first save.
43': Sergio Ramos tries his luck from 30+ yards but it trickles into the gloves of Petr Cech.
40': SAVE!!! Alba forces a strong save from Cech, he pushed the ball back into the danger zone but it's cleared for a Spain throw.
39': Cheeky from Iniesta, he spotted Cech off his line and he's tried to lob him, but the ball went wide.
38': Free-kick for Spain, Fabregas tried to find Ramos but it's nodded away by Sivok.
35': Nolito is proving very dangerous, he lofted the ball up for Busquets on the edge of the box, but he volleyed his shot high and wide.
Everytime the Czech Republic get the ball, the pressure from the Spanish is unrelentless.
33': Nolito has played Fabregas in with a brilliant pass, but the Chelsea man can't square the ball for Silva and instead wins a corner, but nothing comes from that as well.
32': Iniesta finds Morata in the box, but before the striker could turn, he is swarmed and dispossessed by the Czech Republic.
29': Brilliant footwork from Morata, he buys himself a few yards and forces a save from Cech. Corner to Spain but nothing comes of it.
26': Another chance for Spain! Andres Iniesta found Juanfran through the eye of a needle but the defender couldn't control the ball in the box.
22': Taken by David Silva again, it's met by the head of Gerard Pique and gathered by Petr Cech.
21': Corner to Spain.
19': Taken by David Silva, it looked like it was headed out by Gebre Selassie but a goal-kick was given.
18': Corner for Spain.
16': Brilliant passing move from Spain sees Silva square the ball for Morata but the shot is saved well by Petr Cech. The Arsenal keeper had to make himself big there.
16': CHANCE!!!
14': It's whipped in by Silva toward Sergio Ramos, he makes contact but not enough, goal-kick for the Czech's.
14': Foul by Kaderabek on Nolito. Free-kick for Spain.
13': The Czech Republic tried to counter Spain but it was well cut out by Pique, Spain will have to be wary of that threat.
10': The crowd have a chuckle as Morata slips and slide tackles the linesman!
8': Shot by Morata is saved brilliantly by Cech! But Morata was offside.
7': A cross from Juanfran is dealt with brilliantly by Hubnik.
6": It's hit straight into the wall by Darida.
5': Pique has fouled Necid on the edge of the box and they have a free-kick in a promising position.
4': The attack amounts to nothing an Spain have a throw in.
3': Taken by Rosicky and it's another corner. After it's defelcted away by Busquets.
3': Early corner for Czech Republic.
2': As expected, Spain are keeping the ball and controlling the tempo early on.
Here we go, the champions have gotten this match started.
Can Spain kick their defence off in style? Only time will tell!
Tomas Rosicky will captain the Czech Republic and with Iker Casillas taking a seat on the bench, Sergio Ramos will wear the armband for Spain.
And now the national anthem of Spain.
The anthems are now being played, the Czech Republic's first.
The teams are in the tunnel!
And here is a pretty ominous stat for the Czech's, Spain haven't lost a match in the Euro's in 12 years.
Of all the team's that qualified this summer, the Czech Republic conceded the most goals during the qualification process.
Spain's form at the European Championship finals since 2008; WWWWWWDWWWWW Goals: 24, Clean sheets: 8, Trophies: 2.
30 minutes to go, Stay tuned!
The Czech Republic are coached by Pavel Vrba, the 52-year-old has been the head coach since 2014, but he knows Spain will prove to be a very tough test. "Their team is made up of the best players in the world, who play for Real Madrid and Barcelona. So it will be a tough challenge but we will try to beat them and I hope we can – yet we know it will be very hard."
But Petr Cech is making is 121st appearance for his side! Remarkable.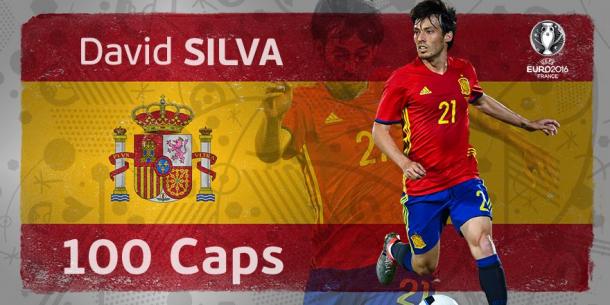 Big congratulations to David Silva, his start today gives him his 100th cap for the national side!
Spain have not won an opening game of a major tournament during Vicente del Bosque's tenure, 0-1 against Switzerland in the 2010 World Cup, 1-1 against Italy at Euro 2012 and a humiliating 5-1 defeat to Holland in the 2014 World Cup.
Both benches could provide game changers, players that stand out are Thiago and Aduriz for Spain and Skoda and Lafata for the Czech Republic.
Czech Republic subs; Vaclik, Koubek, Kadlec, Dockal, Pudil, Skoda, Kolar, Pavelka, Sural, Skalak and Lafata.
Spain substitutes; Casillas, Rico, Azpilicueta, Bartra, Koke, Lucas, Pedro, Bellerin, Thiago, San Jose, Bruno and Aduriz.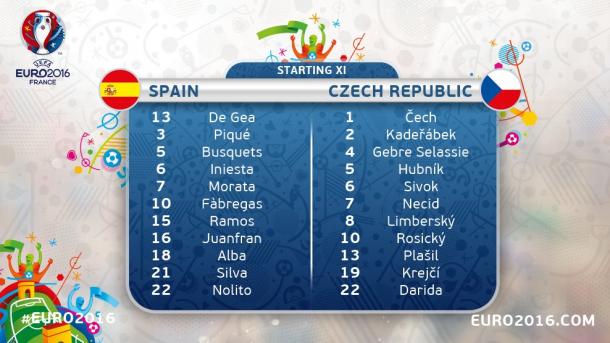 Then again, it could be a complete shut-out and the Czech's could find themselves being completely dominated.
If the Czech Republic can settle down early and try to unnerve the Spanish, striker Tomas Necid could cause some damage and he certainly has enough quality to cause Ramos and Pique problems.
I'm sure the majority of Spain fans are delighted to see David de Gea start in goal today, he should have been the Spanish number one at the 2014 World Cup in Brazil. Better late than never!
And the Czech Republic starting XI; Cech; Kaderabek, Sivok, Hubnik, Limbersky; Darida, Plasil; Gebre Selassie, Rosicky, Krejci; Necid.
First up, here is the starting XI for Spain; De Gea; Juanfran, Ramos, Pique, Alba; Busquets, Iniesta, Fabregas; Silva, Morata, Nolito.
Team news is in!
At around 1PM BST we'll have the confirmed team news, but until then their is plenty of content to keep your appetite in check on the VAVEL UK website.
Spain are bidding for a third successive European Championship triumph whilst the Czech Republic will be hoping to pull off an upset.
The Czech Republic have qualified for every final tournament since Czechoslovakia split in 1993 and they appeared in the 1996 tournament where they finished runners-up, losing to Germany.
This is Spain's sixth successive European Championship and like mentioned before, they are bidding to win it for a third time in a row. Spain qualified with a W9 D0 L1 record and they come to the finals on an eight-game competitive winning streak, during which they have not conceded a goal.
Since independence, the Czech Republic have played Spain four times, losing three and drawing one. Two of those matches were in UEFA EURO 2012 qualifying, with Spain winning the home tie 2-1 and winning away 2-0.
Petr Cech will be vital for the Czech Republic, as a world-class shot stopper, he'll be able to keep his side in any tie for as long as possible. Another man to look out for is Tomas Necid, with David Lafata being 34 year's old, Necid may well turn out to be the Czech's main striker and he'll have to prove his worth.
Celta Vigo man Nolito will also be vital for Spain and after a stellar season in La Liga, many Spain fans will be looking at him to provide something special.
Where to start with Spain regarding key players, the team is littered with world class players, but with the omission of Diego Costa, it will be up to Alvaro Morata or Aritz Aduriz to lead the line and whichever striker does, it will be vital that they play to the best of their ability.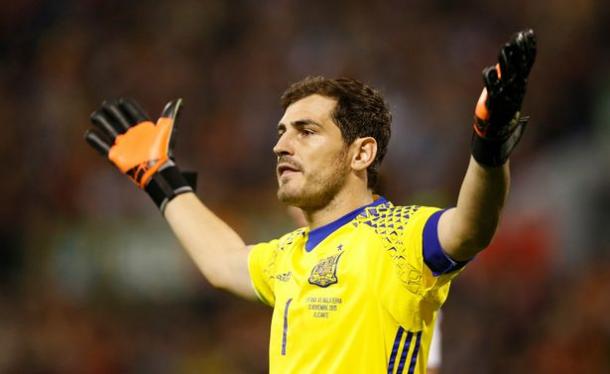 Spain qualified for the tournament top of their group, claiming 27 out of a possible 30 points and the Czech Republic also topped their group with 22 points. Both sides will be confident that they progress out of the group, but only time will tell.
Spain have won the European Championship three times, first in 1964 and then in 2008 and 2012. La Roja are bidding to re-write history and become the only team to win this tournament three times on the bounce. As for the Czech Republic, their best performance came in 1976 when they won it, albeit when they were part of Czechoslovakia.
The tie will be fought out at the Stadium Municipal in Toulouse and with the a capacity of 33,150, the atmosphere should be electric.
Hello everyone! Welcome to VAVEL UK's LIVE minute-by-minute commentary of Spain - Czech Republic. After Croatia claimed a 1-0 win over Turkey, both sides today will be hoping to claim all three points. Kick-off is scheduled for 2PM BST and I, Ayden Hussain will be guiding you through the game. Until the tie gets under way, there is plenty of content on the VAVEL UK site to keep you entertained.