That might just be all we've got time for tonight. Thanks for putting up with me and my commentary over the past two hours and fingers crossed you enjoyed it. Belgium flattered to deceive again, while Italy were much better than first thought - winning their first opening European Championships game since Euro 2000. The first high-profile billing of this tournament looked like disappointing before Emanuele Giaccherini opened the scoring in stunning style shortly after the half-hour mark. Collecting Leonardo Bonucci's ball over the top, he finished beyond Thibaut Courtois and though Belgium had opportunities, they couldn't do enough to force an equaliser before the Italians scored a second in stoppage-time. Graziano Pelle got himself on the scoresheet with a thunderous, and well-taken, volley which finished Marc Wilmots' team off and sets up Group E well for the next two games. Thanks for joining myself and VAVEL UK once again, and enjoy the rest of your night - and of course, Euro 2016! Make sure you come back here, as we'll have non-stop coverage of everything in France until July 10.
"It was a great game, we suffered when we had to. But, we haven't done anything yet," says Conte afterwards. If he can get Chelsea to perform so strongly at the back and make them so difficult to beat, you get the sense he can really shake things up in the Premier League next season. First thing's first though, he's got a job to do with Italy and after tonight, they're in a good position to at least qualify for the knockout rounds. They're two points clear after just one game.
In terms of Belgium, their 'golden generation' is in danger of failing to live up to its standing. Hazard was one of their better players tonight, looking to try and force the game where possible, but the other two forwards who have been labelled as key players - De Bruyne and Lukaku - were well below-par.
Italy's reputation of doing on the grand stage lives on. Although they came into this game undermined by most, they were much better than Belgium in all departments although Wilmots and co. didn't help themselves. They suffered from a lack of fluidity and time and time again, their midfield - even with Witsel - was easily bypassed.
Arguably the most entertaining game of the tournament so far, with all the post-match highlights and analysis from BBC Sport particularly focusing on the celebrations and togetherness of the Italian team after their second goal. The first goal even forced a nose bleed from Conte.
Antonio Conte's Italy fully deserving of those three points, having been the better side throughout. They gave Belgium very few chances and were excellent in transition, changing from defence to attack in lightning-quick fashion. That was actually the method of their second goal, Immobile carrying the ball forward before finding Candreva in space and he did well to draw the goalkeeper out before chipping in to Pelle who netted his sixth international goal - his first at a major tournament finals.
Not too many people expected that, but Italy are lapping it up as they celebrate in front of their supporters with a run and a slide. The emotions painted on the faces of Belgium fans say it all. They weren't good enough for far too long in this game and in stark contrast to Italy, lacked understanding and coherence as a unit.
FT: Belgium 0-2 Italy (Giaccherini 32', Pelle 90+2')
90+3' There we have it. The entire substitutes' bench comes on to the pitch to join in the celebrations, with even Buffon sprinting down the other end of the pitch to get involved. Italy are given too much space and Candreva pings a ball into Pelle at the back post. With Courtois off his line, he absolutely hammers home a volley past two defenders to double the Italians' advantage and quite emphatically fire them top of the group.
90+2' GOAALLLL!! That's it. Pelle finishes Belgium off with a second. 2-0 Italy.
90+1' Three minutes added on but an organised Italian side doing every bit they can to grind down the time. Clattenburg books Vertonghen for his protests.
90' Dear oh dear. Was that their final chance? Belgium twice have good opportunities, Mertens getting into the near post but picking no-one out with a low cross before Origi completely mistimes a header underneath the crossbar - missing the ball completely. Fellaini doesn't expect it to come his way and is unable to get a shot away.
89' Good defensive work by De Bruyne, who gets himself in the way of Immobile's intended through ball on the break. Belgium on the front foot in these final stages but leaving themselves vulnerable on the counter as they commit bodies forward.
88' Belgium doing their utmost to stretch Italy, getting wide and trying to whip crosses into the box. They win another corner, which Carrasco takes, but Clattenburg forces him to re-take it with Fellaini and Chiellini tussling in the middle. The Italian almost has the United midfielder in a chokehold.
87' Origi hasn't quite had the impact he might have hoped as he overhits a pass out of play to relieve the pressure on the Italians.
86' Courtois stumbles and almost makes a meal of a Parolo deflection, but he's back to his feet to catch the loose ball which fell kindly for him. He sends his team straight up the field but Hazard can't get a cross into the box from wide left.
85' End-to-end stuff! First, Origi attempts an ambitious overhead kick but doesn't quite get the execution right and on the counter-attack, Immobile forces a good save from Courtois who beats the shot wide for a corner.
84' Motta the next into the book as Italy begin to rack up the cautions. They must be applauded, however, for making the fouls that the game demands. Had they not, they might have found themselves under greater pressure.
82' The Belgium contingent roaring on their side behind Buffon's goal as Mertens' cross earns another corner. Alderweireld and Vertonghen almost meet it, only for Chiellini's header to clear it to the opposite flank. De Bruyne gets to it and puts another ball into Origi, who rises unmarked but gets too much on his header from close-range, glancing it over. He should have done better there.
81' Mertens has an effort which deflects wide from a corner, which he goes over to the far side to take himself. He sends it in deep, Fellaini reaching it with his head but no-one can meet the return ball.
80' Both sides taking it in turns to break forward, with Belgium's De Bruyne selfishly opting to shoot from range, only to be closed down by Motta.
79' What a waste. De Bruyne's free-kick from deep is floated high and harmlessly into Buffon's grasp. Belgium very quickly running out of time to salvage something from this opening Group E game.
78' Another yellow card for Italy, this time for Bonucci as he clips the heels of Origi with the striker's pace adding an extra dimension to the Belgium attack. Meanwhile, De Rossi is replaced by Thiago Motta in the third and final change for Conte.
77' Belgium pushing and probing for an equaliser, but running into a wall in the form of Chiellini, Barzagli and Bonucci until now. The introduction of Carrasco promises more width, but will he have enough time to have an impact?
76' A flurry of changes, full-back Ciman being replaced by Carrasco for the Belgians while Eder - having just been booked - is replaced by fellow striker Immobile.
75' Another cynical booking, this time for Eder for a similar foul on Mertens on the halfway line. A poor pass from Candreva invited a counter-attack from Belgium until substitute Mertens was brought down on the ball.
73' We all expected more from Lukaku, who scored 18 Premier League goals last season and wasted a gilt-edged opportunity to pull his country level, but in fairness not too many big-name strikers have performed so far. Robert Lewandowski, Harry Kane and Zlatan Ibrahimovic among those to disappoint on their first showing.
72' Lukaku has been so cumbersome this evening. After a good exchange between De Bruyne and Mertens, the ball falls the way of the Everton striker but he can't bring it under control. He's had a very forgettable evening and will be replaced by Origi to a chorus of boos.
71' Time running out for Belgium, but the introduction of Origi is a positive one and you'd suspect, the right one. He was in spectacular form for his club before picking up an injury which curtailed the end of his season, but he'll add exactly what Wilmots' men need if they get him the ball.
70' Mertens has an effort from way, way out after spotting Buffon off his line but his technique isn't quite there. Meanwhile, confirmation that Origi is readying himself to come on.
69' Hazard gets it all kinds of wrong with Belgium on a three-on-three attack. He takes too long to try and find Lukaku to his left, eventually underhitting the pass and despite re-collecting the loose ball, his shot is blocked. Liverpool's Origi, meanwhile, could be subbed on momentarily.
68' After a stoppage in play, Hazard going down in pain, both the winger and Italy target man Pelle are back on the pitch.
67' Still not enough movement from the Belgians, while Pelle is currently on the sidelines. It looks like the Italian medical team are trying to pop a dislocated finger back in to place. Ouch.
65' Tonight's first yellow card goes to Chiellini, who commits a professional foul in pulling Hazard back after the Belgium captain threatens to sprint clear of his clutches.
64' Hazard is moved centrally, with Mertens out left, as a result of the change. Or so it appears. The Chelsea forward buzzes around Lukaku for a few minutes but now it seems that De Bruyne will act as the No.10.
62' De Bruyne stabs a cross across the face of goal but it's wild, with too much power and height and none of his compatriots can shape themselves to get near it. One of many who hasn't met expectations tonight. Yet...
61' A game of real excitement now as both sides search for the second goal of the game. Belgium's case would arguably be helped by bringing off the lacklustre Lukaku, but instead Wilmots bring Nainggolan off for Mertens in the middle. Fellaini dropping into the midfield two with Fellaini.
60' Another good rescuing tackle, Alderweireld snuffing out Eder after a good touch from a long ball down the middle. Italy finding it much easier to get in behind.
59' Candreva continually posing problems to Vertonghen, beating him to the by-line and swinging in a dangerous cross which Eder almost reaches. The Lazio winger in contention for man of the match at this rate.
58' First substitution of the evening, Manchester United's Matteo Darmian replaced by Mattia De Sciglio of AC Milan on the right for Italy.
55' A real injection of tempo into the game as Belgium get forward with increasing urgency. Hazard tries a shot on the turn on the edge of the area but his left-footed strike is well held by Buffon. The Red Devils have been much better since Vertoghen gave his teammates a piece of his mind, but they must make it count.
54' Another good opportunity, this time up the other end for Italy. Pelle rises to meet a cross and his header looks destined for the bottom corner only for Courtois to dive down and stretch out his right hand and claw the attempt wide. Stunning stop. Potentially match-defining?
53' How is it not 1-1?! How?! What. A. Chance. Belgium create their best move of the evening, De Bruyne sliding Lukaku into space centrally. He moves towards goal and looks for the far top corner after Buffon comes off his line, but crucially the ball doesn't ripple the back of the net. Instead, it's a yard or so wide of the mark. The Belgians behind the goal are in despair.
52' That half-time team talk obviously hasn't done enough to inspire Belgium so far and it seems that the only thing to wake them from their slumber will be substitutions. The Italians all too easily getting into good positions, with a through ball picking out Candreva in acres only for Vertonghen to slide in and prevent the cross at the by-line. The Spurs man then screams some pretty frustrated words at his teammates.
50' Much of the same in this second-half so far, if not Italy even more in control of proceedings. Belgium do however threaten to carve them open, but Chiellini - as he has been so many times already - gets in the way of De Bruyne as he looks for Lukaku to his right.
48' Once again it is the Italians, cast off by many (including me) as a dull and defensive side beforehand, who have more of an attacking impetus - plenty going through Candreva down the right, but he can't control a switched ball with his side once again mounting a good move forward.
47' Almost a great chance for Italy, but Pelle puts too much on his pass out wide. They had a great move in progress then, too.
46' And we're back for the restart after a wait for Buffon, who comes back onto the pitch a little late to join the other 21 players. Wilmots can be seen in deep discussion with his assistants in the dug-out, though their hands cover their mouths to ensure no-one knows what they're actually talking about. No changes at the break, but you'd suspect they aren't too far away.
Attacking changes probably needed to spark Belgium into some much-needed life. They've plenty of options, particularly the likes of Origi, Batshuayi, Mertens and Carrasco - all of whom would inject pace and direct running. Fellaini probably the favourite to be hooked, although whether Wilmots too thinks that is a different matter altogether. Dembele, too, is an option - with the possibility of adding drive from deep.
"That is very Italian," says BBC Sport pundit Thierry Henry after the first 45 minutes. He also has plenty of criticism for the lack of movement and width of Belgium. He has a point, bar the half-chance when De Bruyne made a good run through the middle and could have done more from Fellaini's pass, with the Red Devils too static and lacking enough intelligent running in the final third.
In fact, Marc Wilmots' Belgium - so far just a team of individuals - can count themselves lucky not to be trailing by a greater scoreline. Pelle in particular has had a few chances to make it 2-0, but only Giaccherini's finish separates the side thus far. Will that change after half-time? The Belgians will hope so, or else it will be a very underwhelming return to a competition they've not played in for 16 years before this evening.
That's that then. A relatively nothing game until the half-hour, when Bonucci's stunning pass picked out Giaccherini who applied an equally as impressive finish to put his team ahead. At the back, the Italians have been as sturdy as expected - shutting Belgium down to few opportunities - but going forward they've been much more entertaining than expected. Their opponents, second in the FIFA world rankings, have hardly lived up to their potential so far - doing little to disturb Italy's defensive comfort. A team less than the sum of its parts.
HT: Belgium 0-1 Italy (Giaccherini, 32')
45' This is more like it! The pace picks up towards the interval as Italy move forward promisingly, only for Pelle to fluff his lines from Candreva's cross rolled in along the floor. Belgium counter but they too can't make it count when it matters.
44' Belgium finishing this half a little more strongly, but still not enough to create any real chances. Hazard runs from deep and beats one or two, but he can't get far enough forward to ask anything of Italy.
43' Predictable stuff from Belgium's forward line here, who appear to have little in the way of invention to break down a stubborn Italian defence. Ciman drives a cross into Fellaini, who heads down to Lukaku but with his back to goal, the Everton striker is unable to do anything with it.
42' That's a great ball from Fellaini, who threads a well-weighted pass into De Bruyne running into space in behind. He has a half-chance but he's very quickly closed down and his shot is blocked. After which, Lukaku is beaten to the ball.
40' Italy defending well, and in numbers, to thwart the Red Devils until now. Alderweireld tries a long ball up into the head of Fellaini, but he overhits it and once again, it'll be a Buffon goal kick.
38' Not much in the way of a reaction to going behind from Belgium with Witsel the latest to try his luck from distance but again it flies wide.
35' It should be 2-0! Fellaini's clearance from a cross, after a short corner, is poor and no-one goes up for the second ball bar an Italian, who flicks it to an unmarked Pelle in the centre, but he can only head wide of the far post from an ideal position. Italy should be in control here.
34' Courtois forced into a good stop as Candreva finds space to shoot on the edge of the box, but it's a relatively simple save for the Chelsea goalkeeper.
33' I'd say that was all about the pass, but the finish was just as good. That puts a spanner in the works for Belgium, who might have found it tough to break down Italy once. Now they must do it at least twice to win. Marc Wilmots must conjure up a plan, and quickly.
32' Well that came out of nowhere. Bonucci fires a simply wonderful long ball over the top and Alderweireld can't get near it, allowing Giaccherini to control on his right foot and curl beyond Courtois to put his country into the lead. A very well-taken goal indeed.
31' GOAAAAL!!! Italy take the lead and it's Giaccherini. 1-0.
29' Cagey's probably a good word for this one as Ciman too easily gifts possession to Giaccherini, but his shot is blocked and hurtles up into the air - Courtois coming off his line to punch it away. In a frantic spell, it comes back outside the Belgium box as Pelle looks to bend a shot inside the far corner but it's a couple of yards wide from the Southampton striker. Respectable attempt, at least.
27' Another foul from Eder, this time on Witsel inside the area. From the free-kick the ball is worked to Vertonghen, who is very high up the pitch on the left, but his cross is well overhit. Bit of a slow-burner, so far. No real chances to talk of just yet.
26' Very little from De Bruyne so far, with much of Belgium's play coming through Hazard down the left-hand side. The Manchester City man hasn't even got his corners right, his last delivery a sight to behold.
24' Ciman beats Darmian to the ball and drives forward, eventually winning a corner after his shot is blocked, but nothing comes of it once more.
23' Risky from Ciman, who jumps in to a sliding challenge on Giaccherini just inside his own area at the by-line, but he gets away with it. He certainly appeared to catch the Italian, albeit lightly, and no claims were made for a penalty. Relief for the defender, though, because he didn't get much of the ball.
22' Another shot from the edge of the area from Nainggolan, as he latches on to a loose ball from Fellaini's downward header, but he can only drag his attempt wide of the post.
20' Nainggolan curls a clever ball around the defence and towards the back post but Lukaku isn't quite alert enough to reach it. You can see why the Roma midfielder has so many clubs interested in his services. An audition for Conte tonight, perhaps? He's been heavily linked with a move to Chelsea already this summer.
18' No real opportunities of note for either side just yet, but plenty of glimpses to take promise from. Hazard showing a desire to get on the ball and slalom past his opponents so far.
17' Giaccherini tries to deliver a cross down the left, but Ciman hangs out a leg and blocks it, fortuitously starting a Belgium counter-attack. De Bruyne charges forward but his pass into Lukaku, who is threatening to drive beyond the Italian back-line, is underhit. They manage to sustain possession but Lukaku's cross rolled across the turf causes no problems.
16' Another corner as Chiellini puts out Vertonghen's low cross despite having no red shirt around him for 10 yards or so. De Bruyne takes it, hanging a cross towards the penalty spot, but Pelle is on hand to emphatically head clear.
14' Remember how I suggested Italy might continue the cliché of being typically dogged in defence and pragmatic in their approach? They've done quite the opposite so far, credit to Conte. They're taking the game to Belgium, who themselves have a promising spell of possession as Hazard gets an opportunity to showcase his ability as he wriggles free of Parolo's attentions.
12' Perhaps surprisingly, it's Conte's Italians making the inroads thus far. They've found plenty of joy down each flank and as such, out-of-possession, Hazard is being forced to drop incredibly deep to help deny the ever-willing Candreva too much space.
10' Italy work it out wide right to Candreva, whose cross is eventually easily dealt with. Belgium counter and Vertonghen heads down to Lukaku, who flicks it to Fellaini. In turn, he sets up fellow midfielder Nainggolan whose strike from 20-yards is parried wide by Buffon for a corner which leads to nothing. Fellaini, with his golden afro, beats Chiellini in the air but can only head wide of the mark.
8' Neither side really having chance to settle yet, in this quite a high-tempo game but Italy demonstrating plenty of threat - Witsel forced to make a well-timed interception to thwart an attack growing in momentum from the white shirts of the Azzurri.
7' Very late, and very high, challenge by Eder as he catches Vermaelen with his studs. The Belgians aren't happy and Clattenburg is forced to have words with the striker, but no yellow card is issued - much to Vermaelen's annoyance. Certainly could have gone into the booking for that.
6' Italy regularly looking long with diagonal balls out to either flank early on, as Chiellini's pass in search of Candreva goes out of play.
5' Great defending by Vermaelen, who hooks away a low cross inside his own box at the near post. Azzurri, noticeably, pushing their wing-backs very high up the pitch and looking to outnumber their opponents down the sides.
4' First little glimpse of Italy getting forward as Giaccherini almost goes through on goal, were it not for Alderweireld's interception, before an Eder shot tackles a deflection and rolls easily through to Courtois who gathers.
2' Belgium seeing plenty of the ball, and plenty of white shirts, to start off with. Lukaku pulls back a decent ball into a dangerous area after running down the inside channel, but Barzagli clears for a throw-in. From that, Ciman swings in a cross in search of Lukaku but it's too high and it goes out for a goal kick.
1' Mark Clattenburg blows his whistle and we're underway in Lyon, with Italy getting the ball rolling inside the centre circle, ditching the one-man kick-off we've seen today and yesterday and going for the traditional two-man alternative. They're shooting from right to left to start off with.
Hands on hearts from the Belgium players, who are slightly less emphatic in their singing, as the camera quite amusingly drops from 6ft 5ins Courtois to 5ft 8ins Hazard towards the end. Still fairly entertaining though. Now on to what we have all been waiting for.
What's that? You don't love a good national anthem rendition? Shame on you. You wouldn't have liked that then. Even the bench were at it. Now for Belgium...
That was cracking. The Italy players, arms all around each other, hold nothing back and every single players give it their all - Buffon, Pelle and Chiellini in particular getting into the spirit of things. A joy to watch.
Here we go! The players, led by Buffon and Hazard, make their way down the tunnel and out on to the pitch - Italy in a snazzy white number and Belgium sporting their black, red and yellow combo. A spectacular wall of noise greets the two sets of supporters in this, an excellent and ultra-modern venue. And now for the national anthems...
Another interesting statistic, and one I admittedly didn't realise earlier. Conte's starting side is actually the oldest ever starting XI in European Championship history. Regardless, they'll be extremely well-drilled defensively. It's up front where they suffer. With a real lack of goalscorers, with De Rossi their highest-scoring player at Euro 2016 with 18 goals and centre-back Chiellini in second with six, they'll simply be hopeful of grinding their way past Belgium this evening. At least, that's what you'd suspect.
Back to the football, but also keeping with the theme of anthems and chants - the Belgium supporters are in loud voice already inside the stadium in Lyon. See for yourself: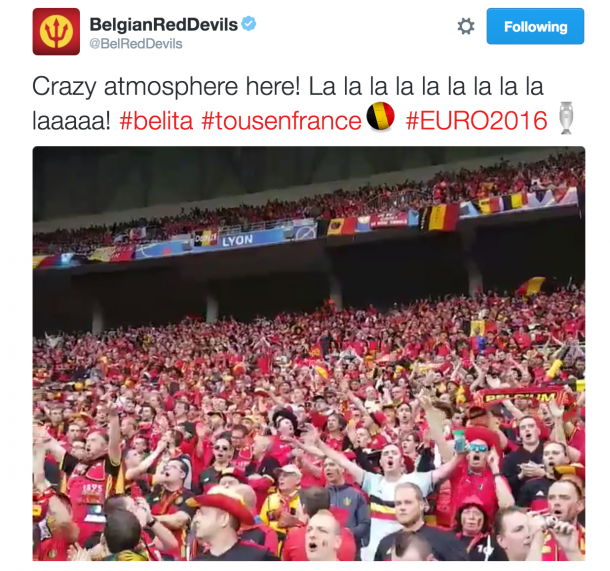 And on to the Belgian national anthem, which is called Brabançonne (The Brabantian) after Duchy of Brabant which was a State of the Holy Roman Empire established in 1183 before being partitioned after the Dutch revolt. It was reportedly written in September 1830 during the Belgian Revolution, by a young French revolutionary by the name of Alexandre Dechet, or "Jenneval". It was officially adopted as their national anthem in 1860. It's lyrics, again translated, are also quite powerful. "O dear Belgium, O holy land of our fathers -our soul and our hearts are devoted to you! Accept our strength and the blood in our veins, be our goal, in work and struggle. Prosper, O land, in unbreakable unity; always be yourself and serve no other, faithful to the word that you may speak boldly, for King, for Freedom and for Law!" Looking forward to hearing that, too.
Starting with the Italian anthem, called 'Il Canto degli Italiani' (The Song of the Italians) but otherwise known as Fratelli d'Italia (Brothers of Italy) or Inno di Mameli (Mameli's Hymn). That's because it was initially written in 1847 in Genoa by a 20-year-old student called Goffredo Mameli. Michele Novaro added music two months later but it wasn't until after the Second World War when Italy became a republic that it was chosen as the country's national anthem, in October 1946 to be exact. It wasn't made official in law until November 2012, but the national team have long used it before then. It's chorus, in English, reads: "Let us join in a cohort, we are ready to die. We are ready to die, Italy has called." Looking forward to seeing Buffon and co. belt it out already, aren't you? Well, unless you're unable to watch the game, then I suppose you're just going to go off of my commentary aren't you. I'll try and make it as entertaining as possible, promise.
What do we all love about international tournaments? Many things, really, but one of the best has to be the national anthems. We're not far away from hearing the first Italy and Belgium renditions of Euro 2016, so shall we learn a little bit about them? Let's...
Getting closer and closer to kick off as the two teams train out on the pitch, which is a lovely surface I might add. Here's hoping for some quality football to match.
In fact, Italy's starting eleven as a whole has been around a while. The average age of their XI tonight is 31.46 years, although Buffon being 38 doesn't help that too much. Interestingly, when the Italian shotstopper made his first appearance for his country, his counterpart tonight Thibaut Courtois was just five years old.
What a staggering feat. Gianluigi Buffon earns his 157th international cap tonight in between the sticks for Italy. In comparison, Belgium's most-capped player made 96. Of the current squad, Vertonghen's 77 (78 after tonight) is the highest tally. In fact, 38-year-old Buffon - indisputably one of the game's greatest ever goalkeepers - has made the joint-12th most appearances for his country in the history of the beautiful game. Notable names alongside him are United States forward Landon Donovan (also 157) and Spain goalkeeper, and also a legend of the game and not just his generation, Iker Casillas. Who is top, you ask? Egypt's Ahmed Hassan with 184 between December 1995 and May 2012. Buffon's closest rival at Euro 2016 is Robbie Keane, who came off the bench earlier today for his 147th appearance for Ireland. Just as incredible an achievement, really.
Did you know? Italy have drawn 15 games in European Championship history, more than any other country. They have also recorded the most goalless draws with eight. Their line-up tonight hardly suggests they'll be going for victory, so unless Belgium can break them down - we might be forced to wait a little longer for a first real blockbuster 90 minutes at Euro 2016.
Italy Bench: Sirigu, Marchetti, De Sciglio, Ogbonna, Florenzi, Bernadeschi, Motta, Sturaro, El Shaarawy, Insigne, Immobile, Zaza. Again, options, but some of which you'd rather see starting than sat on the bench. Insigne is arguably Italy's most exciting player and scored 12 goals and assisted a further 10 in Serie A for Napoli in 2015-16 and yet sits on the sidelines. Baffling.
Belgium Bench: Mignolet, Gillet, Denayer, Meunier, J. Lukaku, Kabasele, Dembele, Carrasco, Mertens, Origi, Batshuayi, Benteke. Talk about options...
As we wait to find out who will be on the substitutes' bench for either side, Republic of Ireland and Sweden have just drawn 1-1 in the other Group E game in Paris. Wes Hoolahan's spectacular strike gave Martin O'Neill's side the lead early in the second-half, but Ciaran Clark headed Zlatan Ibrahimovic's cross into his own net allowing the Swedes to steal a draw without even having a single shot on target. Can either Belgium or Italy claim an early advantage in this group with a win now?
Well would you look at that, the rumours prove true for the Italian team too. Again, plenty of questions to be asked. Giaccherini and Eder, just to start, largely undeserving of their places in the side. Where is Insigne? Florenzi? Bernardeschi? Motta? Even El Shaarawy? Questionable decisions on Conte's part, but we'll soon discover whether they were actually the correct ones or not.
Italy XI (3-5-2): Buffon; Barzagli, Bonucci, Chiellini; Candreva, Parolo, De Rossi, Giaccherini, Darmian; Eder, Pellè.
Hopefully we'll have the Belgian's bench and Italy's matchday 18 any moment now, but until then - let's discuss the Red Devils' side. Exactly as the rumoured team suggested with some notable omissions and Vermaelen splitting Spurs duo Vertonghen and Alderweireld, the former being pushed out to the left. Ciman comes in at right-back, rather than Denayer, while Fellaini starts - presumably to add some strength and height to the Belgian side for set-pieces, with Italy's best opportunities likely to come via aerial balls at free-kicks and corners.
Belgium XI (4-2-3-1): Courtois, Ciman, Alderweireld, Vermaelen, Vertonghen, Witsel, Nainggolan, Fellaini, De Bruyne, Hazard, R. Lukaku.
Hello, hello, hello. We have confirmed team news, albeit only Belgium's starting line-up so far. Coming with you shortly...
Also, an "expected" Italy team that has made its way to Twitter. That reads as follows: Italy: Buffon; Barzagli, Bonucci, Chiellini; Candreva, Parolo, De Rossi, Giaccherini, Darmian; Pelle, Eder. Again, another intriguing selection, with the midfield particularly weak.
Rumours doing the rounds that this could be the Belgium team tonight. Courtois; Ciman, Alderweireld, Vermaelen, Vertonghen; Witsel, Nainggolan; De Bruyne, Fellaini, Hazard; Lukaku. A 4-2-3-1 with Marouane Fellaini in the No.10 as opposed to Kevin De Bruyne and Eden Hazard, with Dries Mertens left on the bench as well as Mousa Dembele and Jason Denayer also absent. Interesting if it's true. We'll soon find out.
Belgium against Italy is of course the third game of today's football fest, with Spain having edged past a dogged Czech Republic in today's 2pm kick-off. Gerard Pique's 87th-minute header gave the reigning European champions an opening victory, meaning they are now unbeaten in their last 13 games at European Championship finals, a 0-1 loss to Portugal in 2004 their last defeat. So formidable are they in this competition, they've not conceded a single goal at the Euros in 600 minutes - the longest run of any national team in the tournament's history. Can they break records and win a third successive title this summer?
And if that doesn't tickle your fancy, you can follow Republic of Ireland against Sweden in Paris LIVE with VAVEL right here. It's currently 0-0 as they approach the 10-minute mark.
Here's another look at the stunning stadium which host tonight's match, courtesy of @BelRedDevils. We certainly are ready. Just less than three hours until kick-off, but we'll have more build-up on the way, as well as team news, throughout.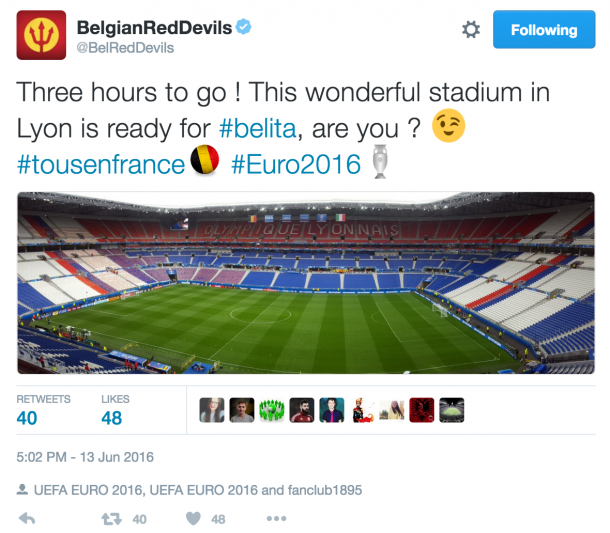 A well-spoken guy, it seems. Conte went into impressive detail about the adaptability and tactical flexibility of his side as he hailed the importance of being able to change things around, insisting: "In tournaments like this you need to be well-prepared in every aspect to go forward. We arrived at the tournament with this tactical approach, a chameleon-style one that mutates by degrees depending on different situations. I do feel the need to say these lads over two years have done so well, because it's not easy to understand certain situations in a few days of work. Now we've been together for a couple of weeks and are fine-tuning the tactical concepts." We'll see that tonight, won't we.
This summer, Conte will hope to finish his tenure at national team boss strongly - with 68-year-old Giampiero Ventura his named successor. Conte will of course swap one blue for another, moving to London to take on the Chelsea job after the expiry of his contract, but he'll have his focus firmly set on this summer's events in France. Starting with tonight, a game in which he insists his players must leave the pitch with "no regrets." He also explained that he believes tonight will prove to be "one of the most interesting games of Euro 2016" as he told reporters Italy "must prove that we deserve something." The 46-year-old, formerly at the Juventus helm, added: "If we don't, then it's only right that we go out at that stage, without regrets, knowing we've given our all and done everything we could do." Conte later said: "The first few games are already showing that there are strong teams caught out at the end or scraping a victory. I think tomorrow's game will be one of the most interesting of the Euros, as these are two teams that want to entertain and we played a very fun friendly back in November."
Italy have not won their opening game in three tournament, drawing twice and losing once, since they beat Turkey at Euro 2000. Two of those matches were against Spain, who went on to win it, and Netherlands in fairness - plus on two of those three occasions, they've bounced back to qualify from the groups. They'll be especially keen to do so this year after their embarrassment at the 2014 World Cup, when under Cesare Prandelli they failed to reach the knockout rounds, finishing third in a group containing Uruguay, Costa Rica (who topped the group) and England. Conte took the reins since then and has lost just three of the following 20 matches.
Contrasting experience in these two teams. This is Italy's ninth European Championships and their sixth consecutive since missing 1992 in Sweden. Only in two of those editions have they failed to advance through the groups, in 1996 and 2004, while Belgium have lost five of their last seven matches in this competition.
And in answer to the second question, tonight's game is at the newly-built Parc Olympique Lyonnais also known as Stade des Lumières and the Grand Stade. As the first name suggests, it is home to Olympique Lyonnais having replaced the Stade Gerland in January this year. It will host one of the semi-finals and seats just over 59,000 supporters. It's also set to host three more group stage games, including Ukraine - Northern Ireland in three days' time. Pretty smart, isn't it?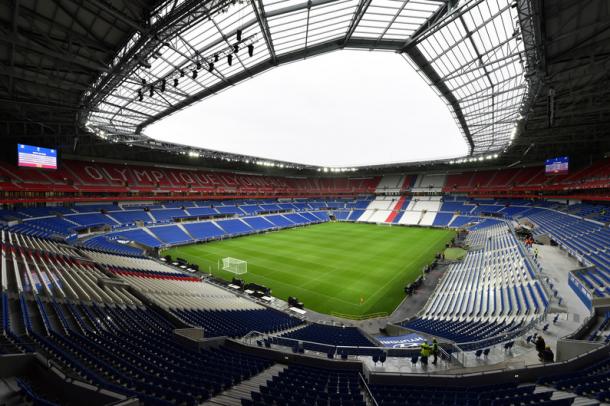 So then, let's get down to the important stuff. Who's the referee? Where's the game being played? That kind of stuff. Well, in answer to the first question, a familiar face is the man in the middle. Mark Clattenburg, who was in charge of the FA Cup final and the Champions League final inside the same week only last month, is the selected referee. A regular in the Premier League, this is the 41-year-old's first experience as a referee in a major international tournament - having only previously been an additional assistant referee at Euro 2012.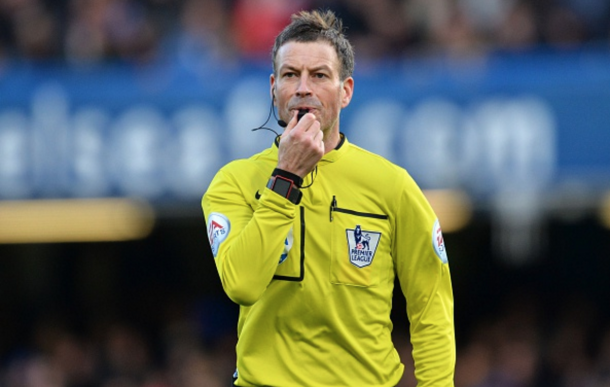 Hazard, meanwhile, believes the first game could help to define Belgium's tournament and could either prove the perfect springboard or the opposite. He said that they will try to win the opening match and then simply "see how far we can go" as he told reporters that his national team are "a little bit of an outsider" although they have players "playing for the best club sides all over the world." The exciting winger, who goes into the tournament looking to regain his best form after a below-par 2015-16 campaign, added: "Perhaps the first match is the most important game of the competition. If you start with a defeat it's never great because you put additional pressure on yourself right from the outset. If, however, you start with a victory, you're able to let off some pressure and put additional pressure on opposing sides. Even if you don't necessarily start with a victory, it's very important to start with a good performance."
Chiellini's recent comments seem to suggest plenty about what Italy's game plan will be this evening. He insisted that "defensive solidarity" must be he and his teammates' "No.2 target" behind winning. He declared: "I don't think a team necessarily needs to score that many goals. You only have to score one more than your opponents and concede one less. That is what really counts." Setting up to frustrate Belgium, do you think? They're certainly capable. It could prove to be a game of attack versus defence if it pans out as expected, which could prove a close-fought battle.
The last five encounters between Belgium and Italy have actually produced 18 goals, although it's unlikely we'll see such a goal-fest tonight. Not that anyone would be opposed to that. We've yet to have a first real blockbuster of a match at this summer's Euros and this game has all the ingredients to be just that. Stick your house on a bore goalless draw, then.
Interestingly, Belgium are 10 places above Italy in the current FIFA world rankings. Whether that difference will show tonight might be a different story, but it's interesting to note that Marc Wilmots' men were top of the standings in November 2015 - the first time ever a national team without a major honour has been first. That came just less than 10 years than their worst-ever ranking of 71st in June 2007. Some rise in a short time. Who was 1st at that time, you ask? Italy, by chance. Now, they find themselves just one place above Ecuador and behind the likes of England, Austria and Uruguay - who were recently knocked out of the Copa America after just two games. France are as low as 17th, so perhaps the metrics and algorithims are at fault. Where would you rank tonight's two teams among the best nations in the world? Let us know by tweeting your opinion to us at @VAVEL and we'll share the best right here.
BBC Sport report that with the Juventus four of Buffon, Chiellini, Barzagli and Bonucci helping to shape a three-man back-line - natural wingers Antonio Candreva and Stephan El Shaarawy could take up roles as wing-backs. Eder and Graziano Pelle are a possible strike partnership, with 3-5-2 the likely formation. Speaking in a recent press conference, Italy boss Conte even admitted: "We are in a difficult phase and you can't hide the fact that we no longer boast great riches of attacking players. I honestly don't know if it is just a generational thing." However, the Azzurri boss is pleased with the balance and stability of his side, adding: "It's definitely an advantage to be able to rely on four players from Juventus who have played together for a long time in defence, and of course we are building something solid on this basis. But as I said before, I like to adopt a proactive style of play and for this, balance will be important, both in attacking and defending."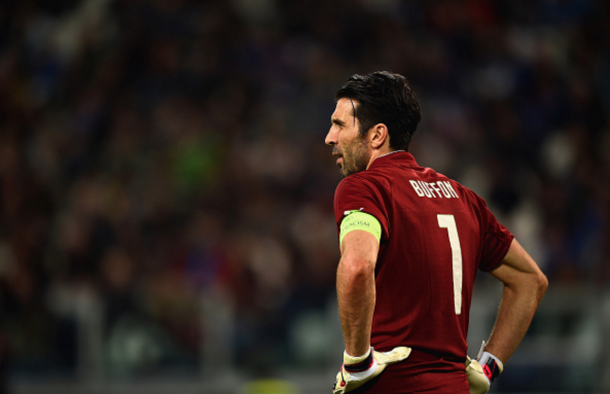 Both countires have suffered their fair share of pre-tournament setbacks. The aforementioned injuries to Verratti and Marchisio have blighted Italy's midfield, with Riccardo Montolivo also out because of injury. But Belgium's defence has also been disrupted. Vincent Kompany, Nicolas Lombaerts, Bjorn Engels and Dedryck Boyata were all forced to drop out with injuries. Nevertheless, there's plenty of star quality on show this evening.
Belgians the world over were breating sighs of relief after Wilmots announced that Eden Hazard and Thomas Vermaelen would both be given the green light to feature in Lyon tonight. Chelsea winger Hazard, standing in for the injured Vincent Kompany as his country's captain, had to drop out of a behind-closed-doors training session on Friday after picking up a foot knock. Belgium were also sweating on the fitness of defender Vermaelen earlier in the week, but he has proven his fitness after recovering from tightness in his calf. He's highly likely to take part against the Azzurri, although it is uncertain whether Wilmots will trust Tottenham Hotspur centre-back pairing Toby Alderweireld and Jan Vertonghen together in the centre, having trialled a number of different defensive systems throughout their build-up to this tournament - both in their friendlies and in open training sessions. We'll have team news with you an hour before kick-off.
Fun fact time. Today's two managers, Marc Wilmots of Belgium and his Italy counterpart Antonio Conte, were actually in the starting line-ups for their nations for that last clash back in Euro 2000. Not too often you read a stat like that, is it.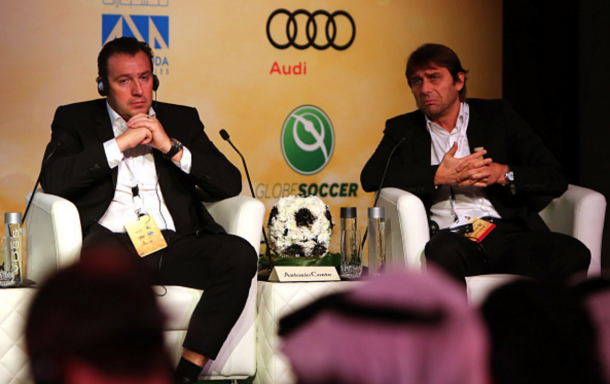 Belgium and Italy have actually met three times before in the finals of the Euros. In the quarter-finals of the 1972 tournament, Belgium won 2-1 in Brussels to knock Italy out while the two sides drew 0-0 in Turin eight years later allowing the visitors to reach the final. Their latest meeting came back in 2000 when goals from Francesco Totti and Stefano Fiore eliminated co-hosts Belgium at the group stages. History to write this evening?
That was only their fifth ever win over Italy, from 21 meetings. Truth be told, despite Belgium's promise - they've actually taken very few major scalps in recent years. They did beat France 4-3 away from home a year ago, but otherwise have beaten very few high-profile countries - losing to Wales and Portugal in their biggest tests in the last 12 months.
Did you know? These two nations met for the first time in seven years in November 2015. Antonio Candreva put Italy ahead inside three minutes but Jan Vertonghen, Kevin De Bruyne and Michy Batshuayi all netted in Brussels to put to an end a run of 12 successive defeats to the Italians. How they'd love to repeat that scoreline tonight.
The strengths of this Italy side are clear and their defence reads much stronger than their options in the final third. Juventus quartet Gianluigi Buffon, Giorgio Chiellini, Leonardo Bonucci and Andrea Barzagli help make up a dependable back-line that doesn't concede many goals and with Belgium having struggled against similarly styled teams in their friendlies, this could be an interesting tactical battle.
The Italians, meanwhile, arguably enter this tournament with their worst squad since the Euros started back in 1960. Missing their two best midfielders Claudio Marchisio and Marco Verratti, of Italian champions Juventus and French title-winners Paris Saint-Germain respectively, does not help - while outgoing manager Conte was criticised for his decision-making with his 23-man squad. Mario Balotelli and Andrea Pirlo are two of the big-name omissions, although they weren't particularly surprising ones. Rather, the debatable absentees were the likes of midfielders Jorginho and Giacomo Bonaventura, as well as pint-sized striker Sebastian Giovinco. Genoa's Leonardo Pavoletti was not called up despite being Serie A's highest-scoring Italian.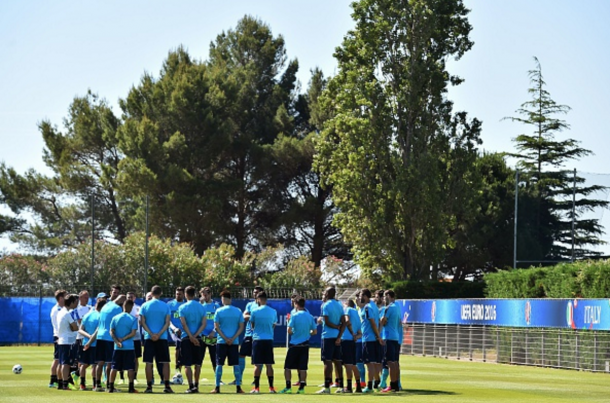 Are they in danger of underwhelming again? They'll hope not, with this their first Euros since 2000. They were supposed to have used the 2014 World Cup, where they were knocked out in the quarter-finals, as a stepping stone and the chance to get some major tournament experience. Only time will tell whether this squad can learn from that experience, but he improvement of their key players since - the likes of Romelu Lukaku and Kevin De Bruyne particularly - perhaps suggests they need to at least reach the semi-finals to live up to a rising level of expectation.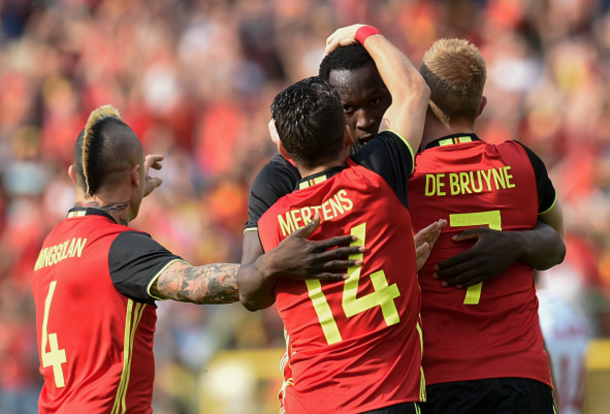 That's because Belgium and Italy are the two most successful teams of a group that is arguably this year's Group of Death, with Republic of Ireland and Sweden also representing formidable opponents. In the days and weeks building up to the tournament, it was the Belgians who were tipped as the favourites to win the group - but their performances in their friendlies have cast some doubt over their chances of success. The Red Devils needed an 89th-minute equaliser to draw 1-1 with Finland, before needing a late turnaround to beat Norway 3-2 - both in Brussels. Both times their strengths, notably their attacking flair and talent, was undermined by their weaknesses at the back, a lack of natural full-backs their glaring flaw.
That brings us to today, which sees Spain face Czech Republic and Republic of Ireland take on Sweden. More importantly, it also sees arguably the first real high-profile billing of the tournament so far. Belgium's Golden Generation, and particularly manager Marc Wilmots, are under pressure to deliver on their immense potential and promise as the highest-ranked side in FIFA's world rankings going into the tournament. Italy, meanwhile, are regularly commended for taking things up a notch when needed to, but they're not the force they once were. That said, they finished as runners-up in 2012 and despite plenty of injuries - Antonio Conte's men are still capable of causing problems. Conte, who will become Chelsea boss after the Euros, believes tonight's game "will tell us everything and nothing" about Group E - and he might be right.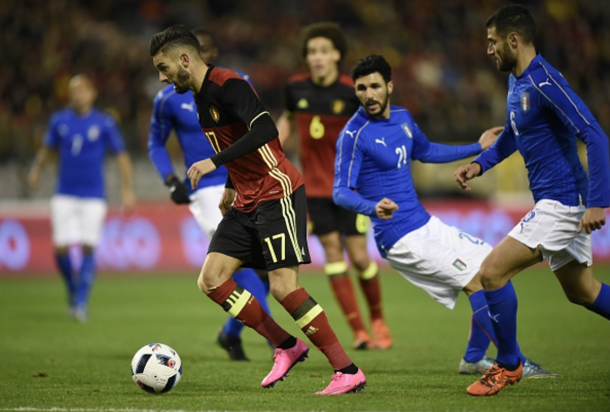 Since that excellent start, we've had a bit of everything. Switzerland beat 10-man Albania 1-0 to put themselves in a good position in the same group as hosts France, while Wales sit atop Group B after the first round of matches after they beat Slovakia 2-1 in their first game at a major tournament in 58 years. England meanwhile could only draw 1-1 with Russia after conceding in the 92nd-minute, Eric Dier's free-kick having put the Three Lions in the lead in the final 20 minutes. Elsewhere, Luka Modric's stunning long-range volley gave Croatia a 1-0 win over Turkey on Sunday before Poland beat Northern Ireland by the same scoreline in Nice a few hours later after Arkadiusz Milik's strike. World champions Germany also got off to a winning start, beating Ukraine 2-0 courtesy of Shkodran Mustafi's first-half header and a stoppage-time tap-in from returning captain Bastian Schweinsteiger.
We're four days into Euro 2016, after it was opened by France on Friday night - the tournament hosts beating Romania 2-1 thanks to a complete performance from West Ham United's Dmitri Payet. The playmaker laid on a cross for Arsenal striker Olivier Giroud for an opener in the 57th minute, only for Patrice Evra to give away a penalty and allow Bogdan Stancu to bring his country back level. But with just one minute of normal time remaining, Payet bent a stunning 30-yard strike into the very top corner to send the Stade de France into ecstasy and give Didier Deschamps' side a much-needed opening victory.
Good afternoon and welcome to VAVEL UK's live minute-by-minute coverage of the 2016 UEFA European Championships. Tonight sees Belgium and Italy go head-to-head in their first Group E clash in Lyon. Kick-off tonight is at 20:00BST (or 8pm, if you like) but stay with us until then because we'll have plenty of pre-match build-up to keep you entertained.