Germany head coach, Joachim Löw was keen to pay tribute to his side after a hard-fought 2-0 win over Ukraine.
Goals from Shkordan Mustafi and Bastian Schweinsteiger secured all three points, as die Nationalmannschaft go in search of back-to-back international titles.
The manager gave his thoughts to the gathered media after the match, which saw Germany become the first side to win by more than a single goal.
Löw talks Ukraine, tactics and Schweinsteiger
"It was an intense and fast-paced game," Löw admitted. He said his side "had a few problems" in attack, such as "losing the ball" and giving Ukraine "the chance to counter".
However, he added: "In the second half we did very well, keeping our shape and moving the ball about well."
Löw felt his side "dominated" against a "good Ukrainian defence", explaining that it "wasn't easy" but his side "found solutions" to leave the manager "very satisfied".
The manager did praise their opponents, "Ukraine were very good from set pieces – they really whipped them into the box and put men forward."
Löw cited the defensive performance, as well as the return of his captain: "Basti was delighted to make such a great comeback after so many weeks to get back to fitness."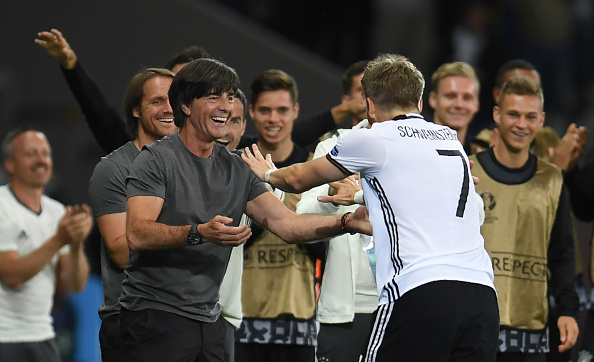 Poland, personnel and the captain's armband
Löw's attentions had already turned to Poland before the end of the press, saying: "The Poland game is going to be decisive as both teams have won."
He continued, "The result of that one will shape how the group finishes."
Löw added, "Obviously we have a lot of players out injured but I think the players who did play did a very good job. We were always able to transition from defence into attack."
The manager explained, "Manuel Neuer is the best keeper in the world and I told him this the other day."
But he feels that the captaincy isn't something he needs, saying it "isn't that important" because they have "lots of leaders in the squad and Manuel is one of them".