Eden Hazard believes Belgium's opening match of Euro 2016 against Italy on Monday night could be their "most important" game of the competition.
The Red Devils come into the tournament, their first finals since 2000, with expectations high - but they face a difficult group. As well as their opener against the Azzurri in Lyon, Marc Wilmots' men face Republic of Ireland and Sweden as they vie to reach the knockout stages.
If they are to do so, Belgium will need their key players to be on top form, particularly if they are to come even close to a first ever major tournament success.
Hazard, who will stand in as national team captain in place of Vincent Kompany, will be as keen as any of his teammates to impress not just throughout the tournament, but on Monday, with this fixture pitting him against future Chelsea boss Antonio Conte.
Speaking on Sunday at a press conference, Hazard insisted that he "can't wait" for the tournament to start and said that he's "very happy" to play against his future manager and he hopes to "show him everything I am capable of next season."
The PFA Player of the Year in Chelsea's title-winning season two years ago, scoring 14 goals and laying on a further nine with assists, Hazard was lacklustre last season as his form took a nosedive.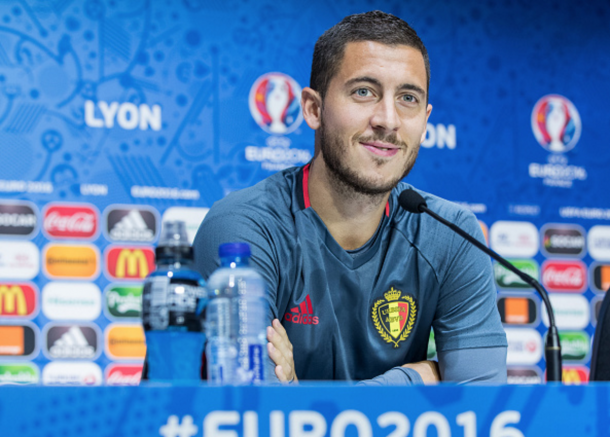 Taking him until the end of April to score his first league goal of the season, the winger did at least end the season strongly with four goals in the last five games and performances more reminiscent of the season in which defence after defence failed to stop him.
Hazard will be hoping to continue that vein of form into the Euros, where he will surely be crucial to Belgium's hopes of a first major success.
First game could be key, insists Hazard
"Perhaps the first match is the most important of the competition," he added, explaining that it will show "whether we have confidence or not."
The 25-year-old said that it's "never great" if a team starts with a defeat because then they "put additional pressure" on themselves "from the outset."
On the contrary, the Red Devils' No.10 believes that if they start with victory then they are "able to let off some pressure and put additional pressure on opposing sides."
But Hazard believes he and his compatriots must simply aim to perform well, calling it "very important to start with a good performance" even if they "don't necessarily start with a victory."
The forward was not shy when asked about Belgium's hopes for the tournament, insisting that they hope they "can reach the final" and said: "Every game is tricky. We're going to try and win our opening match and then see how far we can go."
Surprisingly, Hazard declared his nation as "a little bit of an outsider" but explained that they have tried not to put "any specific pressure" on themselves, although they are "use to playing on these big occasions" and have "a number of players playing for the best club sides all over the world."
Winger says Belgium squad have been waiting for this
That includes Manchester City's Kevin De Bruyne, who could prove just as vital as Hazard to Wilmots and his country. The attacking midfielder enjoyed a sensational return to England, scoring 16 goals in 41 appearances in all competitions.
Indeed, the Premier League duo both scored five goals apiece as Belgium won it's qualification group with just one defeat, rising to first in the FIFA world rankings for the first time in their history last year.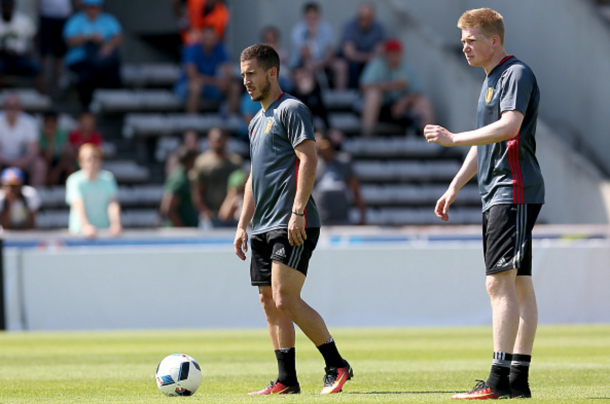 They have slipped down only to second in the standings, behind 2014 World Cup runners-up Argentina, and enter as one of the favourites to win the title this summer due to their sublime attacking quality - and Hazard echoed the belief that he and De Bruyne will be crucial.
"On the pitch, we really try to link up," he said when asked about his on-field relationship with De Bruyne, declaring them as "players who can make the difference" as well as insisting: "If it is not my day, it can be his."
It is they who will be tasked with carving through one of the toughest international defences at the Euros in Italy, built around a menacing Juventus quartet of captain Gianluigi Buffon, Giorgio Chiellini, Andrea Barzagli and Leonardo Bonucci.
But a Hazard-led Belgium know they must make a statement from the start, having too often failed to live up to their potential against the best sides across the continent, and the globe.
"This is the moment that everyone in Belgium has been waiting for," he continued, saying that their "whole 'golden generation' is really waiting for it" because there are "a lot of people who believe we can achieve something great."