Hungary kick off their Euro 2016 campaign at Nouveau Stade de Bordeaux as they take on Austria in Group F.

The Magical Magyars beat Austria in the qualifying stages and will look for a repeat of the 2-1 result.
Hungary will be no pushovers, as experience could prove key
Hungary, managed by the German Bernd Storck's team generally line-up in a 4‑2‑3‑1 formation. Austria have adapted a similar system, but have the players to also be able to work in a 4-3-3.
Hungary's man between the sticks, Gábor Király, is on the verge of becoming the first 40-something player to play in the European Championships.
The veteran is dubbed the 'Pyjama Man' by his teammates for his habit of of wearing baggy trousers whilst playing and training. However, despite his odd fashion choices, the keeper brings a wealth of experience with him, having served Hertha BSC, Crystal Palace, Aston Villa, Burnley, 1860 München and Fulham.

Former Premier League player Zoltan Gera will be vital for the Magyars in terms of creating chances, and it is thought that he will play as a deep-lying playmaker. Up-front for Storck's team should undoubtedly be Nemanja Nikolic.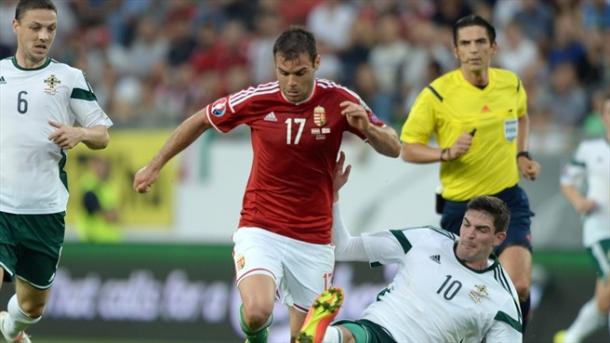 Nikolic's stats speak for him, he won the Polish league and cup double, scooping the top scorer award and POTY whilst doing so. His 28 goal accolade should see him start against Austria, however, he used to playing in an attacking line-up, whereas Hungary are likely to be defending.
Bayern's Alaba will be crucial if Austria harbour hopes of progressing
Two stand-out players for their opponents are the versatile David Alaba of Bayern Munich and while Marko Arnautovic who enjoyed a successful season in the Premier League with Stoke City.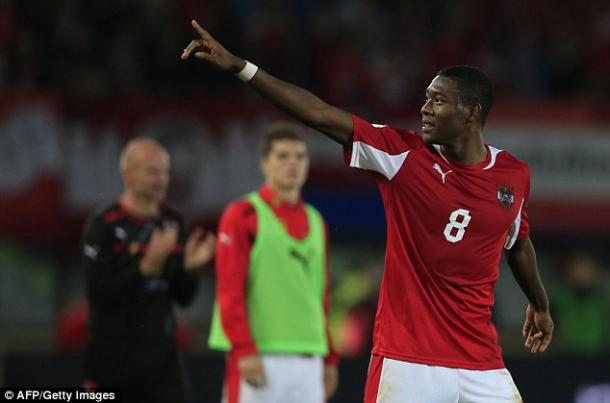 However, whilst Arnautovic is traditionally a winger, it is said he will do an excellent job in supporting Marc Janko. Janko has a similar goal scoring record to the Hungarian Nikolic, bagging 22 goals in 33 appearances for Basel and his nation this season. His national scoring record is something Hungary will be wary of, as he averages almost a goal every two games.
Whilst the expectations of Austrians are high, their lack of experience may see them fall short in Group F. Hungary fans, meanwhile, are content that their team satisfied, and progress is possible, rather than a cert.