The Stade de Lyon was host to yet another thrilling match-up in 2016's European Championships, this time between possible favourites, Belgium, and write-offs, Italy.
​It was Antonio Conte's Italy who took all three points in the battle of the titans in Group E. Stunning goals from Emanuele Giaccherini and Graziano Pelle gave the Azzurri a formidable victory, as they proved that they are still European top dogs.
An admirable attack combined with an impassable defensive display kept out the Red Devils' proficient strike force, and proved those who doubted their chances in this year's tournament wrong.
​Close game in store for competition favourites
The opening exchanges of the game saw both Belgium and Italy create half-chances without calling either Thibaut Courtois or Gianluigi Buffon into action. Both sides, however, did show the ambition expected from sides of such stature.
It was Italy who were playing with more confidence though, aiming to prove those doubting their cause wrong, and aiming to give Conte a fitting send off before he leaves for Chelsea next season.
Belgium did show potential as the game progressed however, as they saw a good period of possession almost turn to chances for Romelu Lukaku after the likes of Radja Nainggolan and Kevin De Bruyne had attempted balls intercepted by a compact back three.
​Italy show European credentials
Half an hour in, and Italy's first clear chance was converted into a sublime all round goal by Giaccherini. Leonardo Bonucci collected the ball on the half way line - the rest was class; an inch perfect diagonal eluded the Belgium defence before being taken down superbly, and curled around the sprawling Courtois to open the scoring. A well deserved goal for Conte's side.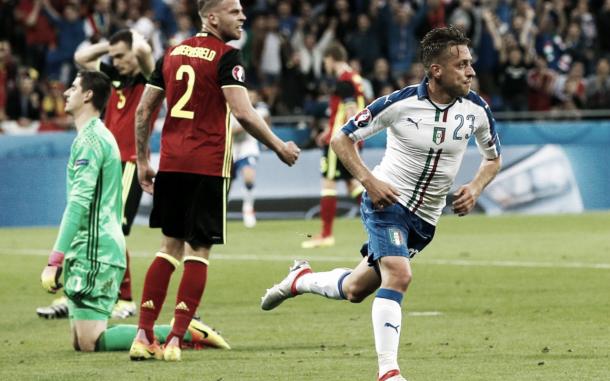 The Azzurri attack continued, with the ever-present Antonio Candreva fancying his chances from a hard-hit shot, only for it to be saved by Belgium's number one. Pelle also tried, as his header from six yards, which really should have found the net, skimmed the far post.
Belgium looked to hit back soon after, but Italy had established an impenetrable shape. With Matteo Darmian and Candreva fulfilling their defensive duties; the playmaking of De Bruyne was futile. As the half-time whistle sounded, Italy went into the tunnel ahead by one.
​Inspiration needed for struggling Belgium
It was the Blues who came out of the block fastest again in the second half, as several half-chances were created following fine and incisive passing moves. The Red Devils came close through Lukaku who feathered the ball inches wide after a dangerous counter-attack, but remained second best coming into an hour played.
However, the main threat, similarly to the first 45, was Candreva who repeatedly delivered testing balls for Internazionale's Eder and Southampton's Pelle who had missed an abundance of chances.
The final 15 minutes belonged to Belgium. Extensive periods of possession were testing for Italy, but they remained resolute throughout. It was only Divock Origi who had a real clear-cut chance in which he headed over the bar from 8 yards-out; inspiration was needed.
However, for the relentless pressure put on by Belgium, Italy had chances too; substitute Ciro Immobile lead a two on two counter-charge which resulted in a shot straight at the Belgium shotstopper.
Finally, Pelle added a deserved second of the night for Italy on a counter; Immobile started it again, played in Candreva who had the goal at his mercy, but a poor first touch meant he could only pick out Pelle - perfectly at that - who was unmarked, lashing a venomous volley home to seal the win.