It was always going to be a difficult opening game for Pavel Vrba's Czech Republic side as they took on the defending champions, Spain, but it was only an 87th-minute goal that would stop the underdog's from pulling out a resilient point, which left the coach feeling disappointed, yet there were certainly positives to take into the upcoming two games as they still hope to qualify.
Late goal disappointment
Gerard Pique's late goal would have left most managers frustrated, but Vrba walked away from the game with plenty of positives to take, despite admitting it was "Disappointing" to concede "So late" in the game. His side looked strong in defence throughout the majority of the game as they were tested with constant tricky runs and quick flowing passing but that is something Vrba expected from a Spanish team he believes are "Very strong."
Vrba was pleased with the efforts he saw from his side, despite being dominated, especially given their lack of possession. The majority of the game was spent trying to keep up with Spain's quick tempo and attempting to cut out passes. But Vrba believes they played to their "Maximum level" which is all he can ask against a team he thinks are "Favorites."
Despite sitting back for the majority of the game, the Czech Republic did have their chances which Vrba was pleased to see as that isn't something that "Doesn't often happen" against a team like Spain and is something he will be hoping to see continue moving forward in the tournament.
Praise for Rosicky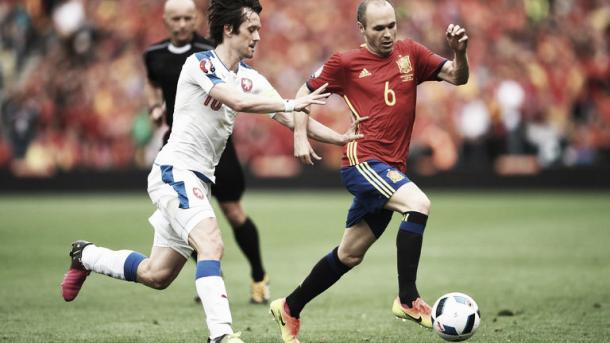 One player that Vrba was quick to praise was the veteran, Tomas Rosicky. The Arsenal midfielder headed into the European Championship with some injury doubts but his manager was pleased with his performance.
He had seen Rosicky play for Arsenal's reserves towards the end of the season and he "Played well" but he was even happier with his efforts against Spain and Vrba is confident that he is "Ready" for the tournament and he will certainly have a big part to play if they are to get out of their group.