After their 1-0 defeat to Poland in Nice, Northern Ireland face an uphill task to make it through to the Euro 2016 last 16 stage.
However, all hope is not lost and there were positives to take from the game on Sunday. Yet there are still tweaks to be made, but will Michael O'Neill make them?
There are no concerns with the back five
By far and away the biggest positive from the game on Sunday was Northern Ireland's incredible rearguard action. Aside from the goal, they were stout, staunch and did the travelling support proud. The pre-game nerves and concerns about a certain Robert Lewandowski were allayed; organisation reigned supreme.
Conor McLaughlin, Jonny Evans, Craig Cathcart, Gareth McAuley and Shane Ferguson, to a man, were superb. The three centre-halves excelled, particularly Evans who managed to man-mark Lewandowski out of the game. He frustrated him at every turn, something that not many defenders can claim to have done.
A similar effort will be required against Ukraine, especially in wide areas. Evans may be pushed wide in this case to deal with Andriy Yarmolenko, while McLaughlin should retain his place on the right. This may also see Northern Ireland shift formation, but that there are so many different options in that area alone.
With the Green and White Army gunning for all three points, it wouldn't be a surprise to see them shift to a back four or even a more attacking version of the team that played Poland. But they can't be too keen to come forward, leaving the two wing wizards with space could see Ukraine take full advantage of a lack of pace.
Time to go two up top
In stark contrast, Northern Ireland's attack was virtually non-existent. Set-pieces were poor and Conor Washington and Steven Davis' half-chances - being kind - were the best opportunities they forged during the tussle against Poland. Two shots all game, none on target; that makes for fairly dismal reading.
Both came in the second half, though, and after Washington came off the bench there was much more of a dynamic style to their play. He combined well with Kyle Lafferty, finally giving the towering forward a partner to try and aim flick-ons towards, instead of running aimlessly after them himself.
Washington is the perfect foil for Lafferty, but he isn't the only striker in the hunt for a place beside the Norwich City striker. Will Grigg is, as everyone knows, in very good form and that can not be underestimated in this format. Grigg may not have the pace of Washington or Lafferty's power, but his finishing could be what is needed for that one chance.
But could O'Neill partner the two big men together, with Josh Magennis taking his place up front with Lafferty. This is unlikely, though, and would be as much of a shock to see as the one-man front-line on Sunday. Jamie Ward is another viable option but Lafferty and Washington seem to have hit it off already.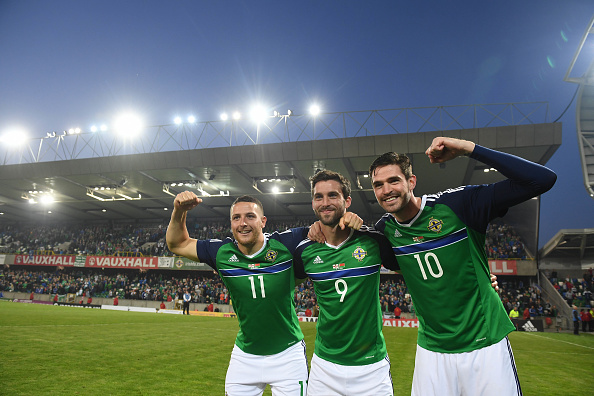 Sitting back won't cut it against Ukraine's wingers
A very deep defensive line proved successful in stopping Lewandowski, Arkadiusz Milik and Poland, barring one exception. Though that could be put down to the lack of a creative spark through the middle, with Jakub Błaszczykowski providing their main creative outlet on the right-hand side.
It could be a similar situation that faces Northern Ireland in Lyon, as Yevhen Konoplyanka and Andriy Yarmolenko showed their class against Germany. The fact that both flanks will be bombarded will provide concern for O'Neill, even if the defence are adept at dealing with crosses and high balls into the box.
Norn Iron can't afford to stand off either winger, knowing that both are more than happy to drive at defenders and shoot with tremendous power. Despite being more than happy to throw anything in front of a shot, the pressure may eventually tell on the back-line; just as it did on Sunday.
Even with their dribbling ability, Northern Ireland's knack of closing down and being able to and hassle and annoy the opposition are key traits. That wasn't on show against Poland, but it could be the difference against a very physical and strong Ukraine side.
The campaign has an air of '82 about it
Just like in 1982, Northern Ireland didn't get off to the ideal start; albeit they got the draw they targeted against Yugoslavia, which they missed out on in Nice. However, disappointment would follow after a 0-0 draw against Honduras. This current crop can't really afford to just draw against Ukraine, knowing what a win would mean.
Even then, O'Neill's charges may still need to pick up a result against Germany. That would not be too dissimilar to the situation 34 years ago, where a win over Spain secured their passage into the next round. Fans will be hoping it doesn't come down to that, and that they can pick up the three points needed on Thursday.
But, if there is one country to upset the odds, it may well be Northern Ireland. The World Cup quarter-finals in 1958 and 1982, the back-to-back wins over Germany in Euro 1984 qualifying, and recent wins over England, Spain and Sweden to name but a few. The appetite and application was there in 82', can the current crop pull off another shock?
A four-point haul was enough back in 1958 to get the Green and White Army through to the quarter-final on that occasion, and a draw against the Germans in their final game was enough to do it. Will history repeat itself 58 years later? Before we get to that stage, a win against Ukraine is crucial.