Russia have been handed a Euro 2016 suspended disqualification by UEFA due to the actions of their fans inside the Stade Vélodrome on Saturday evening.
UEFA have also handed the country a fine of £118,000.
Potential disqualification
Russia will remain in Euro 2016, however they have been warned that further stadium violence from Russian fans will result in their country being kicked out of the competition. The fan violence first unfolded at the full time whistle after the 1-1 draw with England, as fans leapt over security cordons and attacked England supporters.
Matters that take place within a stadium fall under UEFA jurisdiction, however, clashes on the streets of France are not handled by the governing body. Therefore, if clashes continue between fans on the streets of France, it is unlikely Russia will be removed from the tournament as the incidents would be handled by French authorities, rather than UEFA.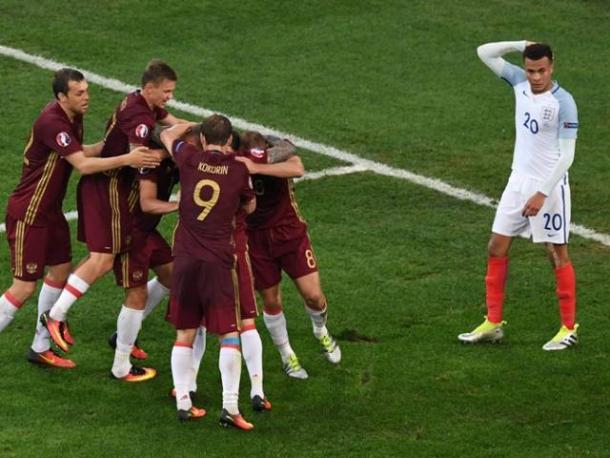 RFU statement
The Russian FA had the chance to appeal the decision but have decided not to do so. They do, however, believe the punishment is 'excessive'.
Vitaly Mutko, Russia's sports minister, said that the fine was "enormous" for the country, due to the Russian Football Union being a non-commercial organisation. The union is suffering from financial problems already, due to the fact Fabio Capello received a £10 million pay-off when he was sacked last year. Current boss, Leonid Slutsky, is managing the team for free throughout this tournament.
Slutsky comments
Slutsky has also had his say on the UEFA decision. The 45-year-old said he was "sure" the fans would not put the team at risk of disqualification and claimed it would be an "injustice" if his side were kicked out before the end of the group stage.
Slutsky last week refused to talk about Russia's fans after the England game.
Russia face Slovakia tomorrow and the squad will be hoping that the fans keep themselves in order during and after the match.