Late on Saturday evening, the soaring header of Vasili Berezutski added an extra dimension to the next in a series of highly-charged fixtures in the European Championships, as if the fixture between England and Wales would prove to be anything else.
With Wales desperate to make the most of their first qualification for a major tournament since before England won their sole piece of major silverware, England are bidding to improve on their profligacy.
They spurned countless opportunities in front of goal against Russia, and many others at major competitions in recent years. That face only ramps up the pressure in what is a game between fierce rivals, to whom an unfavourable result will cut deeper than most others.
Teams seem closer than ever
15 places separate the English and Welsh sides in the FIFA rankings, but the difference between these two teams feels closer than ever.
The nagging fears of English fans were ignited when Russia's late equaliser fell beyond England's goalline, having been overcome by an unfamiliar feeling of positivity brought on by England's sprightly performance up until that point.
The evidence was clear, it was two points and an opportunity missed and the prospect of Wales felt all the more bizarrely daunting.
This was of course largely brought about by the way in which Wales overcame a Slovakian side, predicted by many to be dark horses, but in reality who resembled more of a stocky Shetland.
The story may have been different had Ben Davies not started a tournament-wide trend of spectacular goalline clearances, when he denied Napoli playmaker Marek Hamsik in the opening minutes.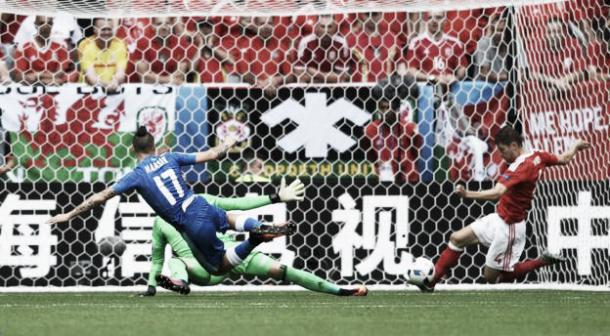 Davies' clearance was made all the more significant by what followed. Had he failed to claw the ball away from impending doom, Wales would have been a goal down after a matter of minutes.
Chris Coleman may as well have torn up his game plan as his side would have been forced into the unfamiliarity of chasing the game. Instead Wales were allowed to continue with their gentle strategy of patience, utilising their precisely organised back five to shield their goal, and the inexperienced Danny Ward, from coach Jan Kozac's Slovaks.
Wales demonstrate resilience
The fact that Wales went on to win the game from the precariousness of this start demonstrates the mental strength of Coleman's unit, and to a certain extent the genius of Gareth Bale's left boot.
He failed to live up to expectations somewhat in open play, but his ability to take an isolated chance from dead-ball situations presented to him is one any opposition fan would be envious of.
While England, man for man, have greater strength in their first eleven, the fact that Wales are even being talked about as a challenge is testament to the power of their unity and organisation, as well as the power of Bale, whose calibre is now widely revered worldwide.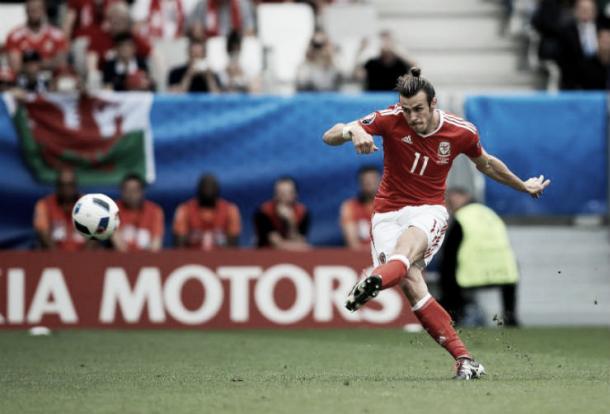 In comparison to Wales' organised, almost predictable, security during their first game, England's frantic attacking in the first half made them look similarly imperious. The fine line between looking imperious and being imperious can be distinguished by how clinical or wasteful a team is, and England would be more accurately described as the latter.
The teams seem evenly matched, more so than ever, and the stakes are higher than ever. England must win to have conceivable hopes of topping Group B, while Wales will be desperate to win to not only secure their qualification to the knockout stages but more so to put one over their noisy and historically more successful neighbours.
Last meeting
The two home nations haven't met for five years with their last encounter coming in the September of 2011 in the qualifying campaign for the last European Championships.
Wales lined up with the likes of Darcy Blake and Robert Earnshaw, both of whom no longer feature in Chris Coleman's first team plans, while similarly, England were then managed by Fabio Capello with the likes of Gareth Barry, Stewart Downing and John Terry continuing to feature heavily.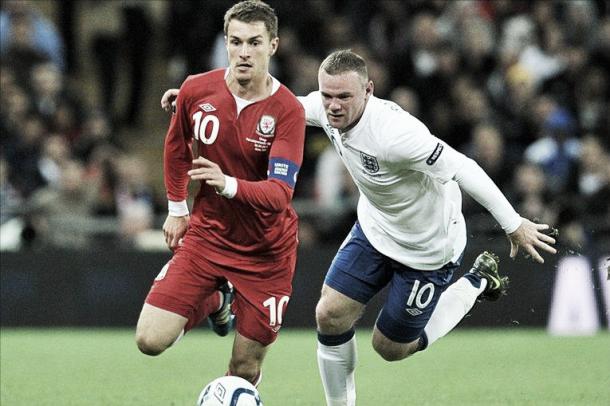 Wales were defeated 1-0 by a solitary Ashley Young strike as England limped to the Championships the following year in Poland and Ukraine.
Tensions already flaring off the pitch
Mind games began between the two sides early on. Whether Wales and Gareth Bale felt they needed to inhibit England with words is unclear, but Bale's claim, before a ball had been kicked at the tournament, that Wales fans have more "pride and passion" seemed to touch English insecurities, certainly inferable from Roy Hodgson's retaliation that Bale was being "disrespectful".
Bale went on to assert that no English player would make it into Wales' first team. This undisguised barb aimed at England is revealing of Wales' bullish confidence. They seem ready to challenge England off the field, but whether or not this is a ploy to deflect criticism from Wales' weaknesses is yet to be established.
Meanwhile, England's media rhetoric has been based mainly upon bouncing back from the "bitter pill to swallow" prescribed by Russia late on in Marseilles with players such as Eric Dier and James Milner visibly distraught following the 1-1 draw.
It would be naïve and oversighted to ignore the off-field scenario which has surrounded England's campaign thus far. The scenes witnessed in Marseilles were beyond shocking and embarrassing for the sport and those who follow it.
The issuing of Russia's suspended disqualification sentence is a stark reminder of what could easily be handed to England should further hostility involving the English boil over. The messages issued by Roy Hodgson and Wayne Rooney demonstrate the genuine threat which England face.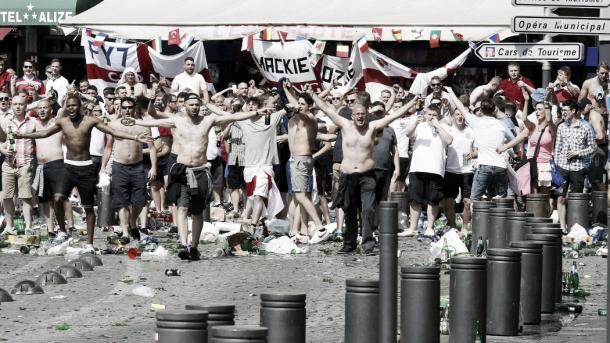 Few changes expected
The encouraging nature of the performances of these respective nations has led to widespread speculation that they will both name unchanged starting teams.
Pundit Alan Shearer has called for England forwards Harry Kane and Raheem Sterling to improve or else their positions will be under threat. This is likely the case, particularly as Kane's similarly prolific competitor Jamie Vardy is looming large as his understudy, while the impact of Tottenham's reliance on Kane saw him look sluggish in the opening fixture.
Contrarily Wales will likely set up in familiar fashion with five defenders behind a four man central midfield unit, of whom Aaron Ramsey is expected to be given creative freedom behind Gareth Bale.
Despite his late, and somewhat fortuitous, winner, Hal Robson-Kanu is expected to remain on the Wales bench alongside central midfielder Joe Ledley, who came off the bench against Slovakia just 34 days after breaking his leg for Crystal Palace.
Furthermore, it is unclear whether Wayne Hennessey will return to the Wales fold following the injury he sustained in the warm up against Slovakia. However, it has been reported that he has had injections to stave off the problematic back spasms which forced his withdrawal from Wales' opener.
Expected England XI: Hart – Walker, Smalling, Cahill, Rose – Dier, Rooney, Alli – Sterling, Lallana – Kane
Expected Wales XI: Ward – Gunter, Chester, Williams, Davie, Taylor – Edwards, Ramsey, Williams, Allen – Bale
The weight of expectation lies solely on England's fragile shoulders. Failing to beat Russia did not only drain them psychologically but furthermore imposed pressure from their eternally hopeful fanbase.
Meanwhile, Wales face no expectation to win but from themselves. "Nothing is fazing us, we don't feel any pressure, we're just going to go out and enjoy the occasion" – the contrast with the pressure on England is beyond stark.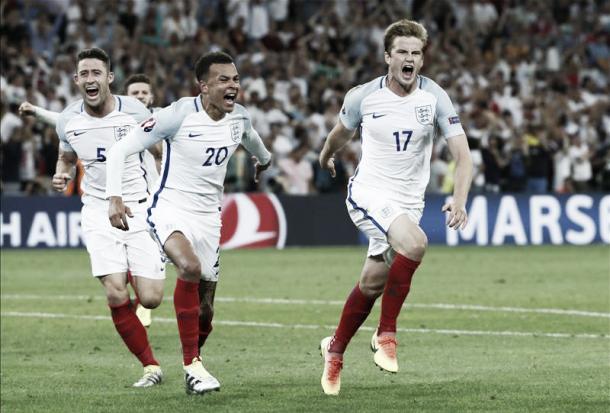 Gareth Bale's comments are indicative of the ambitions Wales hold. There is genuine belief in their camp that while England may have better players on paper, Wales hold the edge due to having superior togetherness and being a superior team.
"We know they are a good team but we know we are a good team. We are looking forward to it and preparing to win." The question remains whether Bales' rhetoric will prevail, but should it, it may demonstrate the confidence and resoluteness which has been lacking from English football in recent years.
The game kicks off on Thursday at 2pm in Lens.