Amid the news regarding fights and brawls between Russia fans and England fans which occurred last Saturday, as well as the regular fights against local police, Leonid Slutsky and Artem Dzyuba tried to shake this news from their shoulders and focus on the team's next fixture against Slovakia.
While Russia snatched a point against England last weekend, Slovakia started with a loss against Wales, making this game already a decisive one for either side.
Here's what the coach and striker had to say as they held the traditional press conference prior to their second fixture in Group B.
Leonid Slutsky
"We ask all Russian fans to behave correctly, to not break rules at stadiums and public places."
The CSKA Moscow and Russia coach Slutsky started his media duties by urging their fans to keep quiet and stick to the norms, in order to avoid an expulsion of their nation from this tournament.
As per the match itself, Slutsky was rarely asked about their preparations and when asked, he just replied that they've been preparing normally and are striving to take maximum points from this fixture.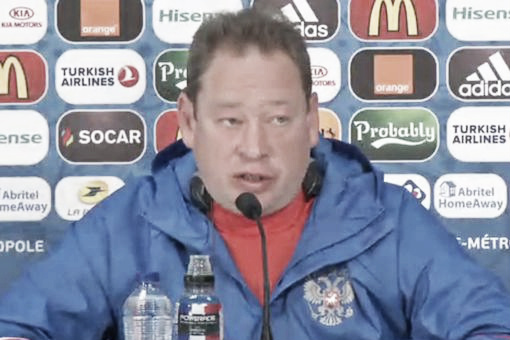 Artem Dzyuba
Zenit St. Petersburg striker Artem Dzyuba was not asked a lot about the match either, as he joined his counterpart Slutsky in warning the Russian fans to stay quiet and avoid the fights.
Meanwhile, regarding tomorrow's match, Dzyuba was quite relaxed and he explained how they've analysed their match against England in order to avoid repeating the same errors they committed against the Three Lions.
Dzyuba was one of Russia's best players in their first outing and will be striving to repeat the same performance, but this time around adding a goal.