So, it has finished Slovakia 2-1 Russia. I hope you have enjoyed today's coverage. I've been Aaron Stokes. Enjoy the rest of the football this evening.
Russia are now left needing an unlikely win against Wales if they want to go through.
Marek Hamsik was the star of the first half. Slovakia are now back in the frame for qualify from Group B.
FULL TIME! Russia can't capitalise on their large amounts of pressure. They lose 2-1 to a Slovakia side who dominated the first half.
93' Ignashevich free kick is blocked! One last corner..........
93' Akinfeev launches the ball up the pitch. Skrtel with a needless foul. Russia have a free kick from 35 yards out.
Three minutes added time in Lille. Russia still pressing hard.
89' Another Russia chance! Dzyuba dummies three or four times before finally getting his shot away. Slovakian bodies back to block it.
Leonid Slutsky is encouraging his players. Screaming instructions from the touchline.
86' Chance! Dzyuba with a flick on the edge of the box, Smolnikov's cross is cleared and Glushakov fires the stray ball wide. That may be the best chance Russia get.
Five minutes remaining. Another Russia corner.
84' Smolov takes too long to hit a shot from the edge of the box. Scrambled clear from Slovakia. This is desperate stuff from the Slovakians.
The Russians now piling on the pressure. Slovakia are sitting very deep.
83' Russian corner is punched away by Kozacik.
Russia are attacking now with venom and pace. Slovakia have two strikers on the pitch. That could backfire.
Lovely play by Shatov down the left and his cross is headed home by Glushakov!
80' GOAL! RUSSIA! This game isn't over yet!
79' Slovakian substitution: Robert Mak is off and Michal Duris on.
78' Mamaev finally introduces himself in the game. His long range shot is wayward.
76' Russia's final substitution: Kokorin off, to be replaced by Roman Shirokov
76' Yet another poor delivery from a Russian set piece. Hamsik heads away unchallenged.
75' Russia free kick on the left hand side. Smolov is bodychecked by Pecovsky.
Slovakia starting to get banks of players behind the ball.
72' The goalscorer is off. Slovakia substitution. Vladimir Weiss off, Dusan Svento on.
Just over 20 minutes remaining. Russia need a goal soon.
68' It's yet antother block. This time Berezutski has to throw himself in the way of two Hamsik efforts. Both keepers are having it easy!
67' Substituton for Slovakia: Ondrej Duda off, Adam Nemec on.
66' Big chance! Russia go close once more! Smolov fires a half volley towards goal but Slovakian defenders throw themselves in the firing line.
65' Another Russia attack. Is a goal coming? Kokorin shot from 18 yards out is blocked well and Kozacik gathers easily.
62' Dzyuba and Kokorin link up nicely in the Slovakia box. The two resulting corners come to nothing but this is more encouraging from the trailing Russia side.
61' Russia think they have a chance, Berezutski was about the pull the trigger but the referee blows for a 'high foot'. Strange decision.
60' Hamsik tries to thread a pass to Duda but the Slovakian is in an offside position.
56' Russia break forward in numbers. Four - four. Shatov decides to go himself from a fair way out. Nowhere near the target.
Russia don't seem to have any creative spark in midfield, unlike Slovakia with Hamšik.
53' Hamsik spins in the middle of the park and creates space. Kucka slips in Mak but his shot is well saved by Akinfeev.
52' Russia break into the box with Smolov, however, his cross is easily cleared by Liverpool's Martin Skrtel.
The second half has started like the first: slowly.
48' First corner of the game to Slovakia. Nothing comes from it.
Two half time substitutions from Russia to report: Roman Neustädter has been replaced by Denis Glushakov. Pavel Mamaev comes on for Aleksandr Golovin.
46' First yellow card of the game goes to Slovakia's Jan Durica after a late challenge.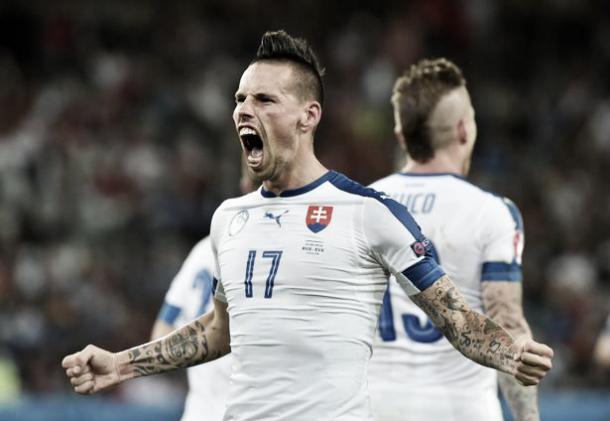 Hamsik celebrates his stunning goal. Photo credit: Getyy images.
Russia's Dzyuba has been playing well but hasn't been getting enough support. Smolnikov also good when going forward.
Half time. Slovakia very good going forward. Hamšik- incredible. Weiss- dangerous.
Russia's defending has been poor for both goals...
Slovakia take a corner short and Hamšik receives the ball on the edge of the box, cuts onto his right and thrashes one off the inside of the right post.
44' GOAL! HAMSIK! The best player on the field rifles one home!
Leonid Slutsky is looking worried on the Russian bench. He hasn't looked happy at all in this first half.
41' Hamšik again. Finds a pocket of space, glides past two defenders but can't hit the target with his long range effort. The Napoli man is turning on the style.
Five minutes remaining in the first half. Russia are trying to get themselves back in to this.
40' Poor free kick from Shatov hits the first man. Slovakia clear easily.
40' Dangerous free kick for Russia.
Slovakia probably deserve this lead. Russia haven't made too many clear chances. Kozacik hasn't been troubled.
Smolnikov playing so far up the pitch has backfired. Weiss was in acres of space when Hamšik picked the pass.
31' GOAL! SLOVAKIA! Marek Hamšik plays a stunning ball over the top. Vladimir Weiss picks up the ball down the left, cuts onto his right and scores from 12 yards out. Fantastic goal.
29' Russia break quickly. Shatov squares the ball, Dzyuba plays a lovely dummy but Smolov can't get on the end of the ball.
28' Golovin gives away another dangerous free kick. Duda is offside for Slovakia. The game is hotting up here in Lille.
27' Close! Dzyuba involved again. He brushes off two Slovakian defenders and lays off Smolov, who fires narrowly wide.
22' Smolnikov is getting forward well for Russia. He gets down the outside right once again and his cross is met by Dzyuba's head. However, he can't get any power behind the header.
20' As mentioned, Dzyuba shows more great footwork, gets into the box but is stopped by a fantastic slide tackle. The following corner leads to nothing for the Russians.
For a tall target man, Russia's Dzyuba is showing some wonderful footwork when in tight spaces.
17' Kokorin with a lovely flick on for Smolov, who tries a spectacular half volley effort. High and wide. Russia's first real chance.
15 minutes have been played. No attempts on target but Slovakia are shading it at the moment. Is the fact that the roof is closed affecting the players at all?
11' Russia's Alexander Golovin gives away a free kick in a very dangerous position. Around 30 yards out. Juraj Kucka fires a low shot miles wide. Poor.
Hamšik is his country's third highest scorer with 18 goals.
9' Chance! Russia give the ball away poorly. Marek Hamšik finds himself in space on the edge of the box but his half volley is fired over. He looks like the danger at the moment.
7' Chance for Russia! The big man Dzyuba slaloms through Slovak defenders but can't find a way through. The following shot is blocked by Slovakia.
7' Slovakia slightly the better side so far. No clear cut chances but Slovakia look more of a threat going forward.
3' First corner of the game to Slovakia. Free kick whipped in but Kokorin heads clear.
3' Early free kick for Slovakia in a dangerous position.
2' An early scare for Russia as right-back Shchennikov goes down clutching his hand. He is thankfull back playing now.
Let us hope that the Russian fans behave themselves throughout this tie.
Anthems being belted out. It's time for the second game of Group B!
Another fact: Slovakia have lost the last two games against Russia. They have also failed to score in 246 minutes against the Russians.
Fun fact for you all: Russia have only kept two clean sheets in their last 16 Euro final games.
The teams are warming up and kick-off is just ten minutes away!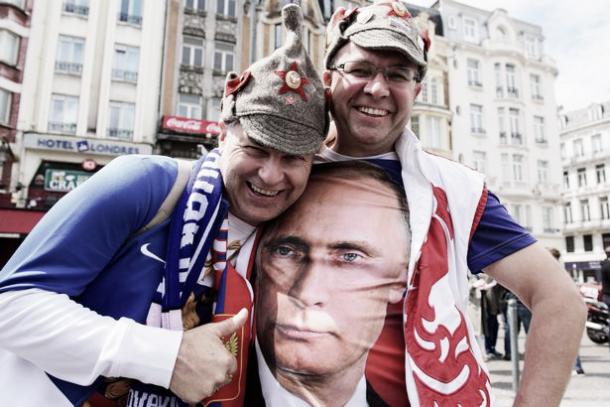 Russian fans are certainly sporting some unusual outfits outside the ground... Photo credit: Getty Images
Onrej Duda gets a start today after coming off to bench to score against Wales.
Less than half an hour until kick off! Can Russia top the group to take the attention off their violent antics?
As the Euros hot up, I'm sure plenty of you will be feeling nostalgic about previous tournaments that your country has been involved in. How would you like £50 credit for a classic national team shirt? Click here for more details: https://twitter.com/VAVEL/status/742824252781539329
Slovakia substitutes: Mucha, Novota, Gyomber, Gregus, Sestak, Stoch, Nemec, Hrosovsky, Skriniar, Salata, Svento, Duris.
and Slovakia's starting XI looks like this: Kozacik, Pekarik, Skrtel, Durica, Hubocan, Kucka, Pecovsky, Hamsik, Mak, Weiss, Duda.
Russia's formation is 4-2-3-1. The same one they used against England on Saturday.
Russian substitutes: Lodigin, Guilherme, Shishkin, Berezutski, Yusupov, Glushakov, Mamaev, Shirokov, Ivanov, Samedov, Torbinski, Kombarov.
Akinfeev (GK), Smolnikov, Schennikov, Ignashevich, V.Berezutski, Neustädter, Golovin, Kokorin, Shatov, Smolov, Dzyuba.
Russia's team line up is in. Leonid Slutsky opts for:
Thankfully, this was a flase alarm. The centre has re-opened.
The media centre at the Grand Stade Lille Métropole was temporarily closed due to a 'suspect package'
No line ups out yet but Russia will surely play the same XI that faced England the other night.
Hello, I'm Aaron Stokes and I'll be taking you through this afternoon's game between Russia and Slovakia!
Two late goals hugely affected the outcome of matchday one in Group B. Russia's late equaliser against England means they go into this game knowing one more win is likely to be enough to see them through to the knockout stages.
However, Slovakia were on the wrong end of a late goal, as Hal Robson-Kanu pounced with less than ten minutes left to ensure Wales beat Jan Kozak's men 2-1.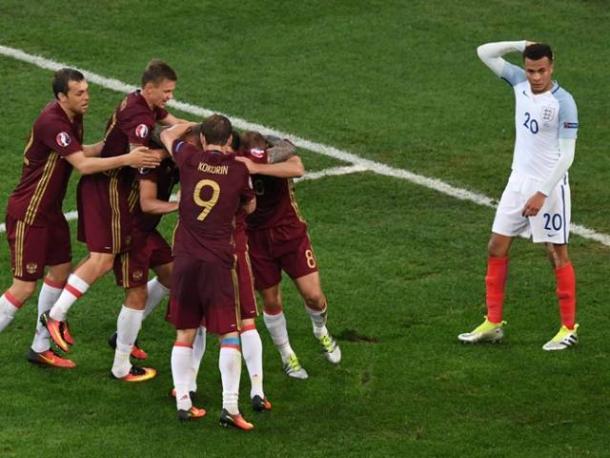 Russia will go in to this game on a high but their performance for the majority of their match with England left much to be desired. They spent long periods of the game defending and if Roy Hodgson's men had packed their shooting boots, the Russians would have been out of sight by half time.
Wales also found themselves having a better game than their opponents. Slovakia spent most of the game on the back foot, and despite taking advantage of some passive Welsh defending, they couldn't gain control.
For this reason, it looks like the clash today will be a close affair. Slovakia know if they taste defeat it will be very hard for them to progress to the next round. Russia, on the other hand, will be looking to take advantage of the early kick off and storm to the top of the group with a win.
It was revealed yesterday that Russia have be handed a suspended disqualification by UEFA, after their fans stormed over security cordons into the England section of the ground in the first match. This means anymore trouble inside stadiums will see Russia kicked out of the tournament.
There is also the threat that Russian and English fans may clash in the streets of France this week. Russia and Slovakia play each other in Lille today, whilst England play in Lens tomorrow. There is only 29 miles seperating the two locations.
These two countries have only faced each other eight times in their history but Russia have narrowly came out on top. Russia have won three of the ties, whilst Slovakia have only won two.
Russia failed to beat Slovakia on five different occasions between 1995 and 2010, however they have came out on top in the last two meetings. They will be hoping to make it a hat-trick of wins later today.
Hello and welcome to VAVEL UK's live match coverage and commentary of the Euro 2016 Group B fixture between Russia and Slovakia. I, Aaron Stokes, will be your host for this game – the culmination of the second round of matches in the group stages of the competition. Stay tuned as we'll have plenty of build-up, including facts and stats on each nation, team line-ups as we get them, before getting the main coverage underway for the 2pm kick-off.